Interesting Rituals of Kamigamo Shrine
Kamigamo Shrine, formally called Kamo Wake-Ikazuchi Jinja, is one of the World Heritage Sites in Kyoto. The shrine is large and it has lots of trees, so it is a wonderful place to stroll on a sunny day.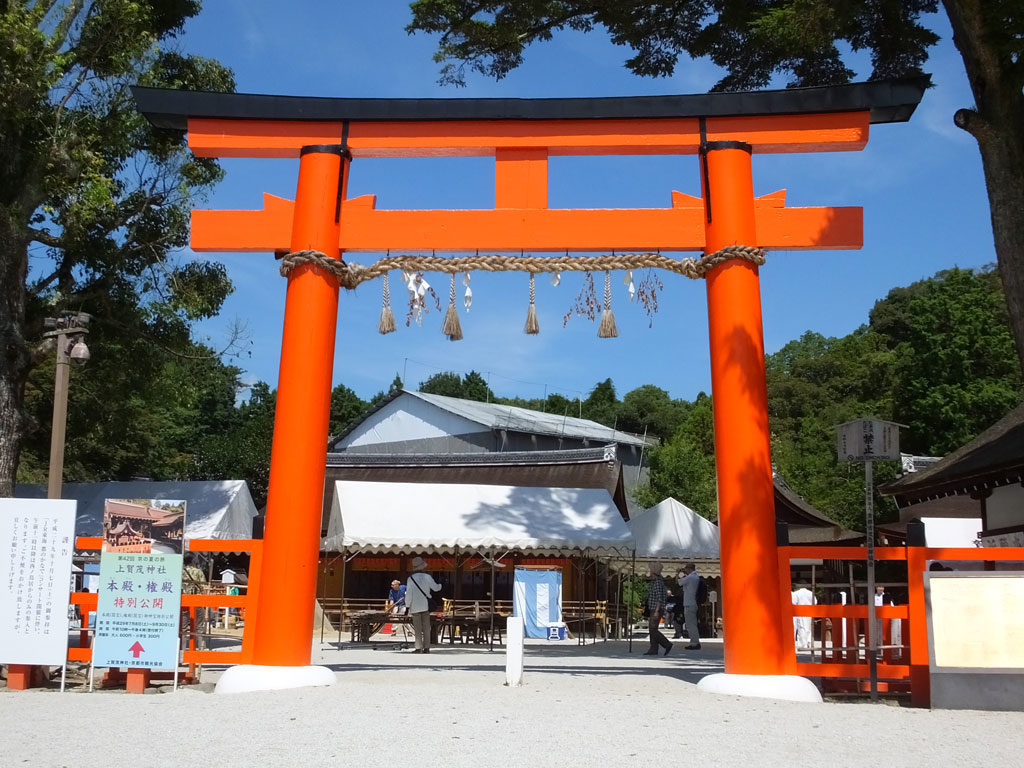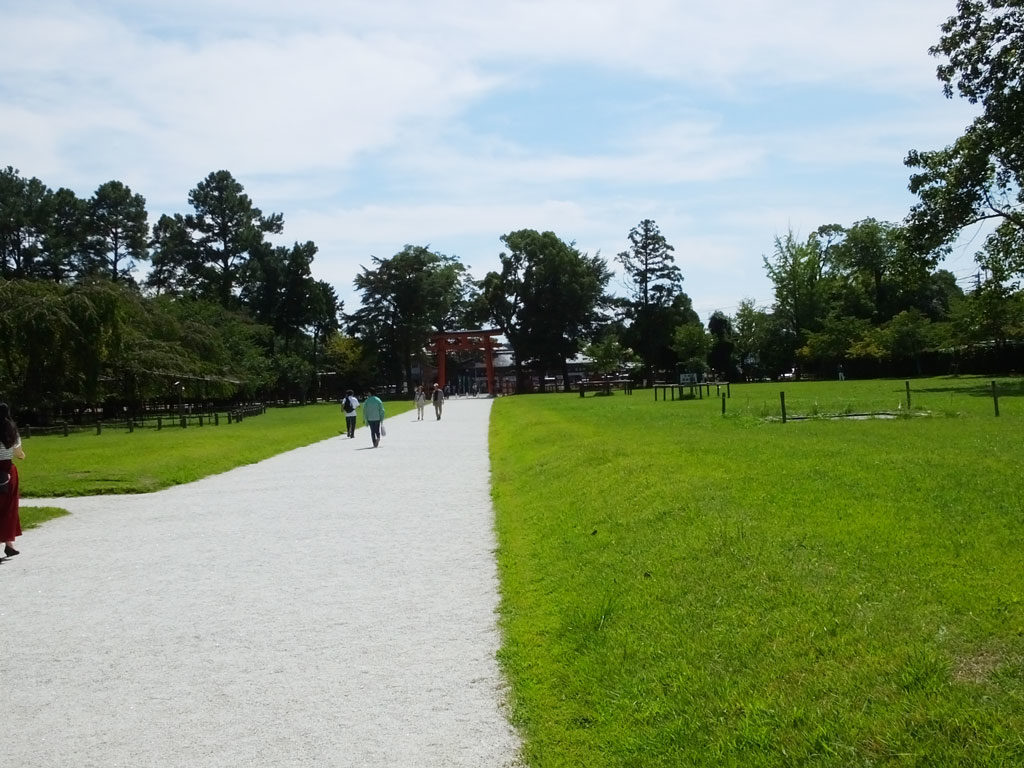 At the shrine, Choyo Ritual (Japanese: Choyo Shinji) is held every year on September 9th. It is known as a ritual of chrysanthemums. On the same day, there is a very unusual ritual, too. It is called Karasu-zumo, literally meaning "crow sumo wrestling." The leading role in Aoi Matsuri (Hollyhock Festival), Saio-Dai participates in these rituals as well, so this is a good opportunity to see her though it is in September. (Many people see her only at Aoi Matsuri in May.)
Choyo Ritual
September 9th is called Choyo, though I think most people, including Japanese, don't know about it. Choyo is supposed to be a turning point of the season that is called sekku. There are three popular sekku in Japan, March 3rd (Doll's Day or Girls' Day), May 5th (Children's Day or Boys' Day) and July 7th (Star Festival). Nine is bigger than those numbers (three, five and seven), so people in old times thought September 9th was a very important day. In the lunar calendar, the day falls in the season of chrysanthemums, so this sekku is sometimes called Sekku of Chrysanthemums (Japanese: Kiku no Sekku). People in old times believed that chrysanthemums drove away evil spirits, so they had rituals to exorcise evil spirits with morning dew on chrysanthemums in the Imperial Court and other places.
Choyo Ritual starts at 10:00 a.m. in the shrine. The priests and Saio-Dai go to the main shrine building with children who worship the guardian deity of the shrine. Then they offer some cotton to the deity. It is sacred cotton that was put on chrysanthemums in the previous evening. By doing so, they pray for an abundant harvest and good health. This is partly because chrysanthemums were believed to be medicine for longevity in old times in China.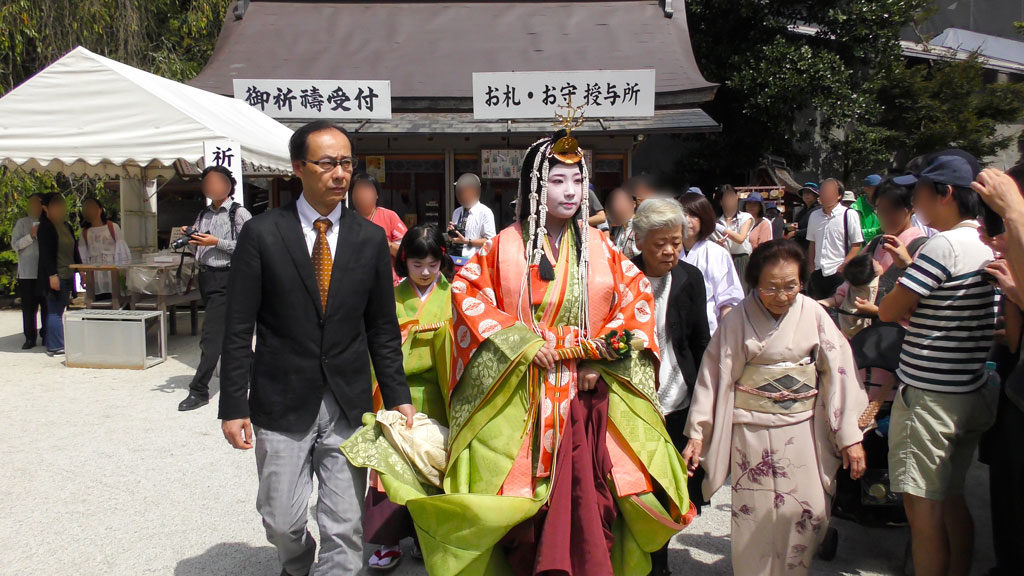 Karasu-Zumo
Karasu-zumo (crow sumo wrestling) starts at 11:00 a.m. Those who participated in Choyo Ritual move to a shrine building called Hoso-dono and sit down after Saio-Dai. From Hoso-dono, Saio-Dai can watch Karasu-zumo.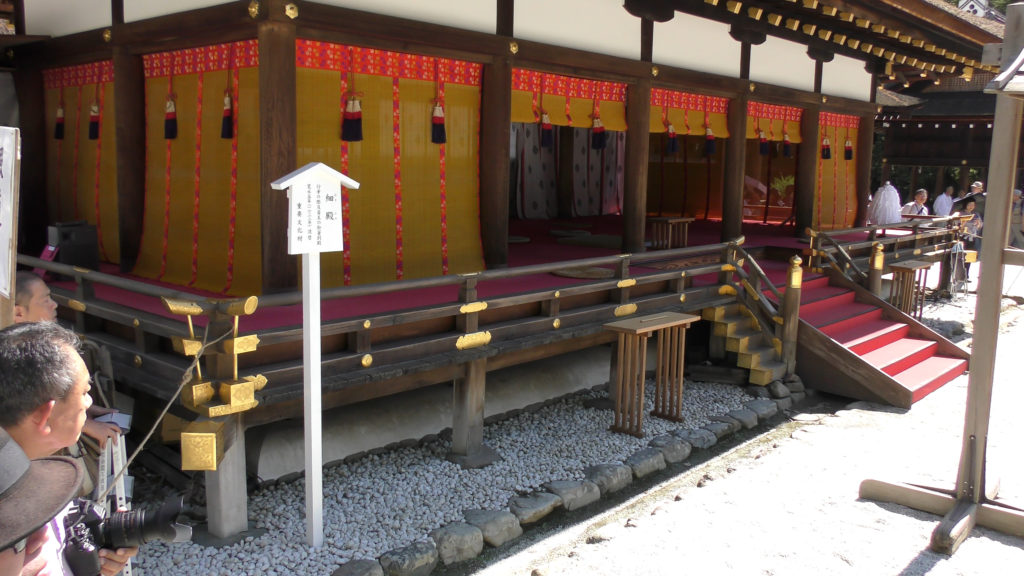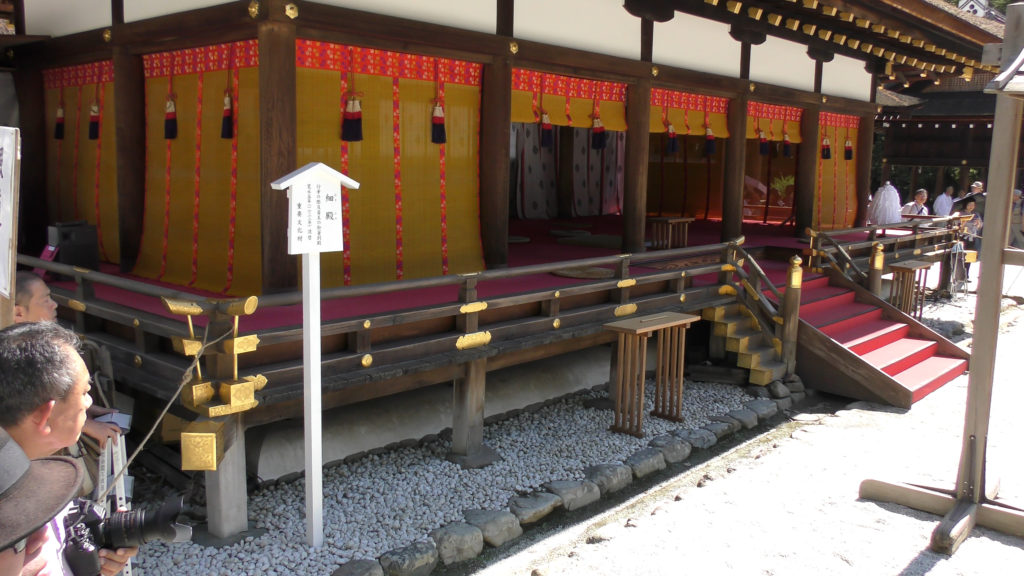 It is children who wrestle in Karasu-zumo because they are innocent. The word "innocent" is "mujaki" in Japanese, and "mujaki" also means "no evil spirit," so it is believed that you can ward off evil spirits by offering children's sumo matches to the deity.
A priest draws the figure 8 on the dohyo (sumo wrestling ring) with his flat wooden scepter, and then walks on the line, wishing the best of luck to all the children. After that, he reads out the children's names one by one, and gives the name list to Saio-Dai.
Next, Crow Imitation (Japanese: Karasu-no-Saho) is performed. Between Hoso-dono and the dohyo, there are two piles of sand called tatezuna in the east and the west. Two priests each go to the front of them three times. First, they go to lean bows and arrows against the tatezuna. Then, they go to add swords. Finally, they go to sit down in front of them. It is interesting that they move by jumping sideways three times in succession. It is a classical style of imitating a crow. After sitting down, one priest says "kaa-kaa-kaa," and the other priest says "koo-koo-koo," imitating voices of crows. It is repeated two more times because the number 3 and 9 are thought to be very important in this ritual. It is based on the belief that repeated odd numbers drive away evil spirits.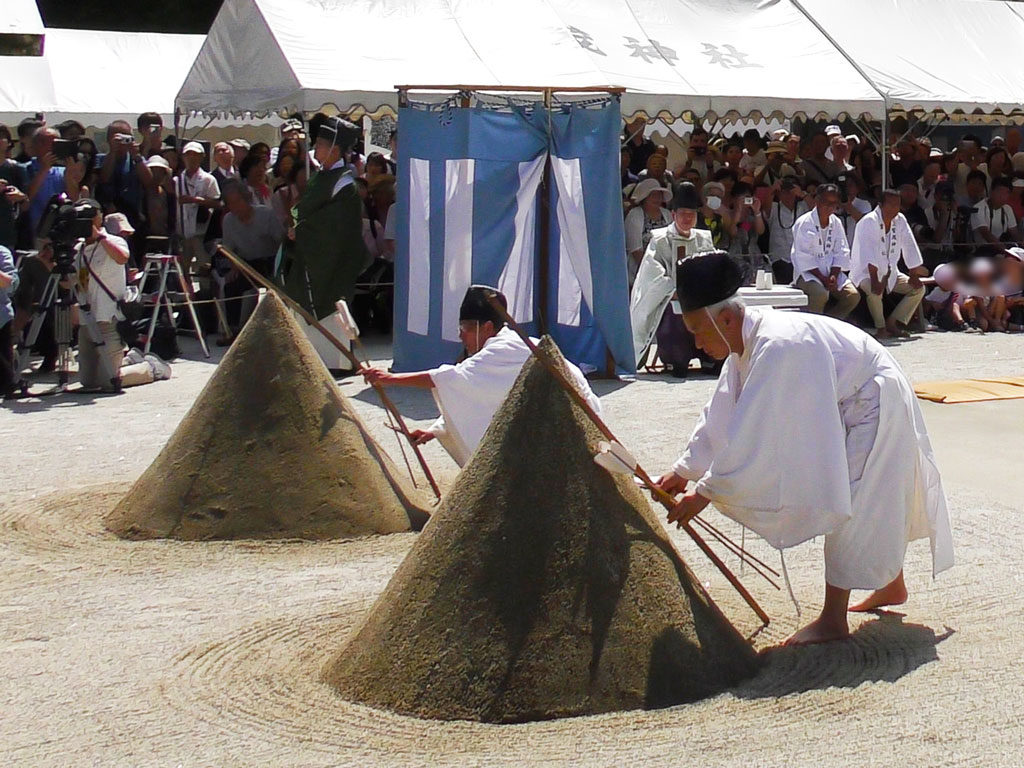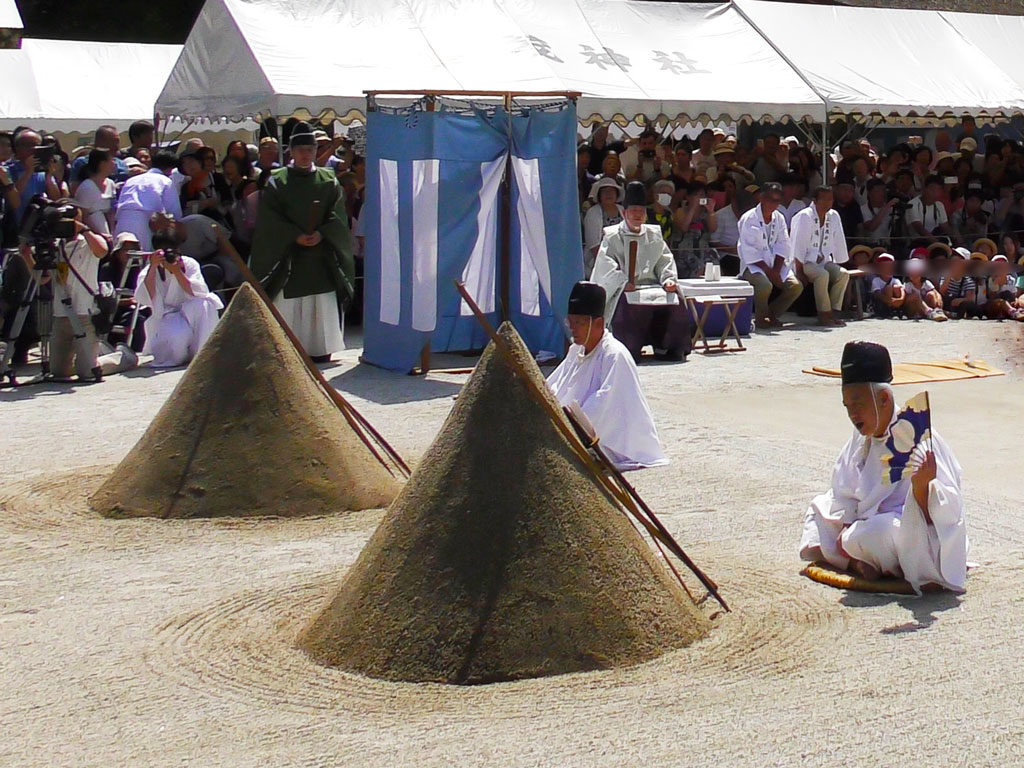 Finally, it is time for Karasu-zumo. Children split up into two teams, East and West, and walk around each tatezuna three times. This is "three times" again. In addition, "three" pine needles are stuck on the top of the tatezuna in the west side (but it is difficult to see it). It is believed that when an odd number is combined with an even number, people could see the figure of the deity. Therefore, two pine needles are stuck on the tatezuna in the east side. According to a Chinese theory called Theory of Yin-Yang and the Five Elements (Japanese: In-Yo Gogyo Setsu), yin and yang are opposite forces that form a whole, and even numbers symbolize yin, while odd numbers symbolize yang. Japan has been affected by China like this in its long history.
After Karasu-zumo, the little sumo wrestlers take commemorative photos with Saio-Dai. Speaking of photos, it is not allowed to post any photos of Karasu-zumo on the Internet. If you go to see Karasu-zumo, follow this rule to protect children's privacy.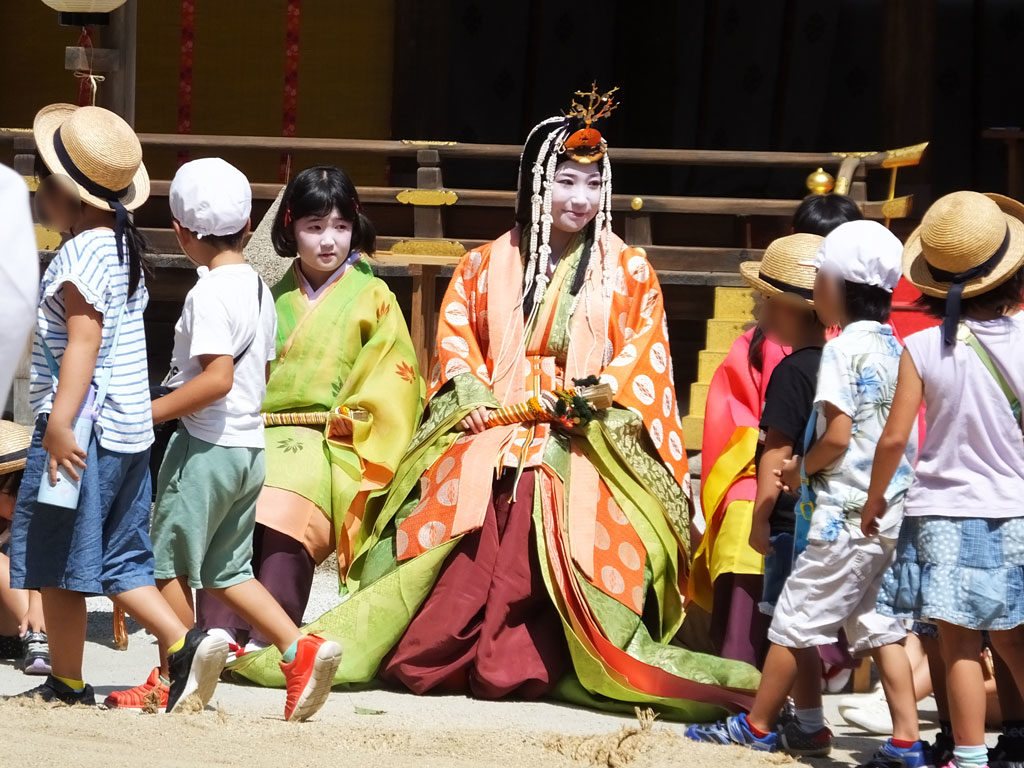 Karasu-zumo is a traditional ritual that is designated as an Intangible Cultural Property. Then, what is the origin of it? First of all, you need to learn about a grandfather of the deity of Kamigamo Shrine, who appears in Japanese Mythology. His name is Kamo Taketsunumi no Mikoto, and he was a deity of Shimogamo Shrine. When the first Emperor of Japan, Emperor Jimmu made an expedition to the East before he dominated the country, Kamo Taketsunumi no Mikoto transformed himself into a three-legged crow called Yatagarasu, and led the way for the Emperor. Kamo Taketsunumi no Mikoto was a leader of a group of people, and the group members were called Crow Tribe (Japanese: Karasu-zoku). The residents in the area of Kamigamo Shrine were called Crow Tribe, too. According to the mythology, Kamo Taketsunumi no Mikoto made Crow Tribe members do sumo to amuse a baby deity, and this is said to be the origin of Karasu-zumo.
Kikuzake
Kikuzake is Japanese rice wine with floating chrysanthemum flowers or petals. You can have it for free after Karasu-zumo. In the Heian Period (794-1185), drinking kikuzake on the day of Choyo became a part of a court ritual called Court Banquet on Choyo (Japanese: Choyo no Sechie). The emperor and his retainers composed poems and drank kikuzake to purify themselves and pray for their longevity. This ritual was held not only in the Imperial Court, but also among ordinary people. In the lunar calendar, the day of Choyo, September 9th (October in the solar calendar) is in the middle of the harvest season, so as the farming culture developed, people came to pray for an abundant harvest in this ritual, too.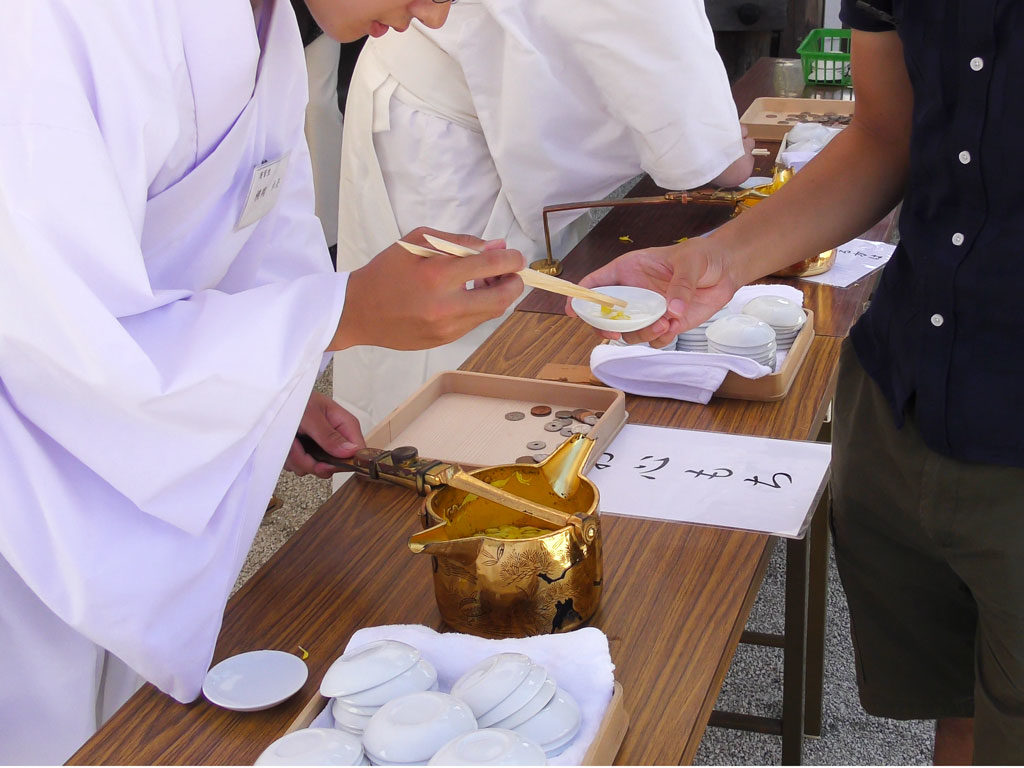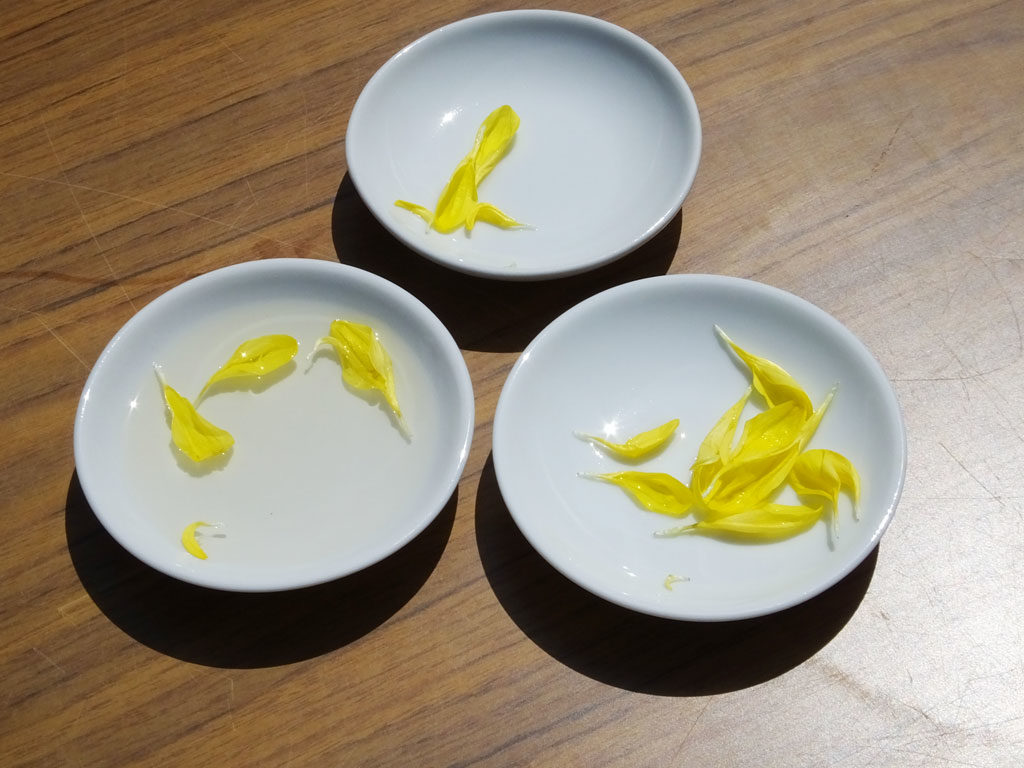 【Kamigamo Shrine】
Kamigamomotoyama, Kita-ku, Kyoto City, Kyoto
Tel: +81 75-781-0011
URL: http://www.kamigamojinja.jp/english/index.html
Choyo Ritual Start  10:00 A.M.