If you are in Kyoto in May, you must go to Aoi Matsuri (Hollyhock Festival), one of the three main festivals of the city of Kyoto. The main attraction is an elegant procession of people in traditional clothing of the Heian Period. The festival began more than 1400 years ago to pray for a bumper crop. It's held on May 15th every year.
Look at the green plants in the next picture. They are aoi or hollyhocks. In Aoi Matsuri (Hollyhock Festival), you can see leaves of aoi on the participants' clothing, horses, oxen, ox carriages and stuff. By the way, I took this picture in a tea house, Housen on my way home from the festival.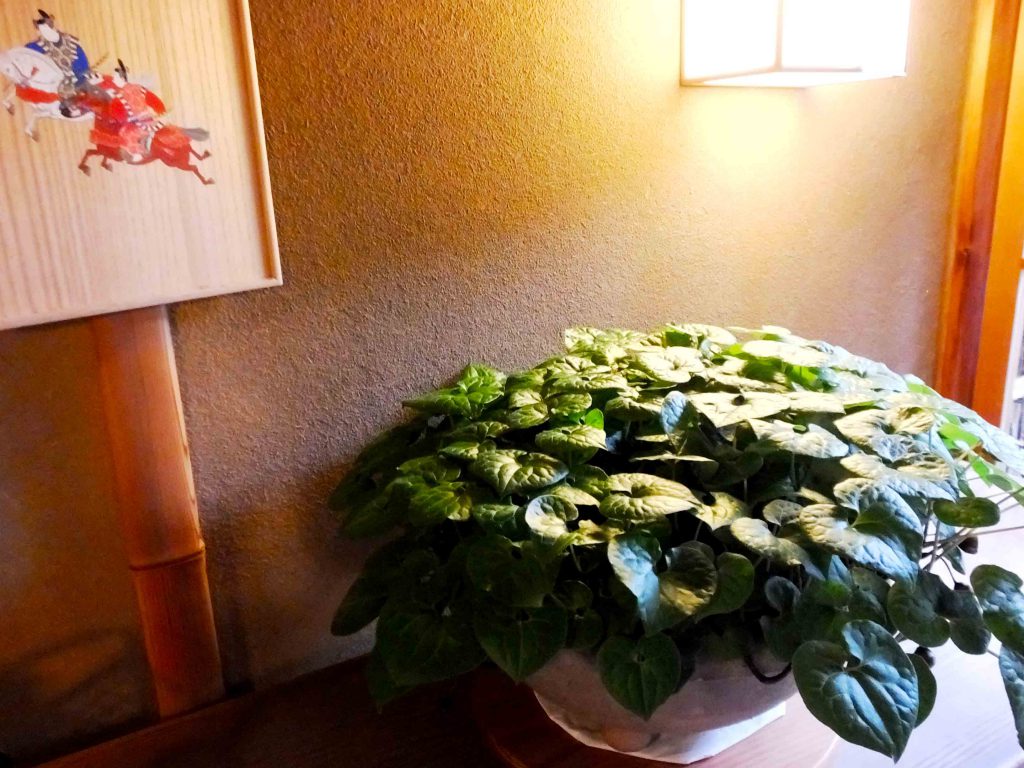 There are many good spots for taking pictures. Especially, I recommend the place near Kitaoji Station. (Look at the camera sign in the map.) It's about 10 minute walk from the station.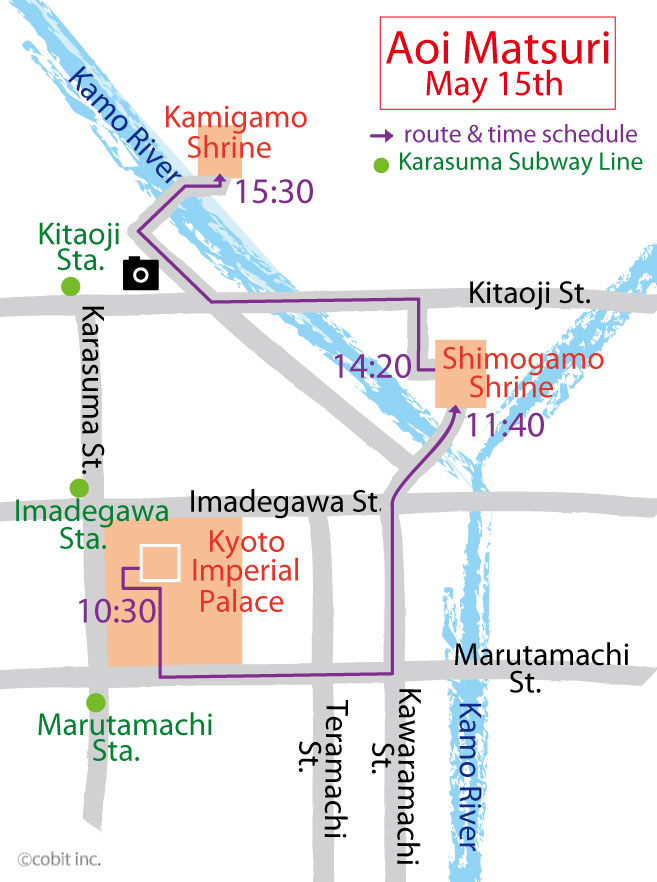 I was born and brought up in Kyoto, and I feel very few local people bother to go to the shrines. We usually watch the procession on the streets. Just in case, however, I'll mention the information of three important places below.
[Kyoto Imperial Palace]
Address: Kyoto-Gyoen, Kamigyō-ku, Kyoto City
Access: 5 minute walk from Imadegawa Station (Karasuma Subway Line)
[Shimogamo Shrine]
Address: 59 Izumigawa-chō, Shimogamo, Sakyō-ku, Kyoto City
Access: City Bus to "shimogamo-jinja-mae"
[Kamigamo Shrine]
Address: 339 Kamigamo-Motoyama, Kita-ku, Kyoto City
Access: City Bus to "kamigamo-jinja-mae"
You can see the rare decoration with pine branches, too. I learnt that it's called sakasa-kadomatsu. Sakasa means "upside-down". A kadomatsu is a Japanese New Year decoration. In Japan, matsu or pines are lucky plants.
Near Kitaoji Station
I arrived at my favorite spot (near Kitaoji Station) around 1:20 p.m. While waiting, some children were playing in and around Kamo River. The weather was nice and cool, and I was happy in the shade of trees. Some people around me brought some food. I went to buy takoyaki or octopus dumplings. You can wait for the procession comfortably like this, but you don't need to wait actually. The procession passed there around 2:50 p.m. that day, and some people arrived there at the very moment.
Here comes the procession! The costumes are amazing. Look at the horses. They are cool and adorable, but be careful. Sometimes they turn restive.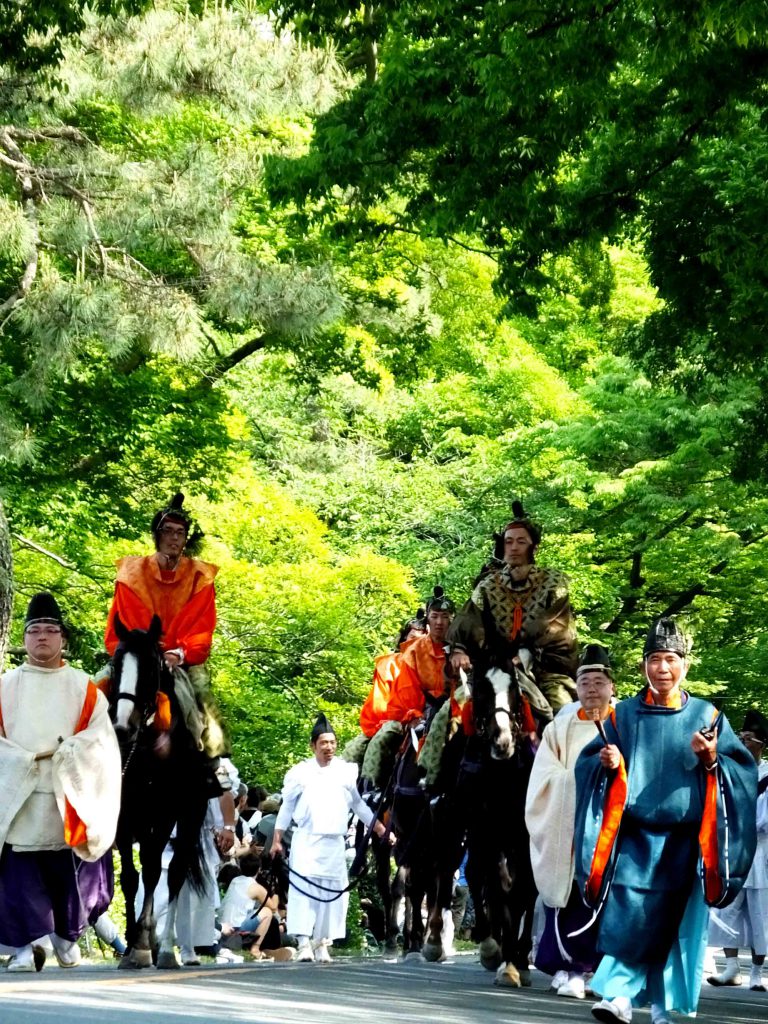 In the Heian Period, the aristocracy wore many colorful layers. Even children wore layers in a stylish manner. Enjoy watching the combination of the colors. That is just what the aristocracy did in those days!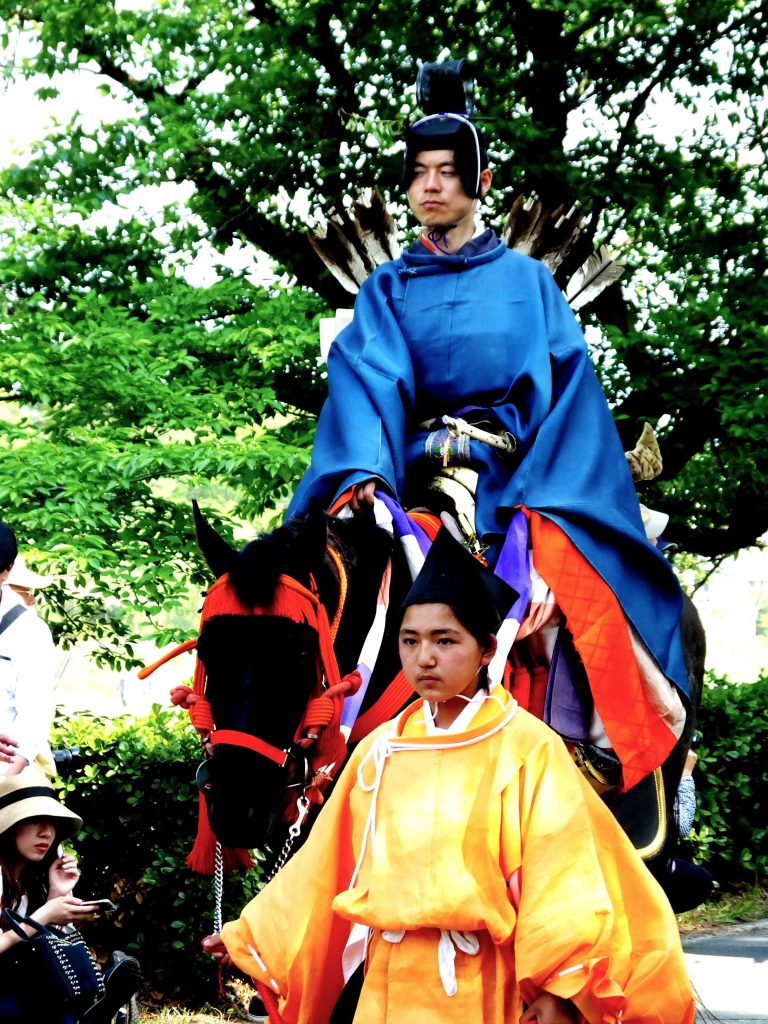 A big ox carriage came with many men in white. They were wearing leaves of aoi(hollyhocks) on their hats. Wisteria flowers on the ox carriage were impressive.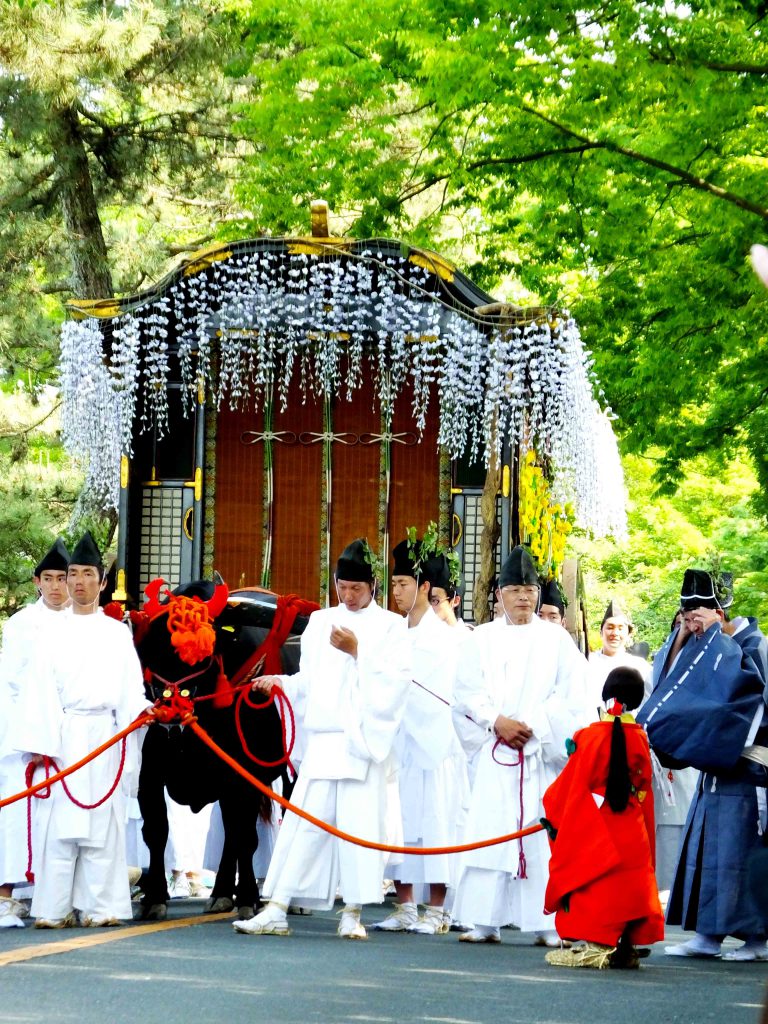 Look at the picture. This majestic man riding the gorgeous horse is in the highest position in the procession, though not many people know it. What is distinctive is the iron mask of his horse.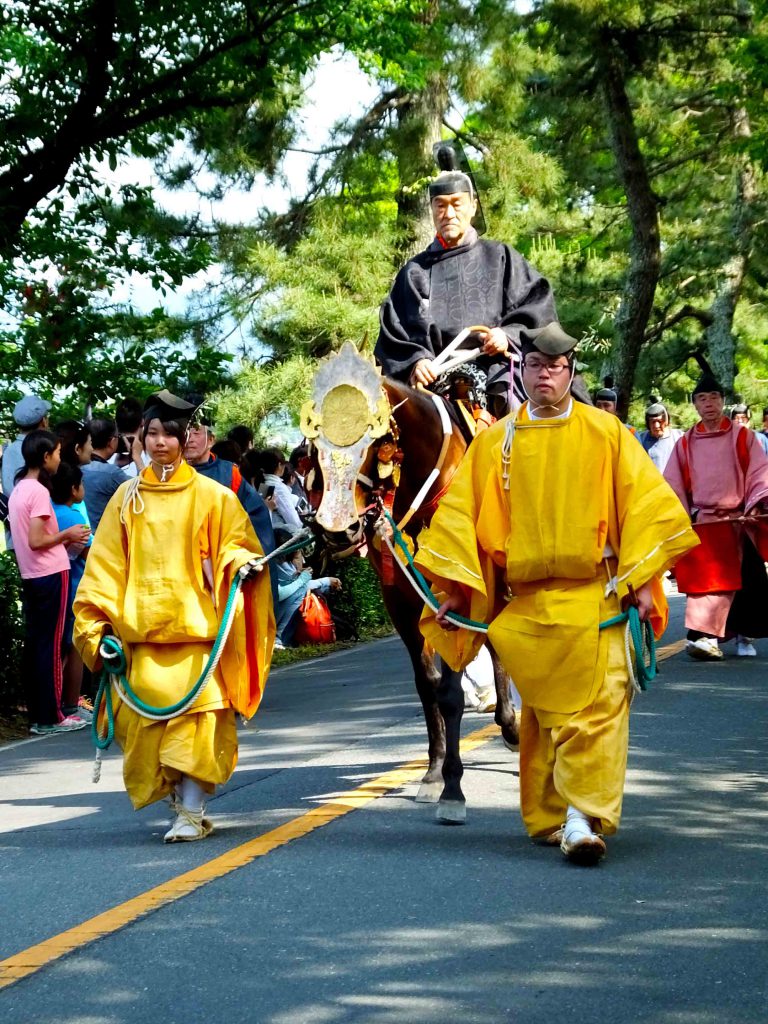 By the way, did you notice there are different types of hats? It's interesting to check small articles. Look at the next picture. The footwear made from straw rope is calledwaraji. The sock with a separation between the big toe and the other toes is called tabi.Waraji used to be worn in the old days, but now they easily get worn out on asphalt roads, unfortunately.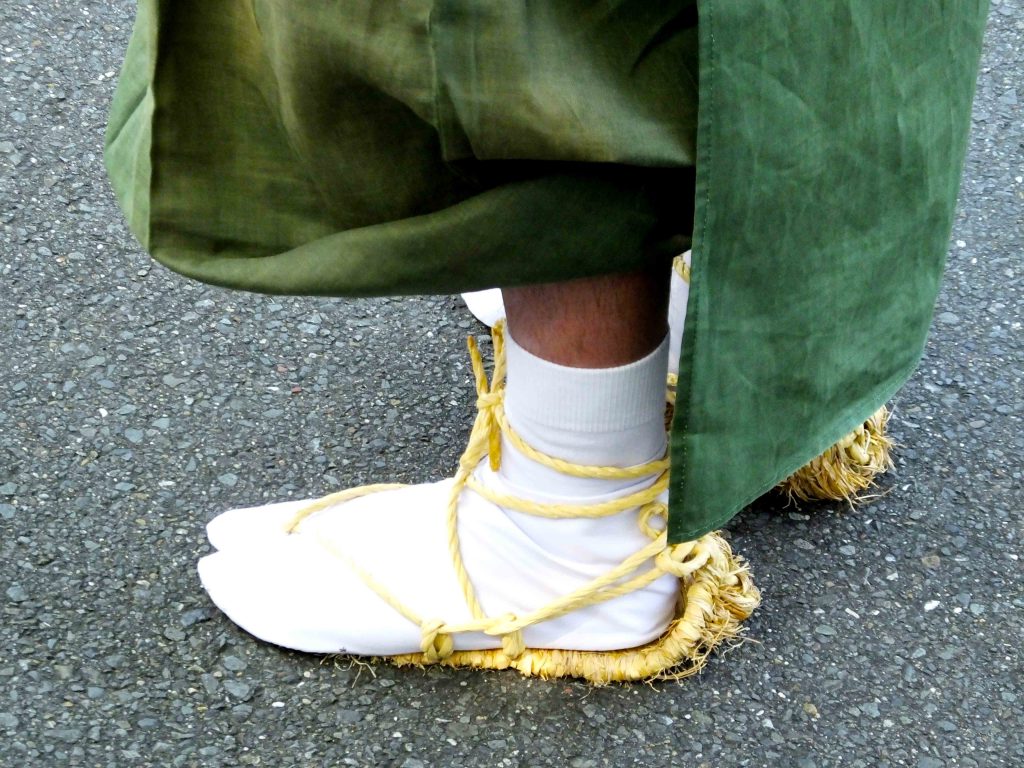 You can see beautiful umbrellas decorated with flowers. The procession was getting more colorful. Finally, a woman called Saio-Dai will pass by riding in a palanquin. Many are eager to see her.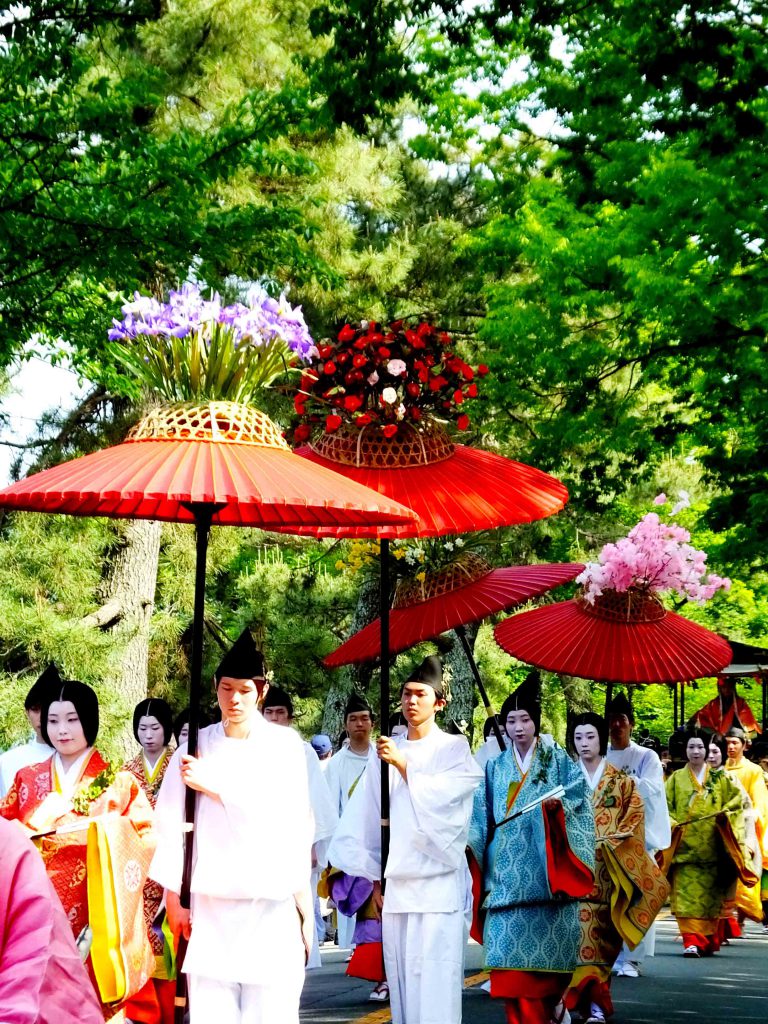 This is Saio-Dai in 2016. Many people think Saio-Dai is the leading role in the festival. She was wearing a jūnihitoe or twelve-layer kimono, which was only worn by court-ladies. I hear her jūnihitoe weighs about 30kg, and it takes almost 3 hours to put them on, even when two people help.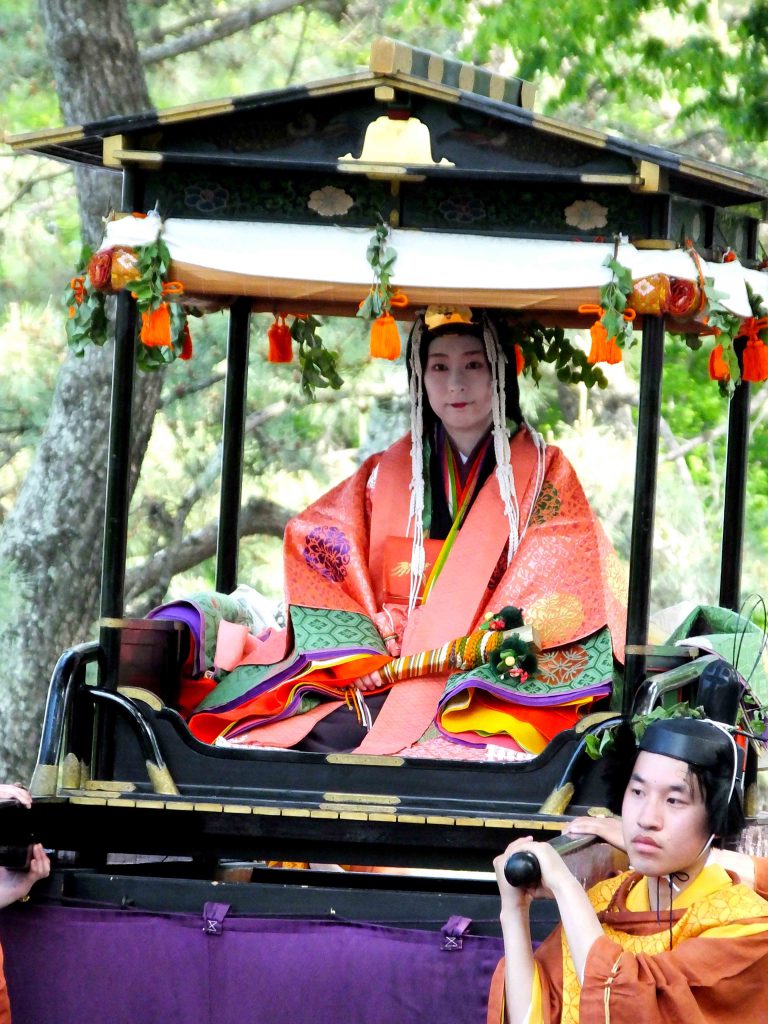 Saio-Dai is strictly selected for each year. In the festival, Saio-Dai represents the emperor at that time called Saiō. Saiō was an unmarried woman, and so she is. Also, Saio-Dai should be of good lineage and her family should be wealthy.
Some women riding on horses followed her. In the Heian Period, court-ladies' hair was extremely long, so sometimes it was worn tied back like them.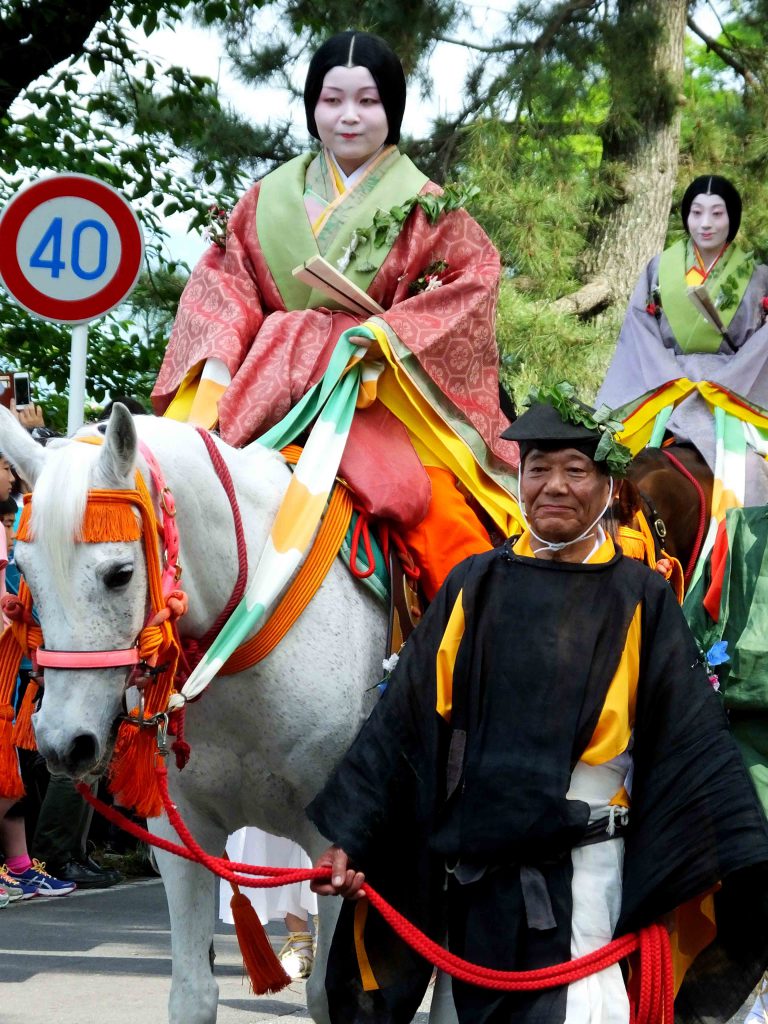 Look at the gorgeous drum. So far, there has been a lot of decoration with real aoi(hollyhocks) in the pictures, but it was the first time for me to find a pattern of the three leaves. It's in the middle of the drum, just like hearts.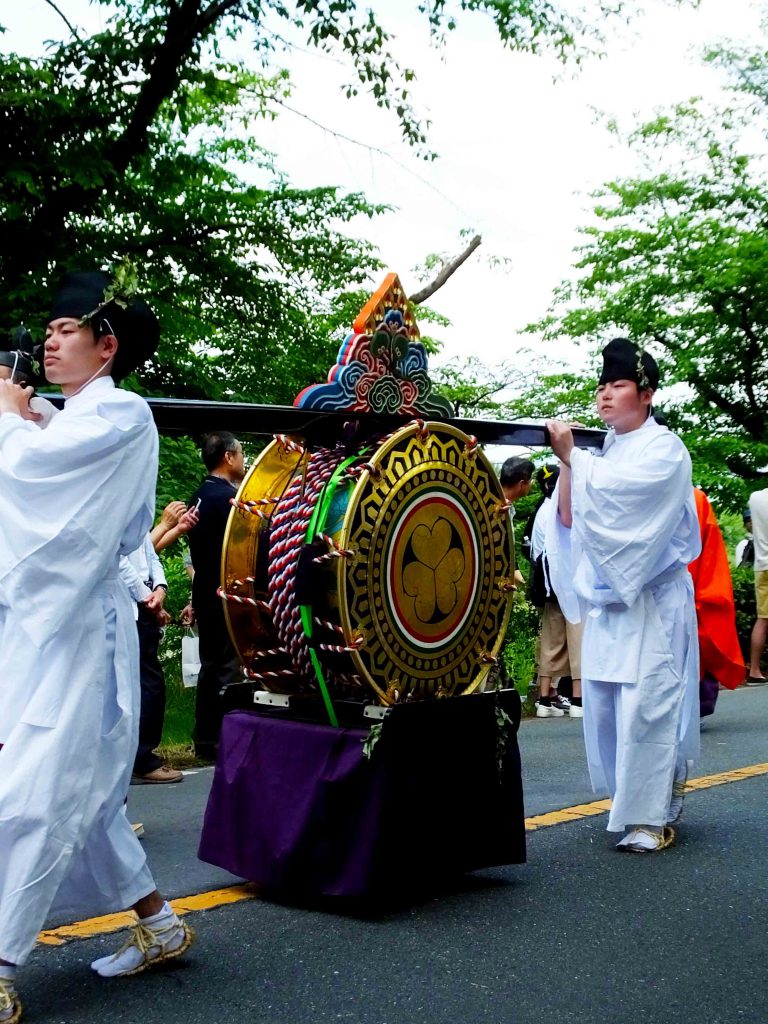 Then, I also found green leaves of aoi painted on a pretty bell. Can you see it? It's above the bell. I wondered if the entire design of the bell symbolizes a flame.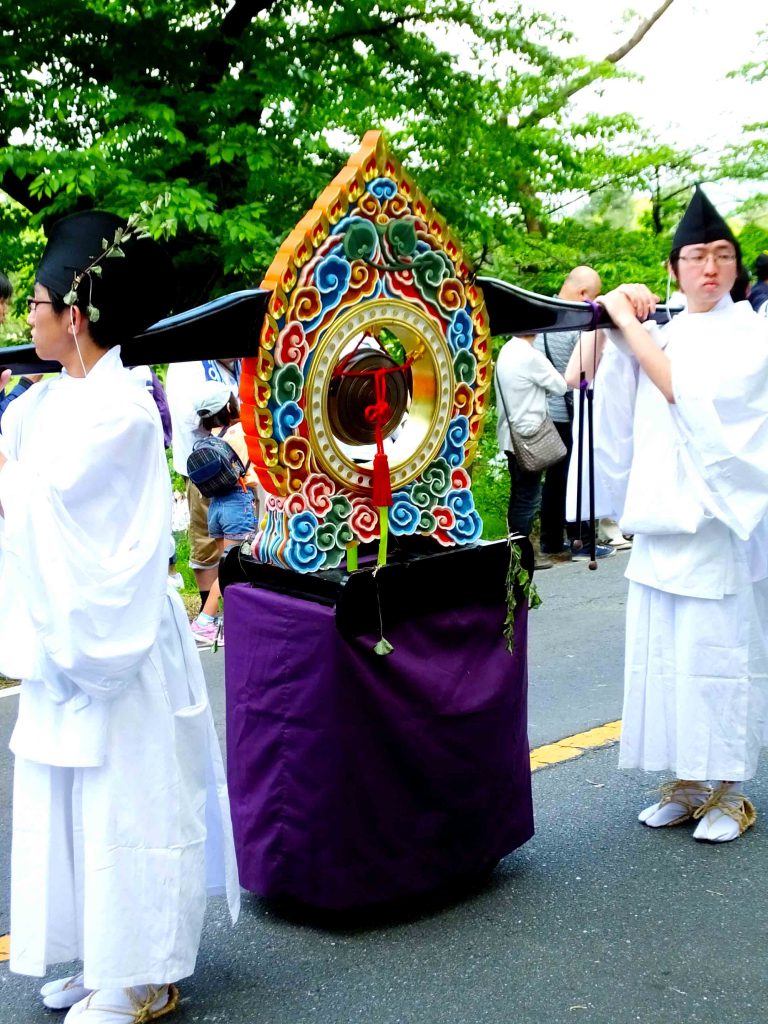 You may discover something interesting when you look at the backs of the participants in the procession.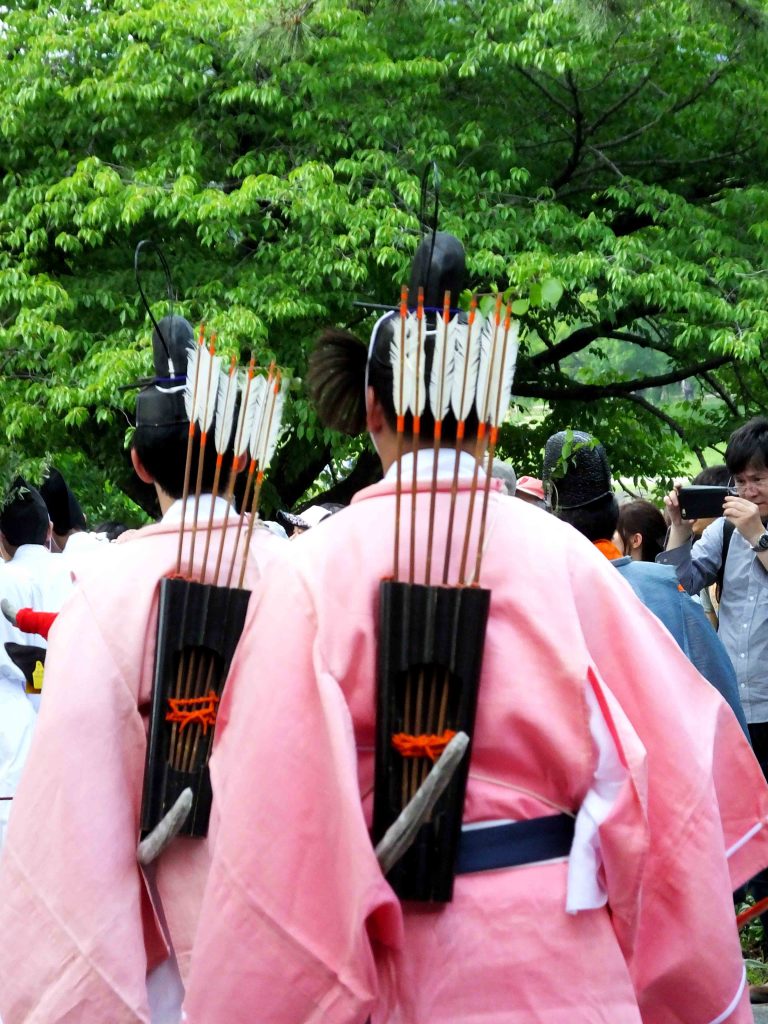 I'd happened to see the festival a couple of times, but I enjoyed it because there were new discoveries. I bet it's fun to look for something interesting, talking with your friends.