Daiko-daki, a Year-end Tradition in Kyoto
At Daihoon-Ji Temple (Senbon Shakado) in Kyoto, Jodo-e and Daiko-daki are annually held on two days, December 7th and 8th. Jodo-e is a Buddhist assembly to commemorate the day that Buddha became enlightened when he was 35 years old. (Now I am 34 years old and I wonder how it could be possible!) Daiko-daki is a white radish boiling event. The simple dish of the boiled radish, also called Daiko-daki, is served to the visitors. It is believed that visitors can stay healthy by eating it. It sounds interesting. I decided to go to Daiko-daki in 2017.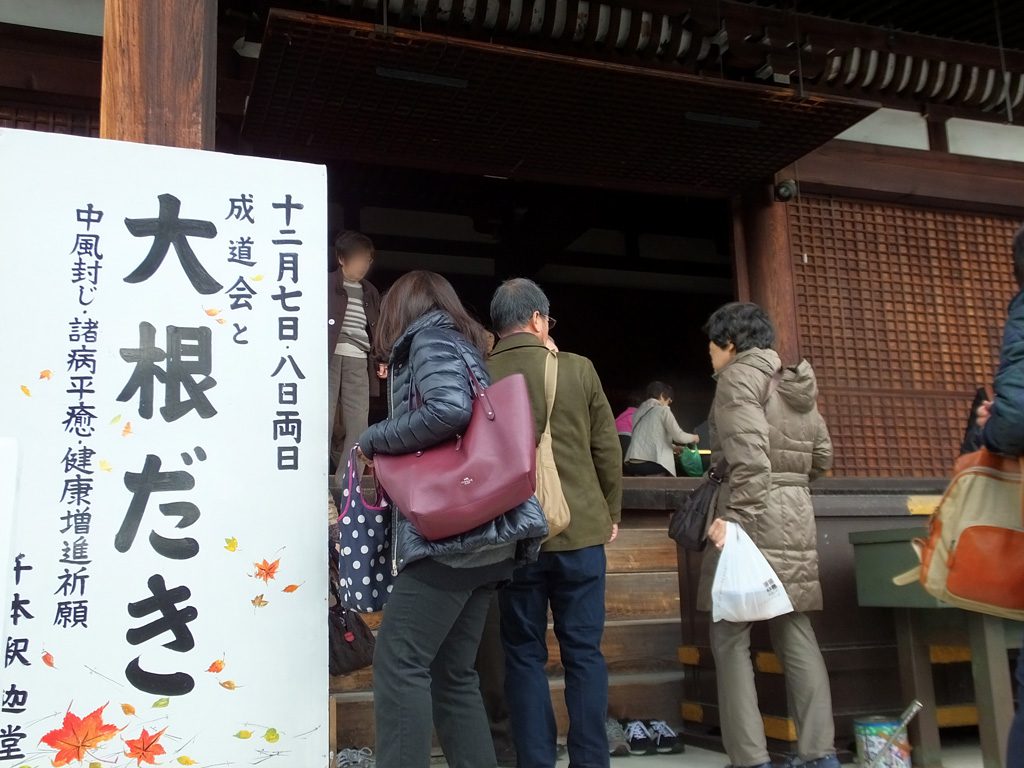 Known as a year-end tradition in Kyoto, Daiko-daki is held in some other temples, too. The best known place is Daihoon-Ji Temple, and when I went there around noon, it was very crowded. Daiko-daki is held from 10:00 a.m. to 4:00 p.m. Go there early to get Daiko-daki, or you will miss it.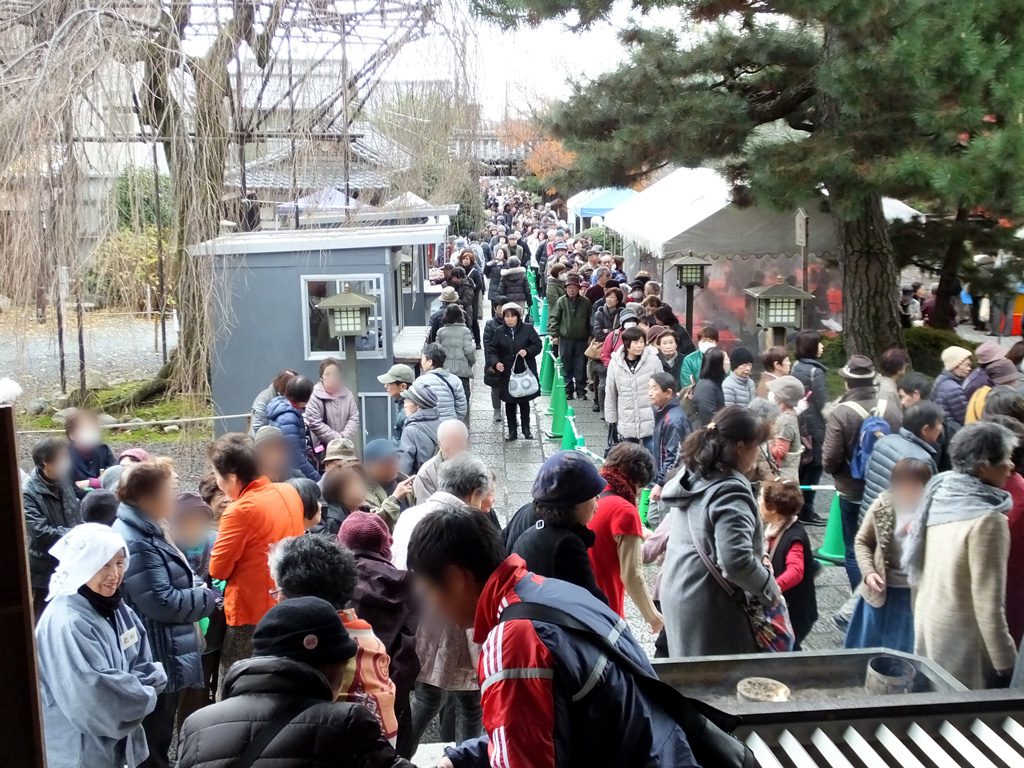 As you walk on the approach to the main hall, you will see the ticket office on your right. Purchase the ticket there. Daiko-daki is 1,000 yen. If you want to bring Daiko-daki to family and friends, you can buy a food container at 150 yen there, or you can use your own food container.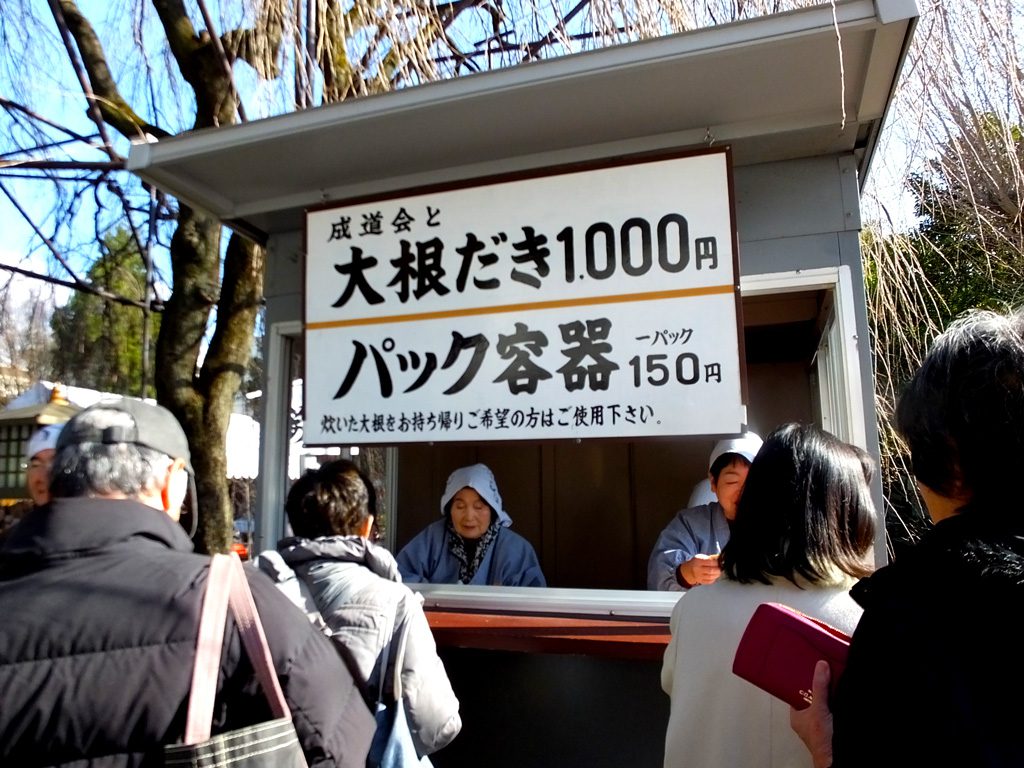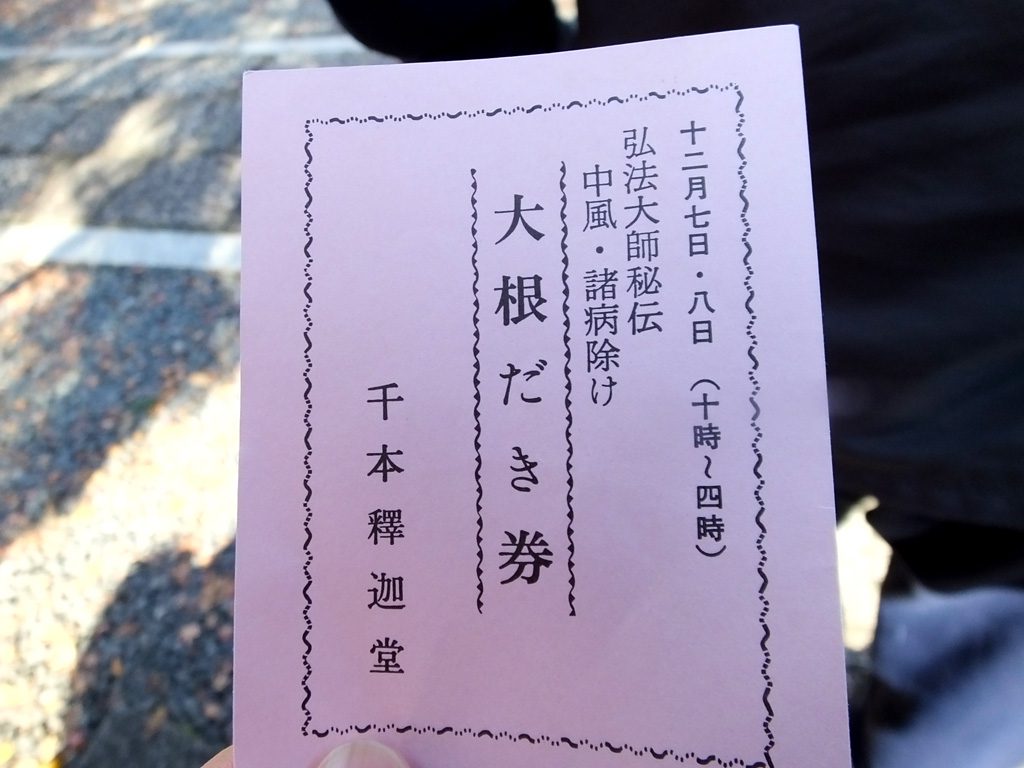 Let's Have Daiko-daki!
While waiting in line for Daiko-daki, I saw women cooking and stirring Daiko-daki in a large pot. During the two days of Daiko-daki in 2017, they cooked about five thousand white radishes, and prepared no less than fifteen thousand dishes, because about ten thousand people come to have Daiko-daki every year.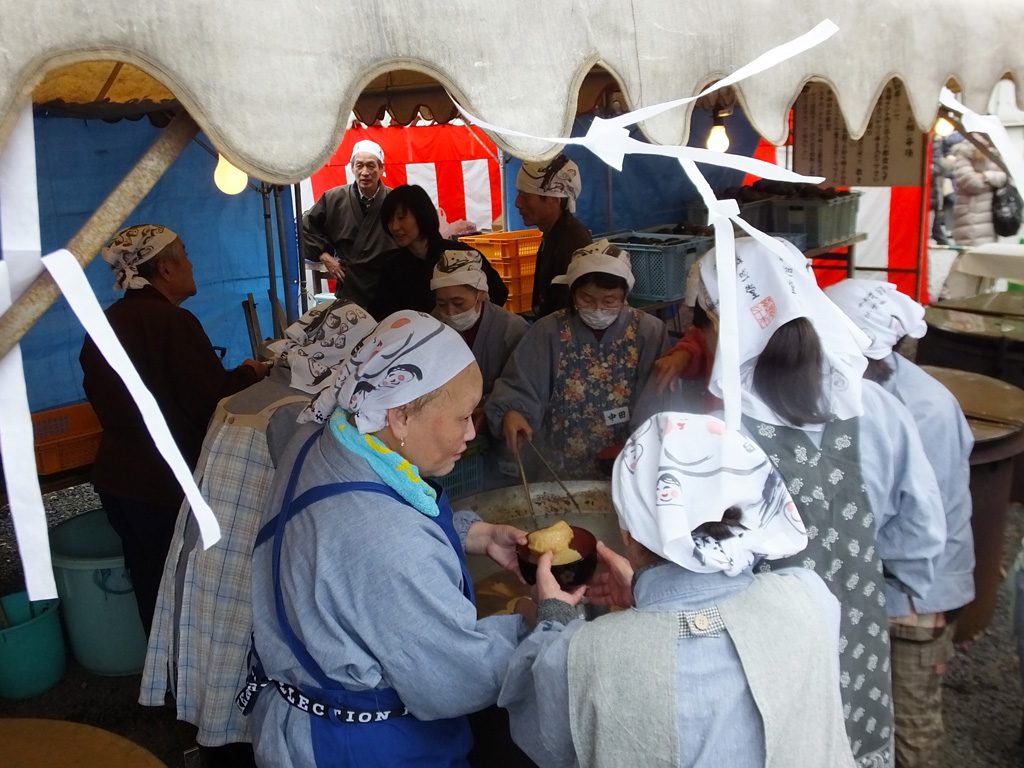 I was served Daiko-daki. It was a bowl of boiled white radish and deep-fried tofu (bean curd), and it was very hot! Be careful. If you burn your mouth, then why do you eat it wishing to be healthy?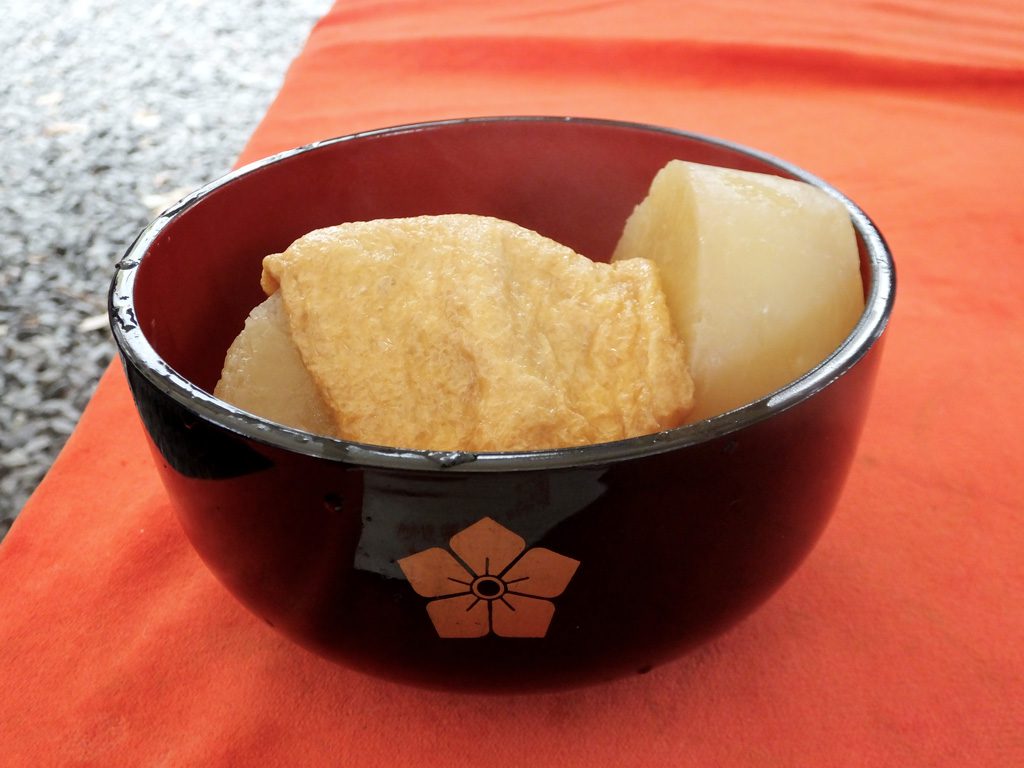 You can eat the Daiko-daki under the tent or in the main hall. The main hall is one of the oldest buildings in Kyoto that survived through many wars, including Onin War that lasted for ten years from 1467 to 1477. I suppose the main hall has a strong power to drive away evil spirits. However, there are not many places to sit down there, so if you want to eat the Daiko-daki while it is hot, maybe it is better to be seated under the tent, which is near where you receive the Daiko-daki.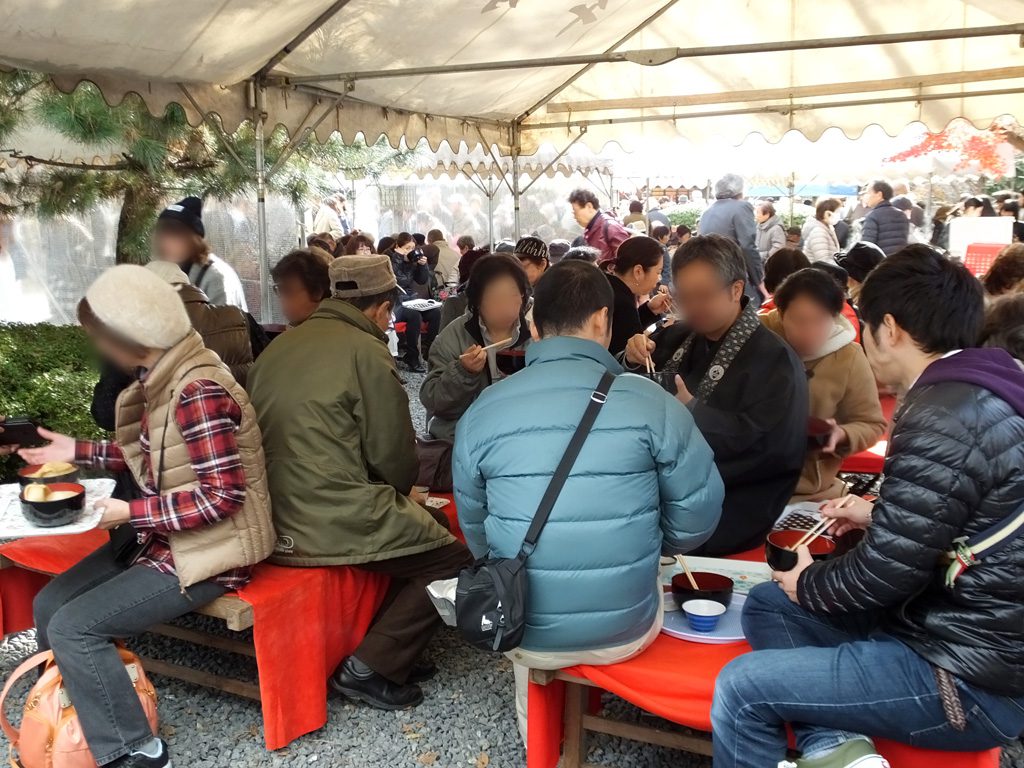 Shopping at the Temple?
Near the main hall, they sold white radishes with Sanskrit Siddham script on them. It is great to cook yourself and eat in with your family, wishing a good health together. The script stands for the founder of the Buddhist religion, Shakyamuni Buddha (Japanese: Shaka Nyorai). Daihoon-Ji Temple is commonly called Senbon Shakado, partly because 'Shaka Nyorai' is worshipped here.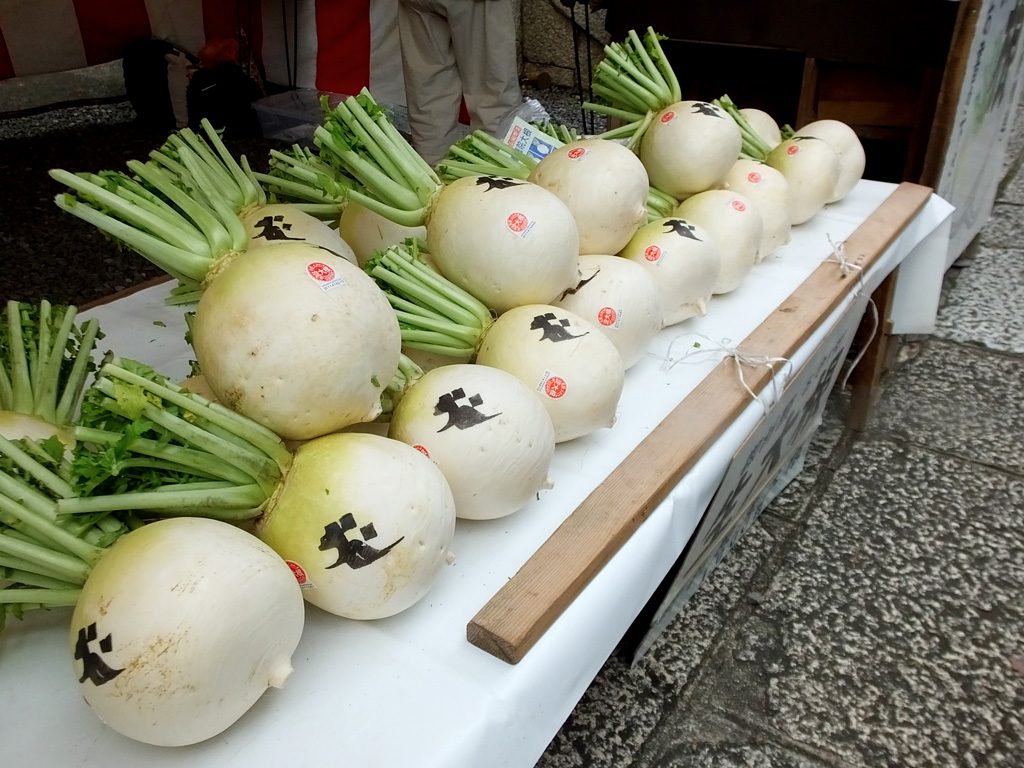 Also, there were vendors selling homemade bread, plants, antique pottery and so on. Why don't you look around them after praying and eating Daiko-daki? It must be fun, because perhaps you will find something special there.