Yawata Hashirii-mochi Roho is a traditional Japanese sweet cafe that you can eat a local specialty of Yawata City, Hashirii-mochi. Yawata City is located in the southern part of Kyoto Prefecture and famous for Iwashimizu Hachimangu Shrine. Many of the visitors of the shrine drop by this cafe because it is near the shrine. Surrounded by the nature, it is a good place to enjoy Japanese sweets and tea in the calm and tasteful atmosphere.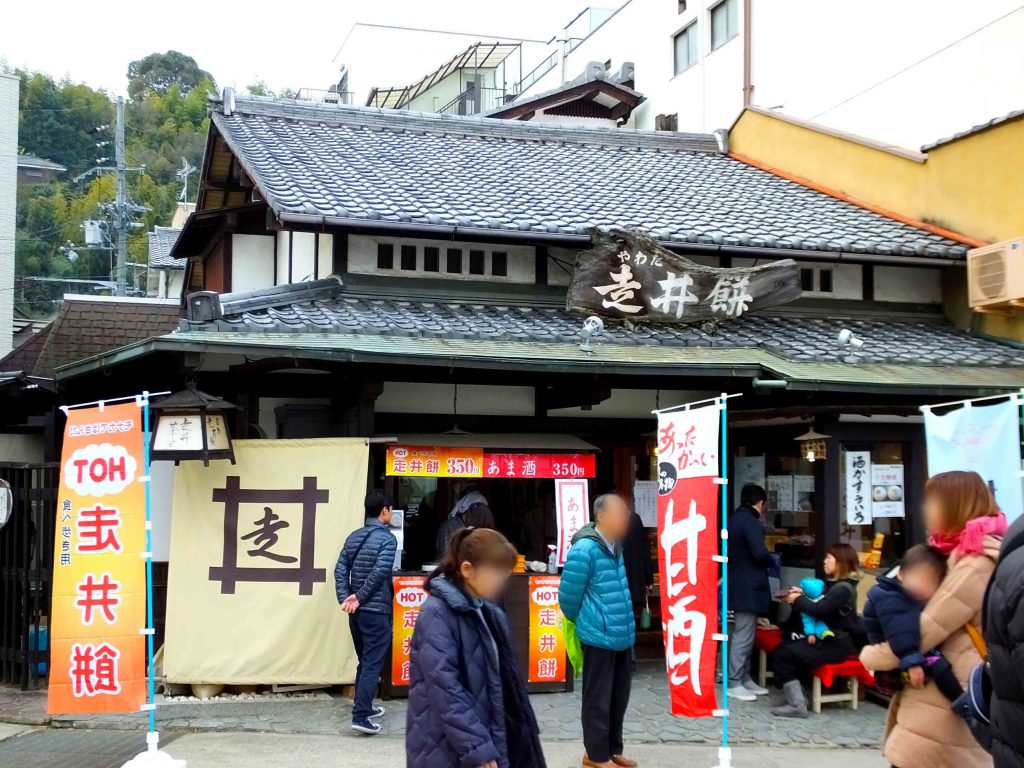 Hashirii-mochi is a soft rice cake. Adzuki bean paste is in it, but it is not too sweet. When I paid New Year's visit to Iwashimizu Hachimangu Shrine, I went to this cafe and had two Hashirii-mochi with hojicha tea at 350 yen. They were so tasty that I want to eat them almost every day! Also, they have what we call sakuramochi in the cherry blossom season. As you know, 'sakura' means 'cherry blossoms.' Wrapped in a cherry blossom leave, sakuramochi will literally bring you the scent of the spring. When I went there in the spring, I enjoyed the two sweets with matcha green tea at 600 yen, which I liked a lot. I ate in the small garden, and had a good time.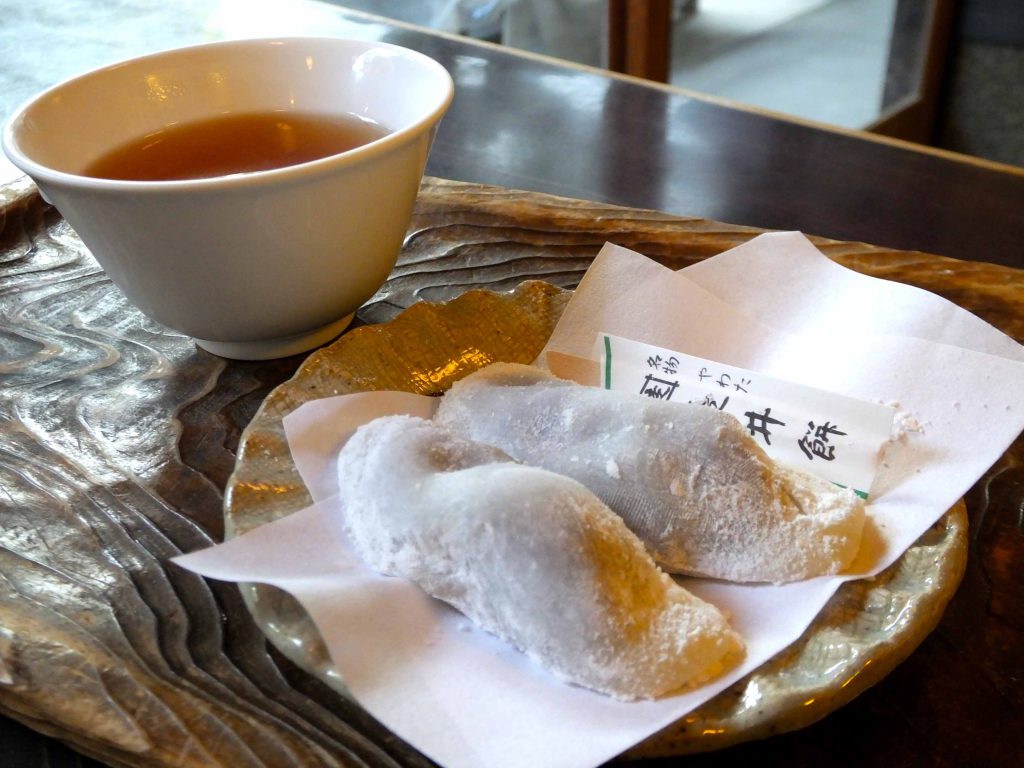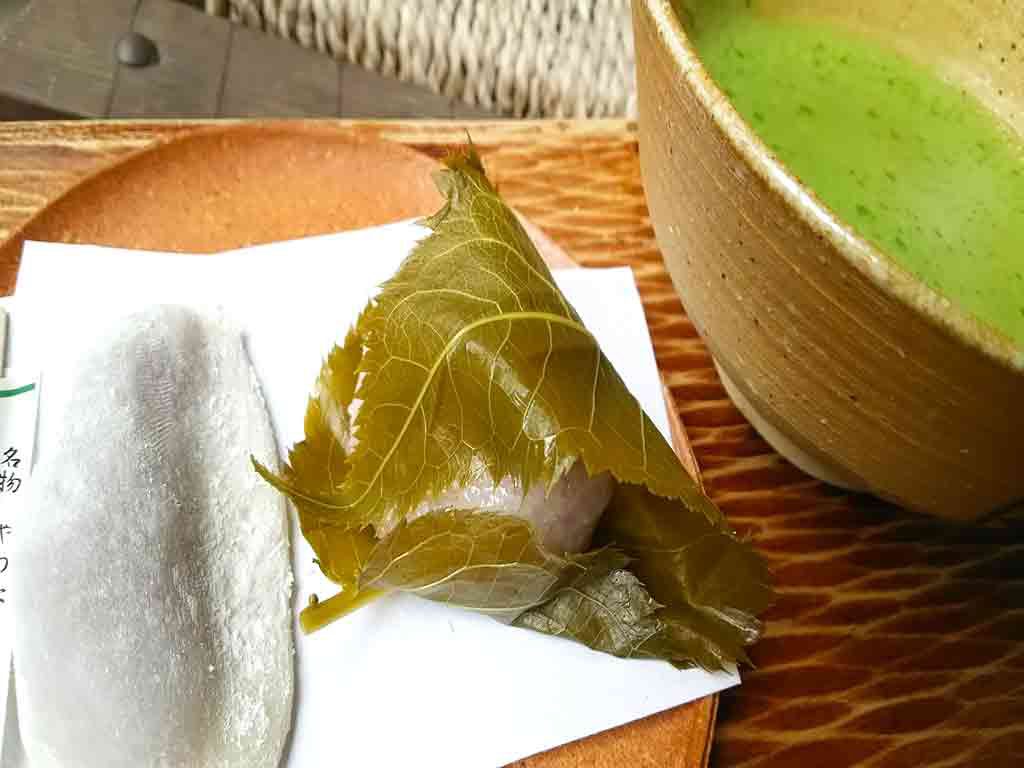 Hashirii-mochi used to be made with spring water called 'Hashirii' and its shape symbolizes a sword, which will bring you a good luck. This is because a swordsmith named Sanjo Munechika made excellent swords using the same water in the Heian Period (794-1185). He was so good at sword making that one of his fine works became the original sword of Naginata-hoko of Gion Matsuri Festival. During the time of samurai, it was believed that if you ate Hashirii-mochi, you would not be killed by swords. Now people believe that by eating it, you will have a good luck and succeed in business like Munechika. History is interesting. Speaking of history, it is also interesting that this cafe used to be a lodging in the Edo Period (1603-1868) that travel groups had a custom to put up at the same inns as usual. These old plaques indicate that this place was one of the regular inns for them. With its history, Yawata Hashirii-mochi Roho has been loved by people for a long time.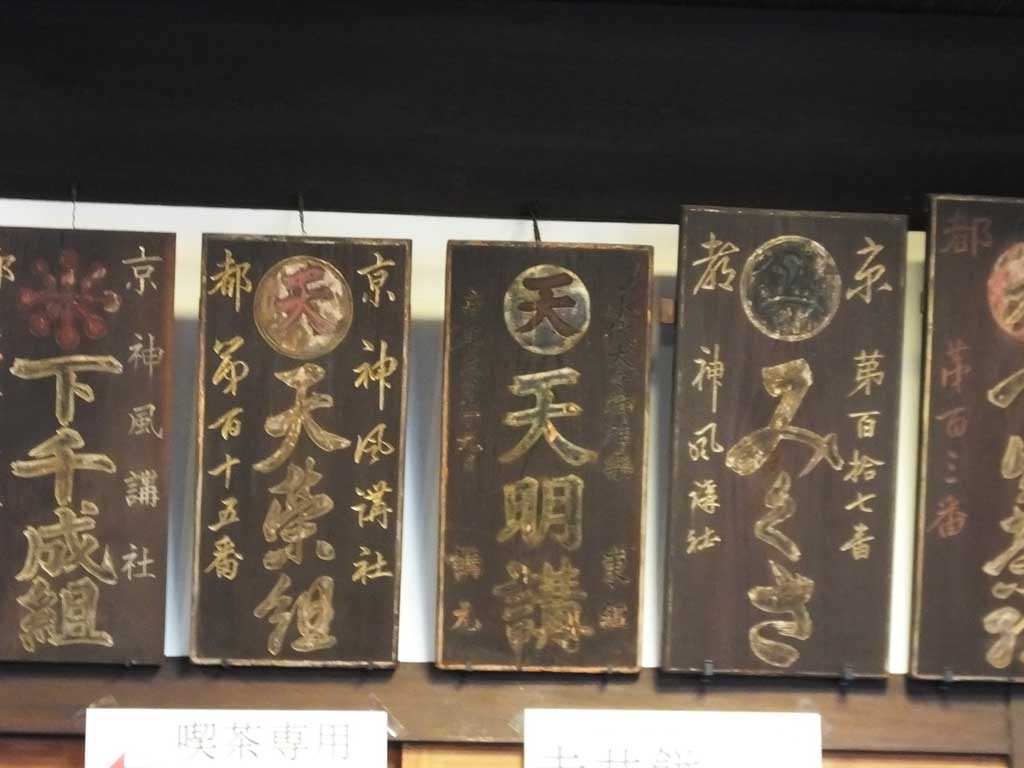 【Yawata Hashirii-mochi Roho】
19 Yawata Takabo, Yawata City, Kyoto
Tel: 075-981-0154
8:00 a.m.―6:00 p.m.  (LO: 5:30 p.m.)
Closed: Mon.
URL: http://www.yawata-hashiriimochi.com/ (Japanese)