The History of Kurumazaki Shrine
Kurumazaki Shrine is dedicated to a Confucian scholar, Kiyohara no Yorinari (1122―1189). He was incredibly smart and great at his job. Kujo Kanezane, who assigned him to a political consultant, admired him for his ability and described him as a super genius. After Yorinari's death, a mausoleum was built at the place of the shrine. As time passed by, more and more people were coming to worship at the mausoleum, and it became like a temple that was named Hojuin. Hojuin was also called Sakuranomiya because Yorinari loved sakura (cherry) trees, and many sakura trees were planted around the mausoleum.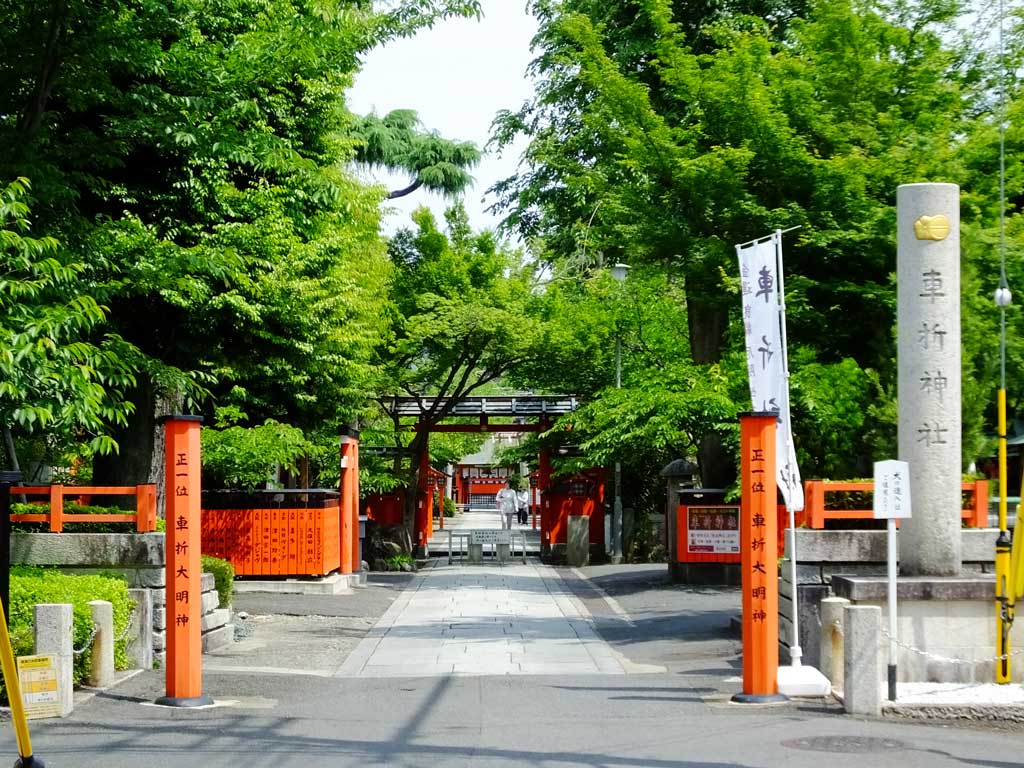 One day, when Emperor Go-Saga (1220―1272) was passing by Hojuin on an ox carriage, the shaft broke suddenly. He thought it was because he did not notice Hojuin, which was disrespectful to Yorinari. As an apology, he bestowed the deity name, Kurumazaki-daimyojin, meaning "a great deity of a broken car" and the highest rank of deities, Shoichii on Yorinari.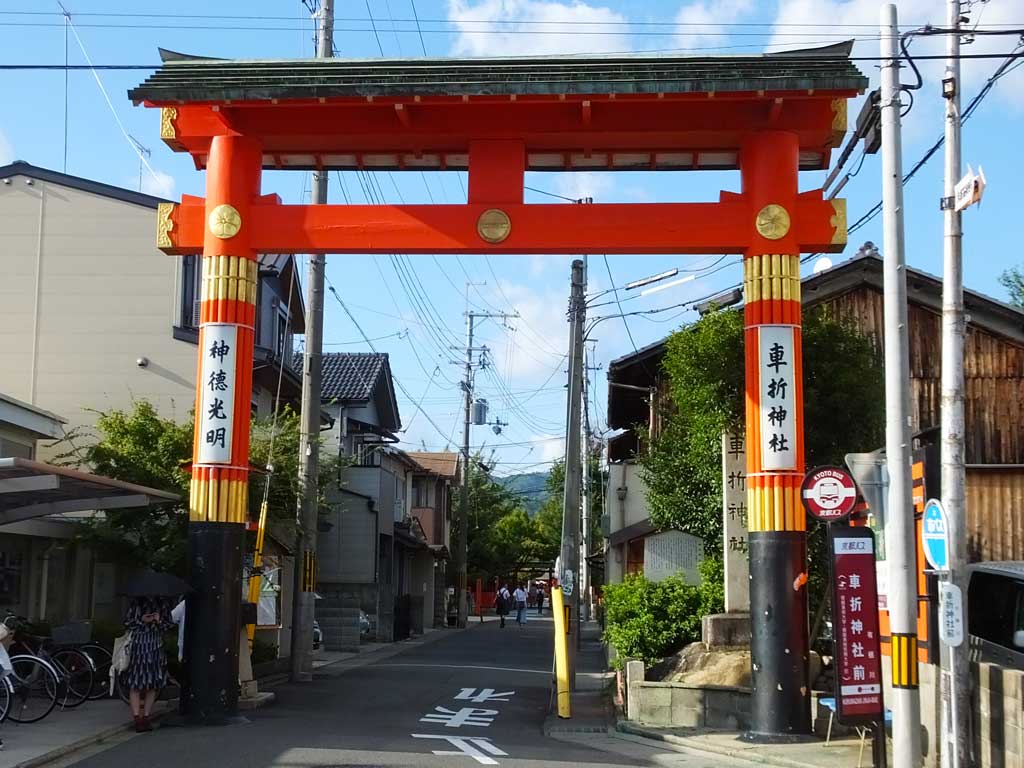 In 1339, Tenryu-ji Temple was established in Arashiyama by Ashikaga Takauji, and Hojuin became affiliated to it. More than 500 years later, the revolution called Meiji Restoration (Japanese: Meiji Ishin) took place, and people were required to clearly separate Buddhist temples and Shinto shrines. Hojuin became a Shinto shrine, and now it is called Kurumazaki Shrine because "Kurumazaki-daimyojin" is worshipped here.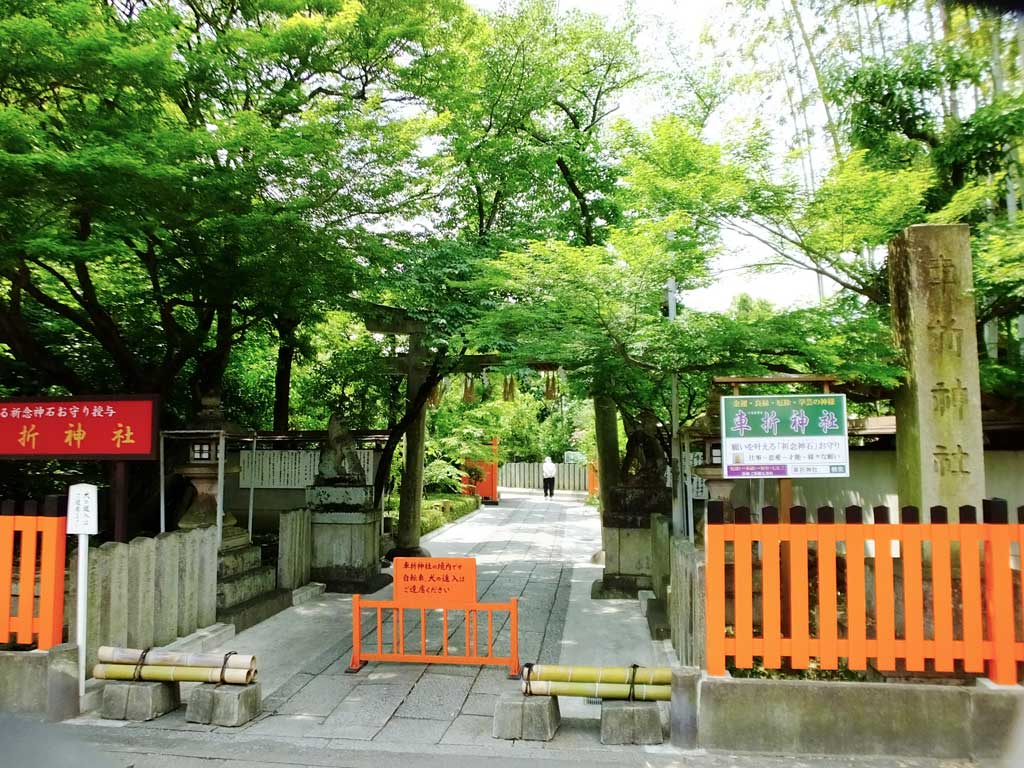 The Spirits of Yorinari, Sei Shōnagon and Tessai Here
Kurumazaki-daimyojin, formerly Kiyohara no Yorinari, was great at studying, so it is believed that he brings you good fortune to succeed in learning and exams, and to fulfill your promises. Moreover, to fulfill your promises in business means to succeed in business, and to fulfill your promises in love means to have a good marriage or maintain a good marital relationship, too. Yorinari is kind to anyone!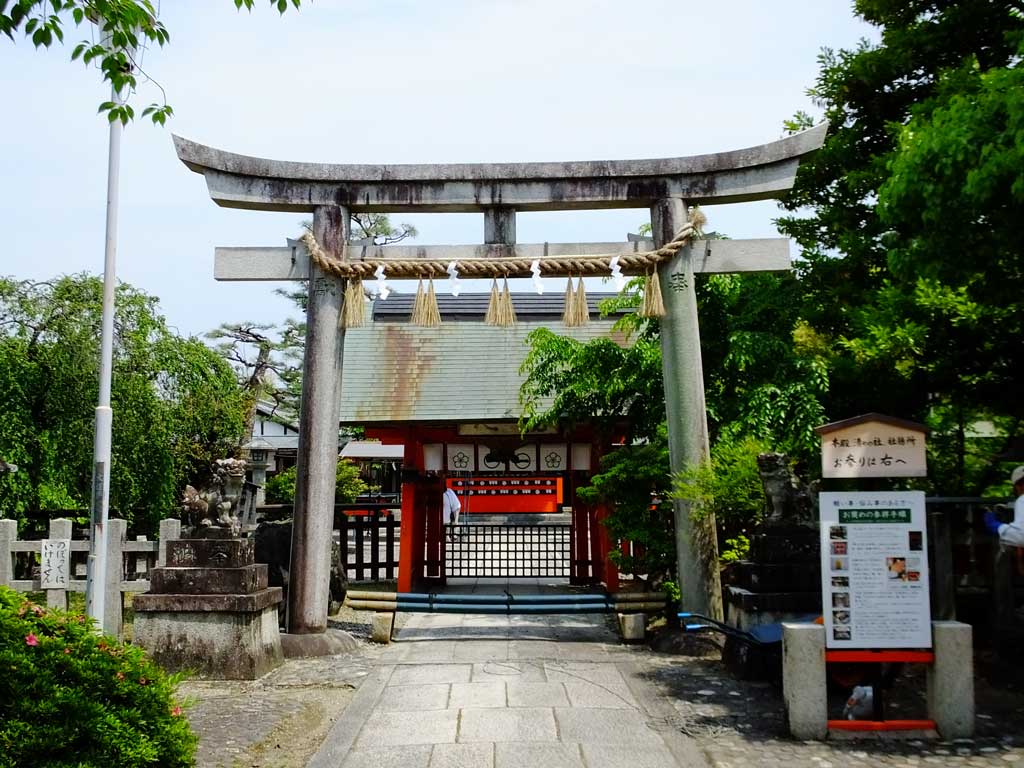 Sei Shōnagon (around 966―around 1025), who is well known as an author of The Pillow Book (Japanese: Makura no Sōshi), is a distant relative of Yorinari, so Sei Shōnagon Shrine was built in Kurumazaki Shrine after she passed away. Since 2015, "Sei Shōnagon" has taken part in a big festival of Kurumazaki Shrine, Mifune Matsuri. (The festival itself started in 1928.) One woman is chosen each year, and she plays a role as Sei Shōnagon in the festival.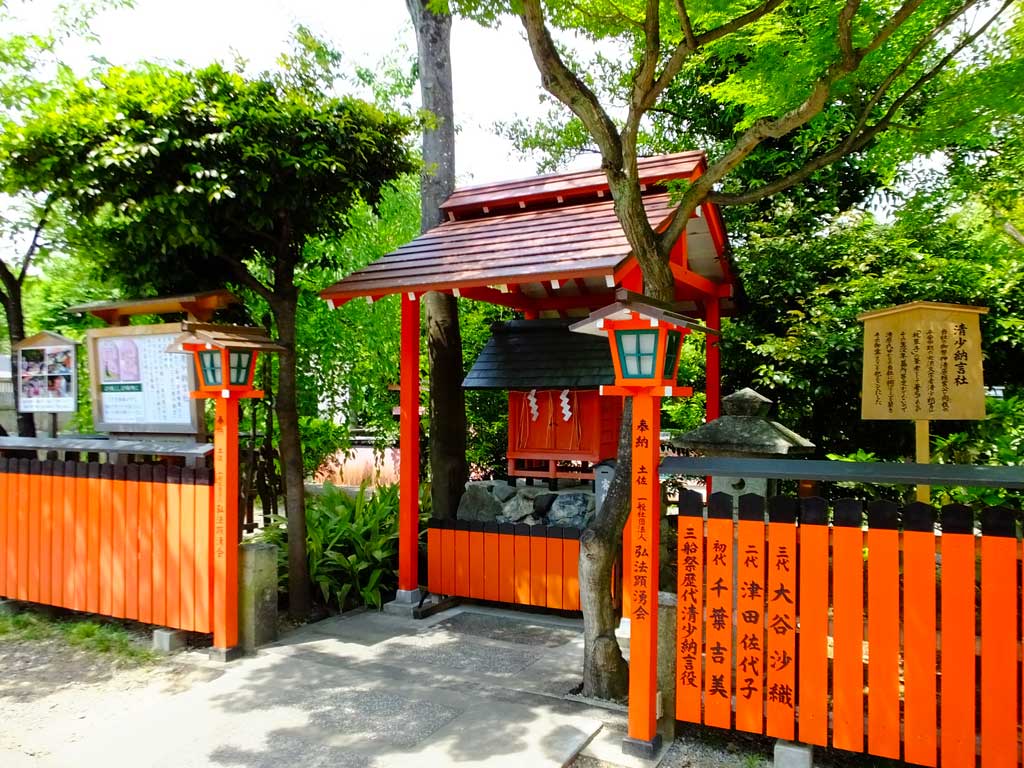 Tomioka Tessai (1837―1924) was the chief priest of Kurumazaki Shrine, and also known as a master of modern Japanese painting, so the shrine has many works of him. In the shrine there is Fudedzuka, too. Fudedzuka is a mound where his brushes are buried. It is surprising that more than 2,000 brushes are there. Moreover, you can see his letters on the name tablet of the main sanctuary (honden), the shagohyo (stone pillars with the shrine's name on them) and the stele of the shrine.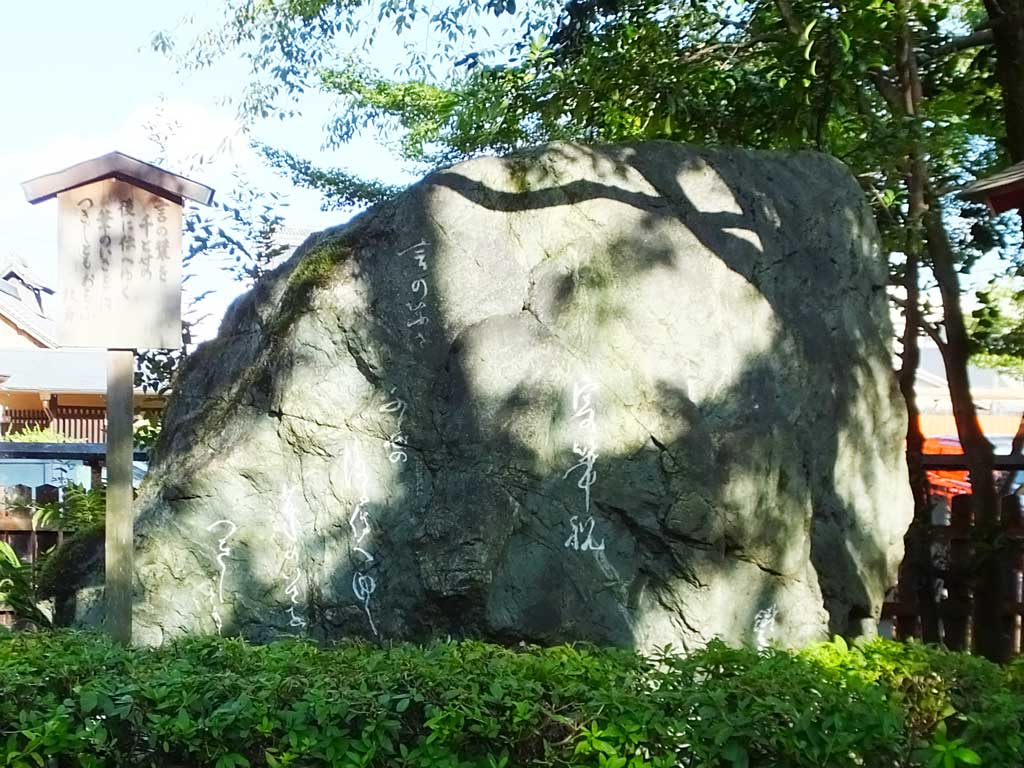 About Kurumazaki Shrine's Power Stone
Kurumazaki Shrine is often associated with its power stone amulet called Kinen Shinseki. Before you receive the Kinen Shinseki, rinse your hands and mouth at the temizuya.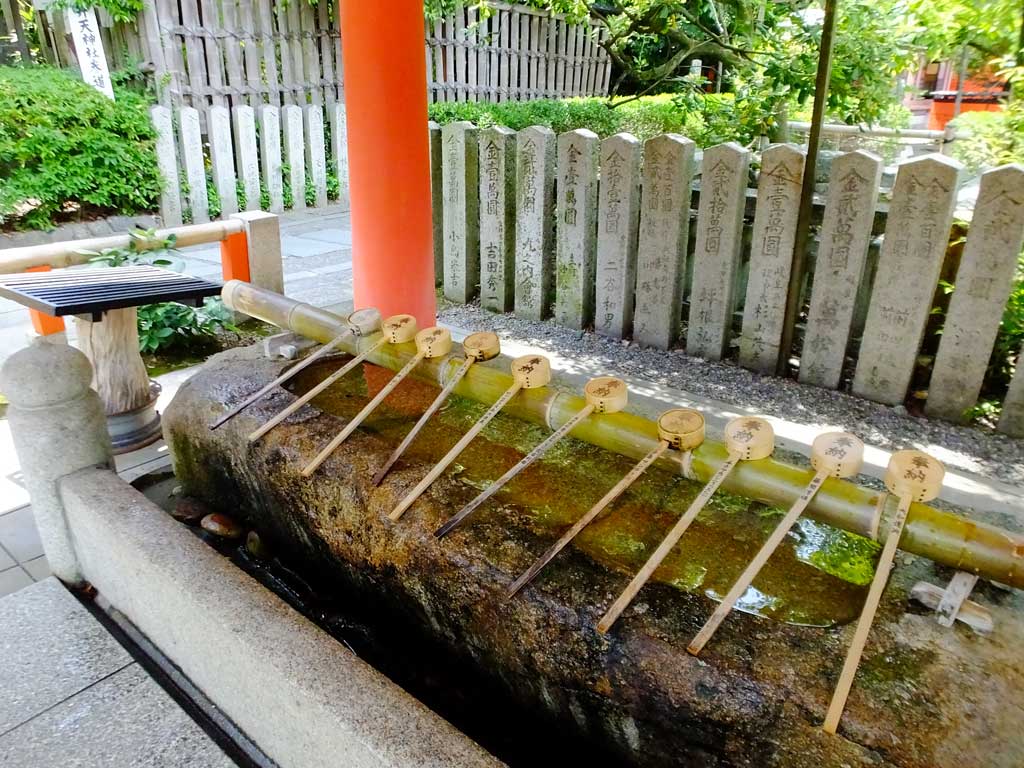 Then worship at Kiyome no Yashiro to purify yourself.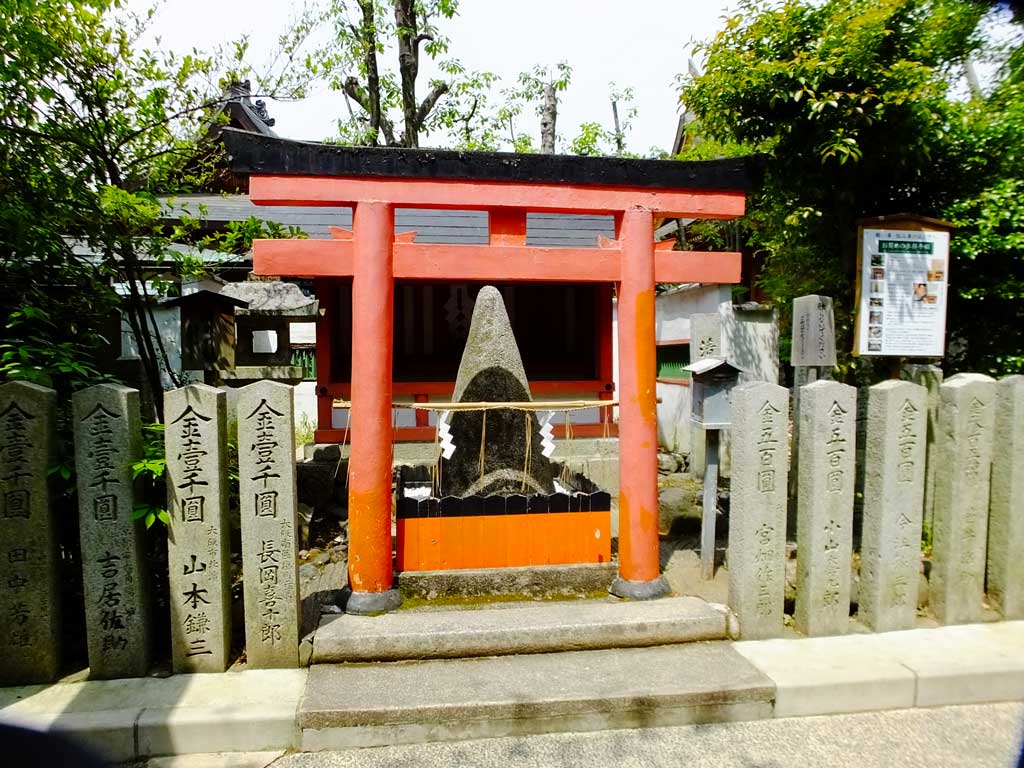 After that, receive Kinen Shinseki at the office called shamusho. When I went there in 2017, there were two types of Kinen Shinseki―a portable amulet (700 yen) and a household amulet (500 yen). Both types have sacred stones in them.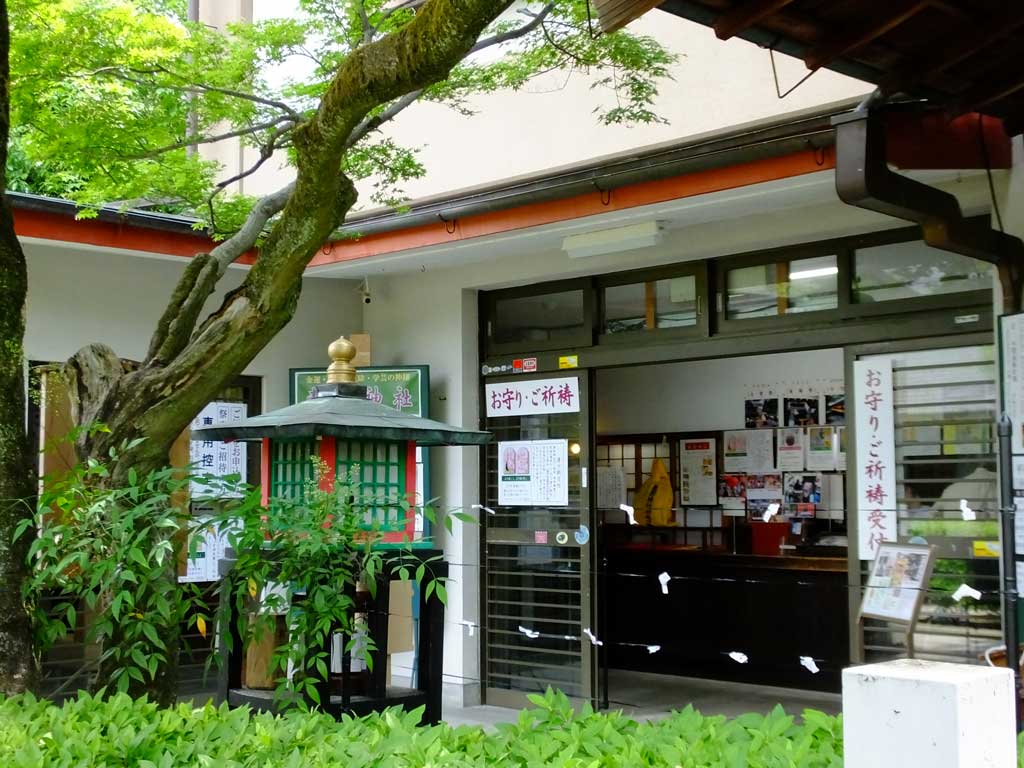 Finally, in front of the honden, put your Kinen Shinseki between your hands and make your wish with all your heart.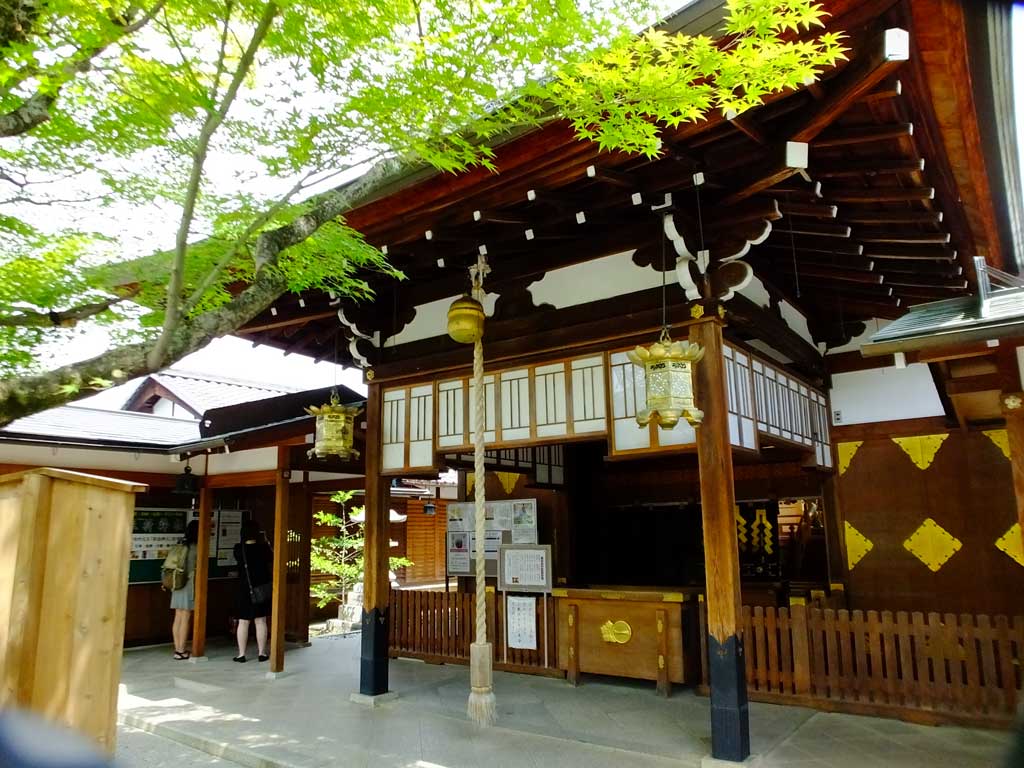 Those who are in show business have to visit Geino Shrine after that, and do the same thing there, too. Geino shrine is in Kurumazaki Shrine.
Carry the portable Kinen Shinseki every day, or put the household Kinen Shinseki on somewhere higher than your eye-level and pray every day.
If your wish come true, fetch one stone from a mountain, a river or your home yard, and write a thank-you message on it. Then bring it to the shrine and place it in front of the honden. Also, return your Kinen Shinseki to the box by the honden. (It is OK to send them by mail.)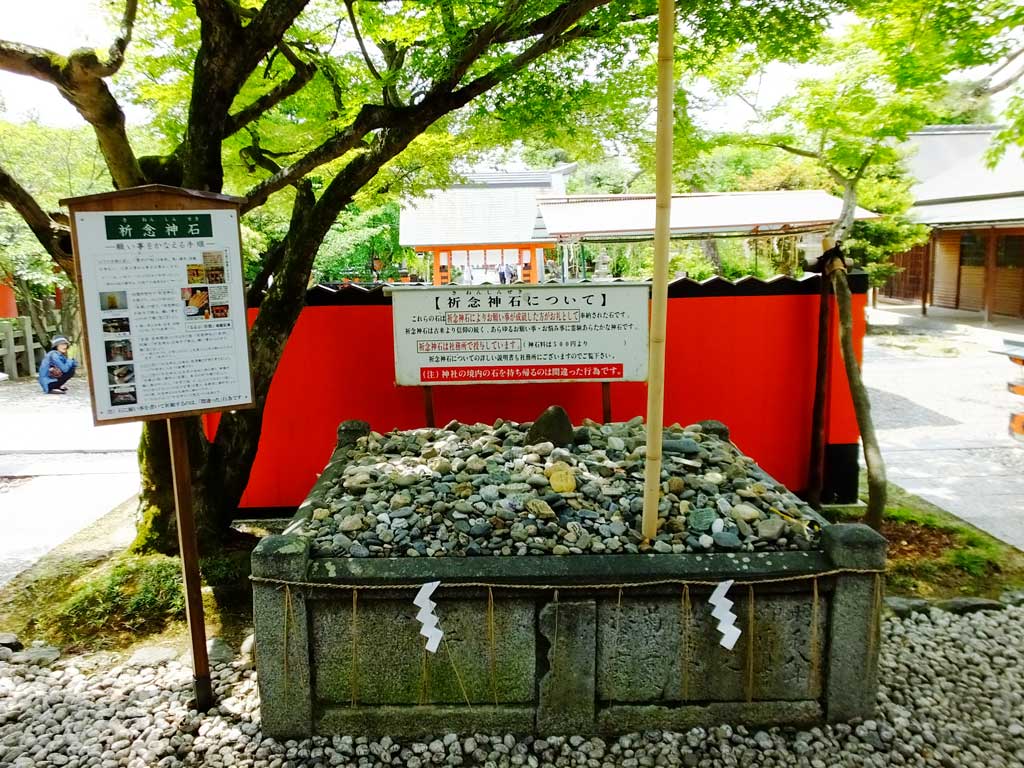 Why Do Celebrities Visit Geino Shrine?
Geino Shrine is very famous because many Japanese celebrities have visited it. "Geino Shrine" means "a shrine for the entertainment world" and a goddess of entertainment, Ame no Uzume no Mikoto is worshipped here.
According to Japanese Mythology, there was a goddess of the Sun, Amaterasu-ōmikami, whose brother Susano-o no Mikoto was a troublemaker and always doing bad things. One day Amaterasu-ōmikami was furious with him and hid in a rock cave. Then the world became as dark as midnight. However, when Ame no Uzume no Mikoto performed a dance in front of the cave, Amaterasu-ōmikami came out to see her dance, and the sun returned to this world. This is why Ame no Uzume no Mikoto is said to be a goddess of entertainment.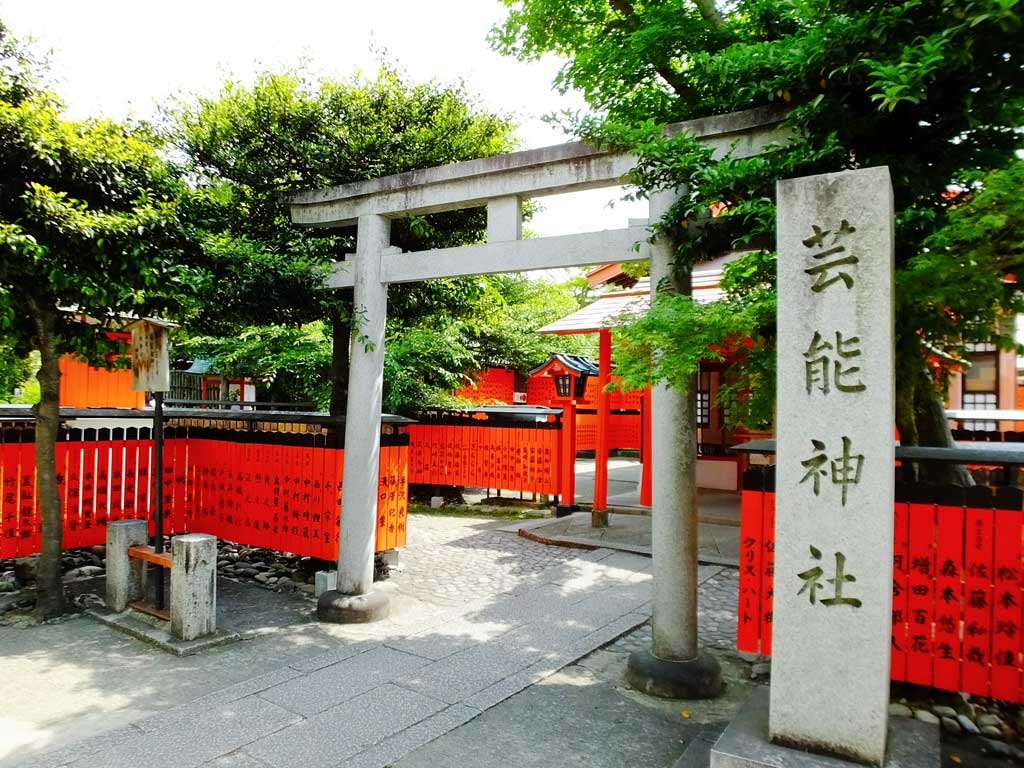 In Geino Shrine, there are more than 2,000 vermillion fence boards called tamagaki, which are offerings from prayers. If you offer tamagaki to the shrine, your name will be written on it. When I visited the shrine, I was excited to find a lot of celebrities' names there. If you want to be famous, offer tamagaki to the shrine. Your tamagaki will be kept there for two years, together with celebrities' tamagaki. It is 10,000 yen (in 2017).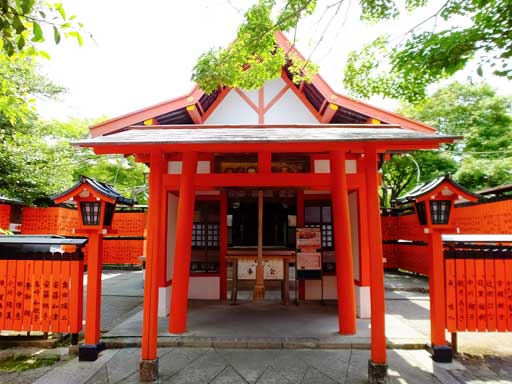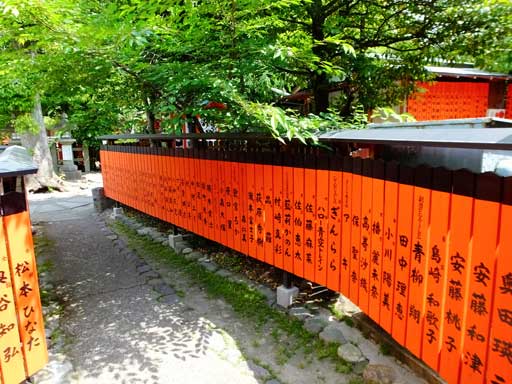 【Kurumazaki Shrine】
23 Sagaasahi-cho, Ukyo-ku, Kyoto City, Kyoto
Tel: +81 75-861-0039
URL: http://www.kurumazakijinja.or.jp (Japanese)
9:00 a.m.―5:00 p.m.
【Geino Shrine】
23 Sagaasahi-cho, Ukyo-ku, Kyoto City, Kyoto
Tel: +81 75-861-0039
URL: http://www.kurumazakijinja.or.jp/geinoujinja.html(Japanese)
9:00 a.m.―5:00 p.m.