Alpha Foods & Drink is located near Nijo Castle in Kyoto. It has a stylish and relaxing atmosphere, and it is a great place to take a rest after a long walk in the castle. I went to the cafe and had a very fun time (in 2017). The secret to enjoy coffee there is "rain." It is always raining in the cafe. Can you guess what it means? Let's go and check it out.
As soon as I entered the cafe, a cute dog welcomed me. She is happy when someone opens the door. She is friendly, but does not disturb customers. What a good girl!
I ordered Kumo-shita Coffee (meaning, Coffee Under Cloud) with Hachiue Dessert (Plant in Pot Dessert). Actually, the "cloud" means cotton candy. To my surprise, cotton candy was set above coffee. What will happen next?
After a while, the cotton candy started to melt because the coffee was hot. It looks as if it is raining from the cloud, right? How interesting. If you like, you can put the rest of the cotton candy in the coffee to sweeten it. Of course, it is OK to eat it.
Hachiue Dessert looks so lovely. I like the spade spoon, too. The cream tastes good with the crushed chocolate cookies and chopped bananas in it. It is sweet and goes well with coffee. This is a very popular menu as well as Kumo-shita Coffee.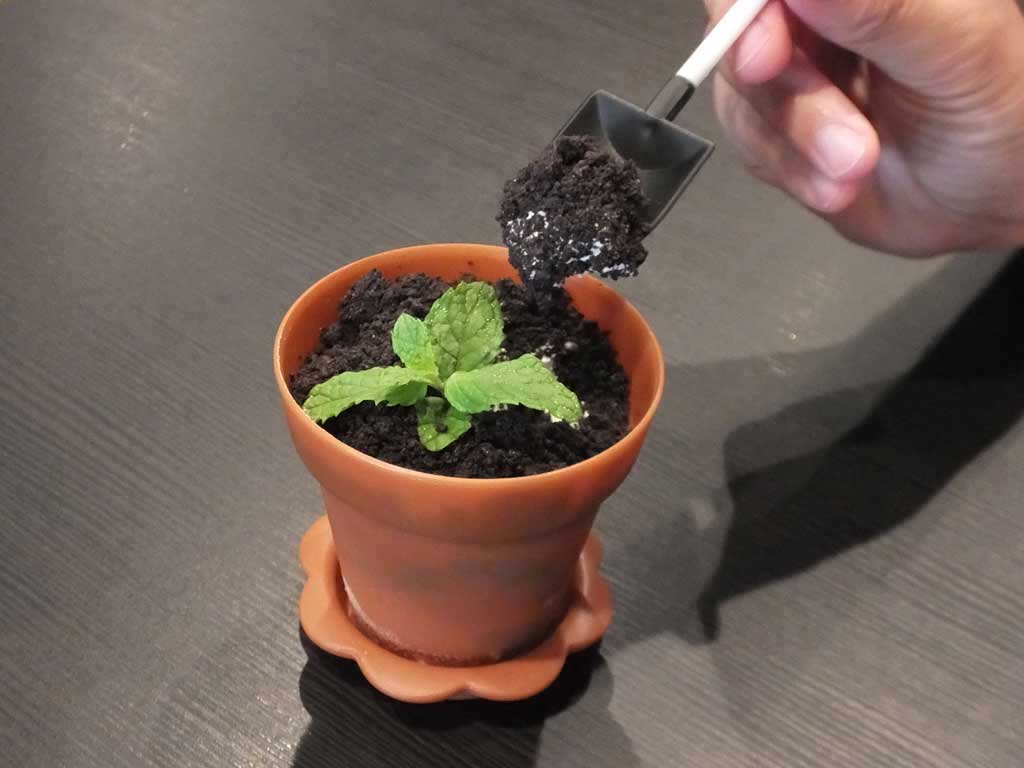 On weekdays, if you order Kumo-shita Coffee with Hachiue Dessert, you can get a 100 yen discount. I think this is a perfect combination because when it rains, plats grow. Why not go there and enjoy the unique coffee and dessert?
【Alpha Foods & Drink】
327 Nishidaikoku-cho, Nakagyo-ku, Kyoto City, Kyoto    
Tel: +81 75-286-8285
12:00 a.m.―6:00 p.m.
Facebook: https://www.facebook.com/kyotoalpha (Japanese)
Instagram: https://www.instagram.com/ryuyue/