Do You Know Ume Blossom Festival of Kitano Tenmangu Shrine?
As a respect to Sugawara no Michizane who is well known as a deity of learning, Ume Blossom Festival (Japanese: Baika-sai) is annually held at Kitano Tenmangu Shrine in Kyoto on February 25th. An open-air tea ceremony is performed on that day when you can see beautiful ume blossoms there. It is surprising that the festival has a history of approximately 900 years.
They sell only 3,000 tickets for the tea ceremony. I bought the ticket beforehand so as not to miss it. It is 1,500 yen, which I think is very reasonable. You can join the special tea ceremony, receive some sweets, and enter Treasure House (Japanese: Homotsu-den), if you like.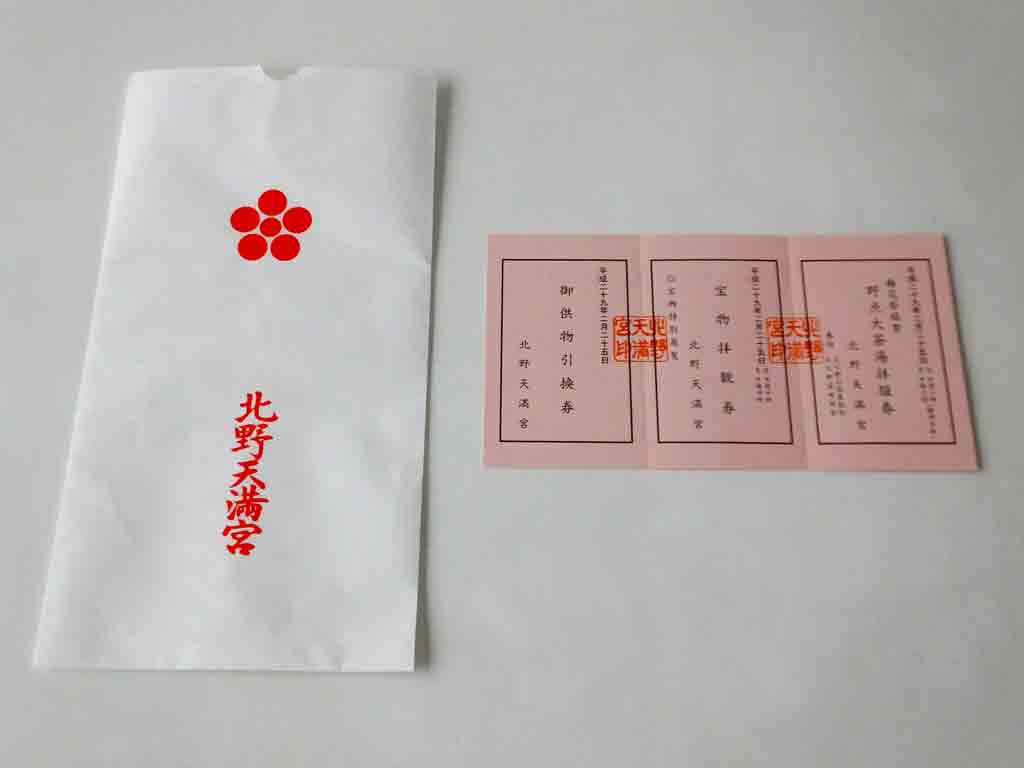 This is the main torii gate. The tea ceremony was held from 10 a.m. to 3 p.m, and I arrived at the shrine around 1:15 p.m. The atmosphere was fun with many food stalls and various vendors.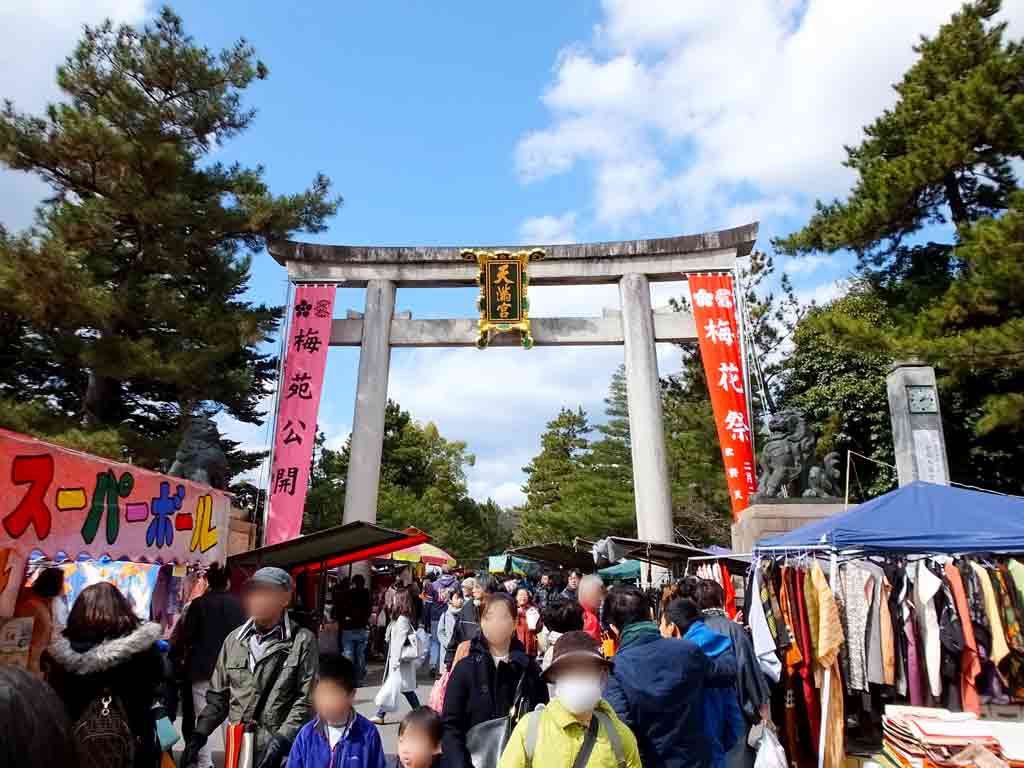 Actually, on the 25th of EVERY month, there is a famous flea market called Tenjin-san. Vendors sell a wide variety of antiques such as pottery, kitchenware, cabinets, clothing, clocks, toys and things like that. Also there are many kinds of food stalls, so even if you don't have a ticket for the tea ceremony, you can enjoy eating, drinking and shopping in and around the lively shrine.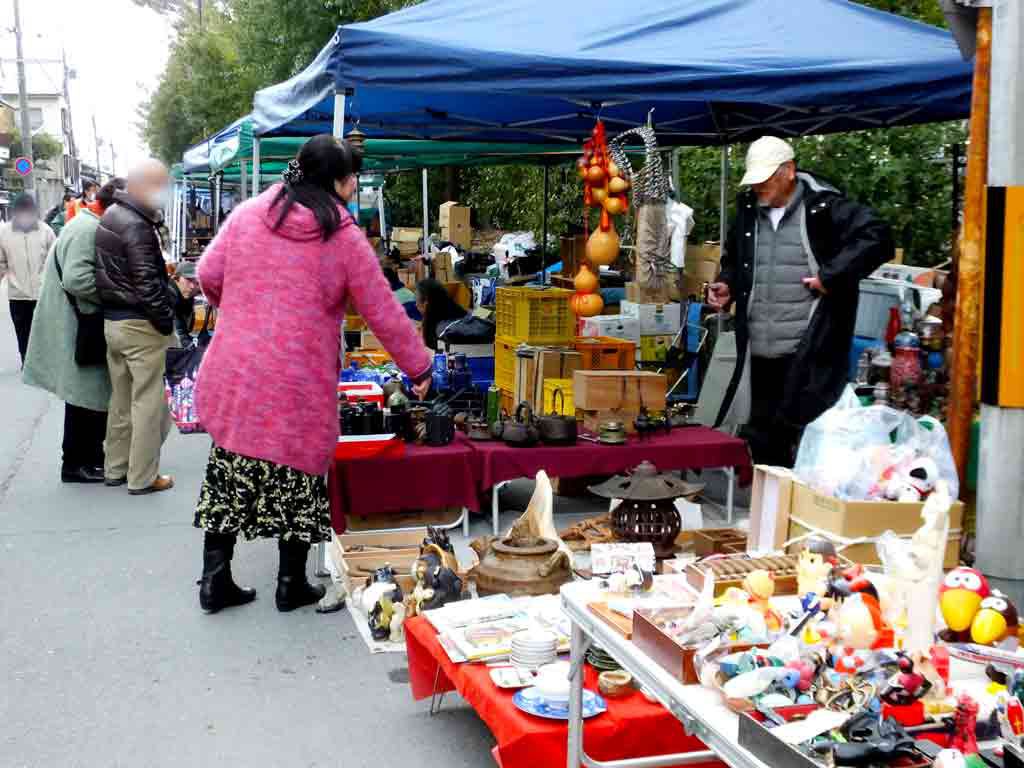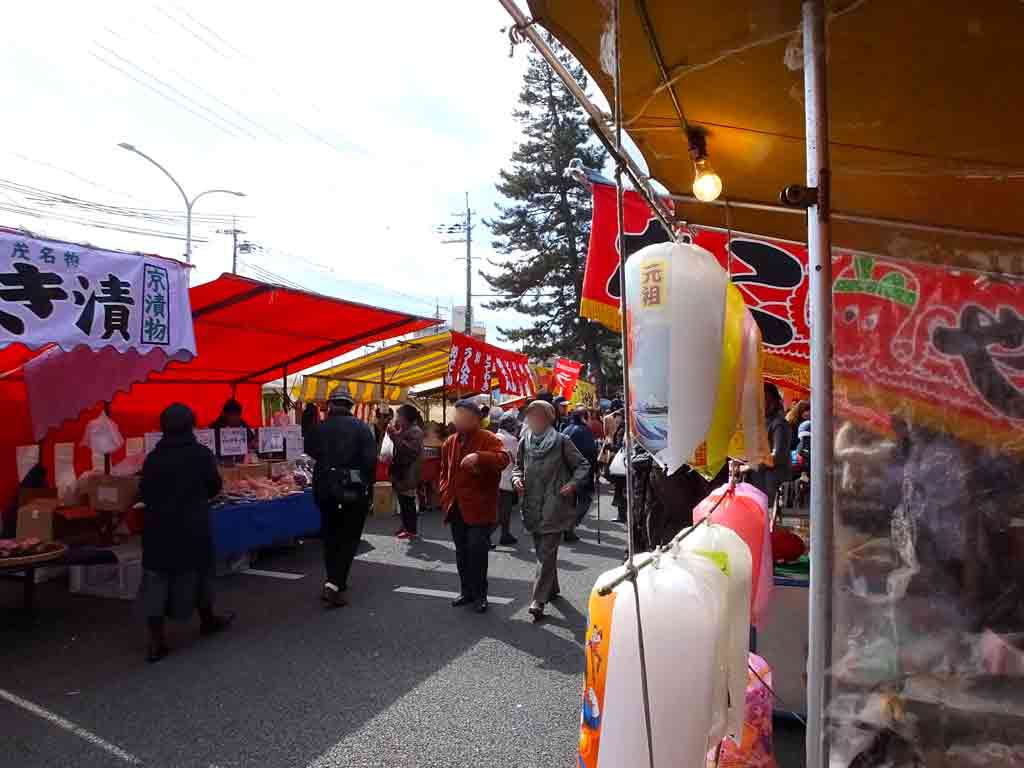 Wonderful Ume Blossoms
It was very crowded, but I managed to arrive at the romon gate. When I turned around, I saw the dense crowd sandwiched between food stalls. As I went through the romon gate, pretty ume trees under the blue sky caught my eye. I felt very refreshed soon after fleeing from the dense crowd.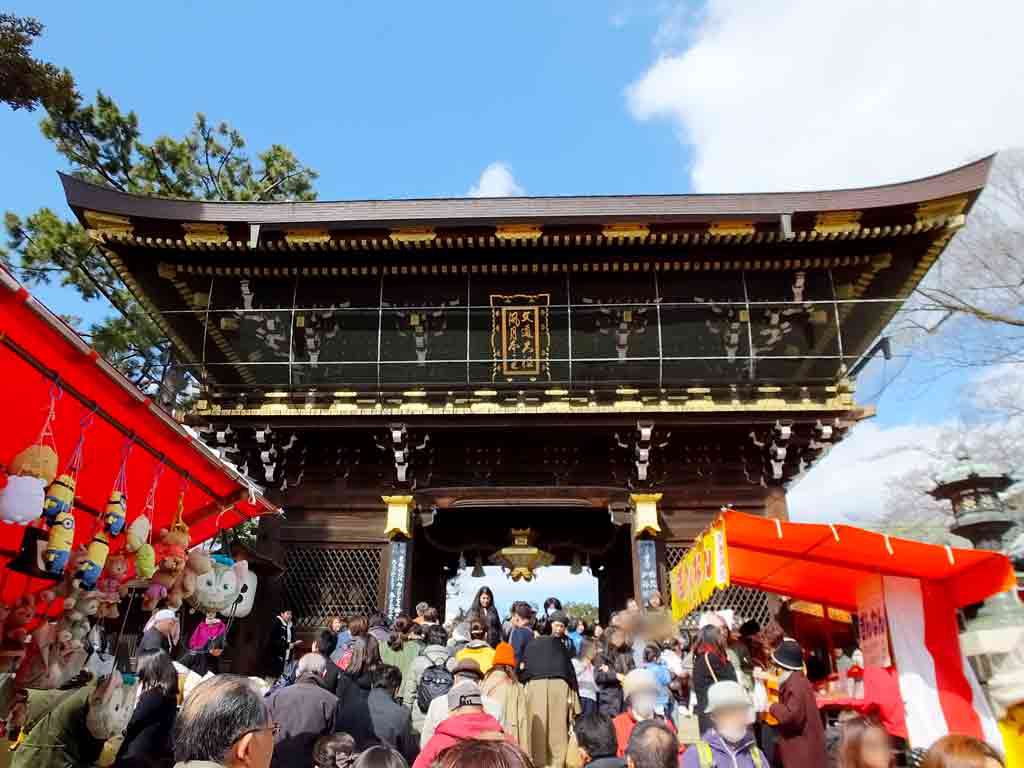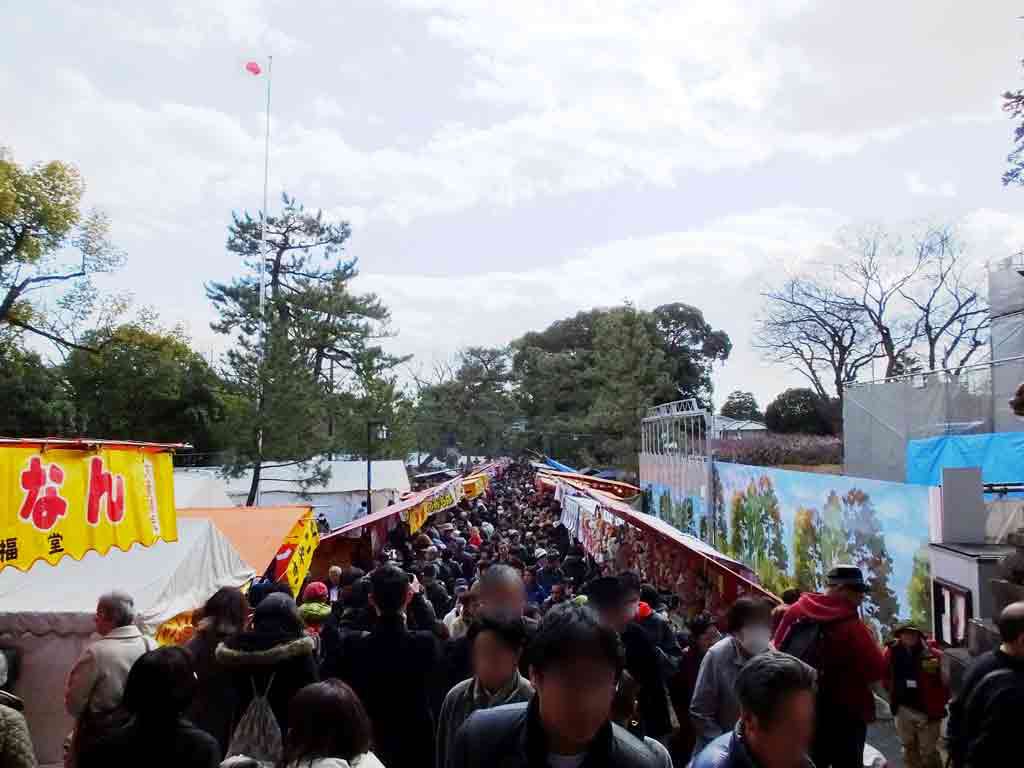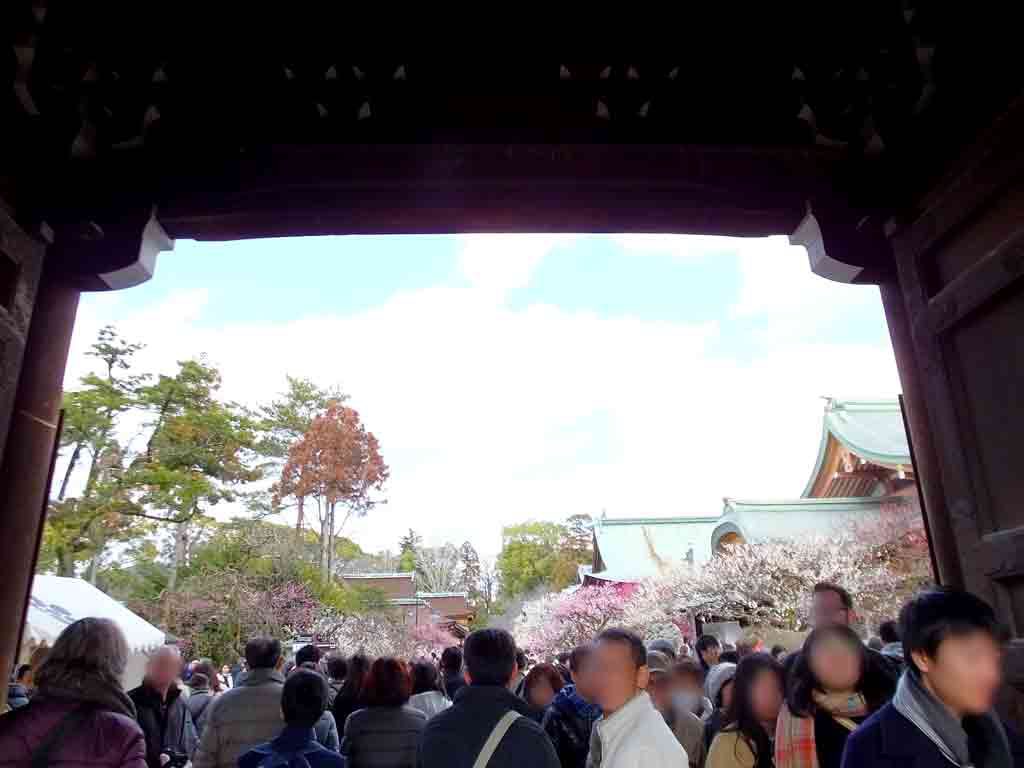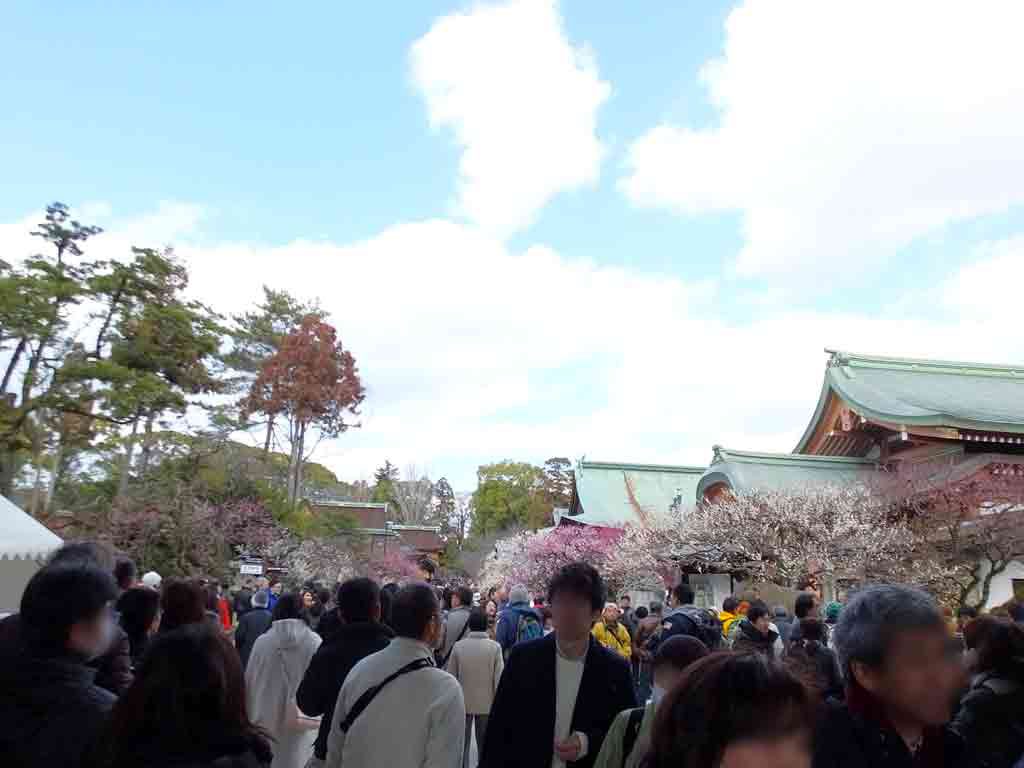 Beyond the gate, I found a cow statue smiling under an ume tree. The shrine enshrines Sugawara no Michizane, and cows are believed to be his messengers. In the shrine, you can see a lot of statues like this. They looked happy with pretty ume blossoms.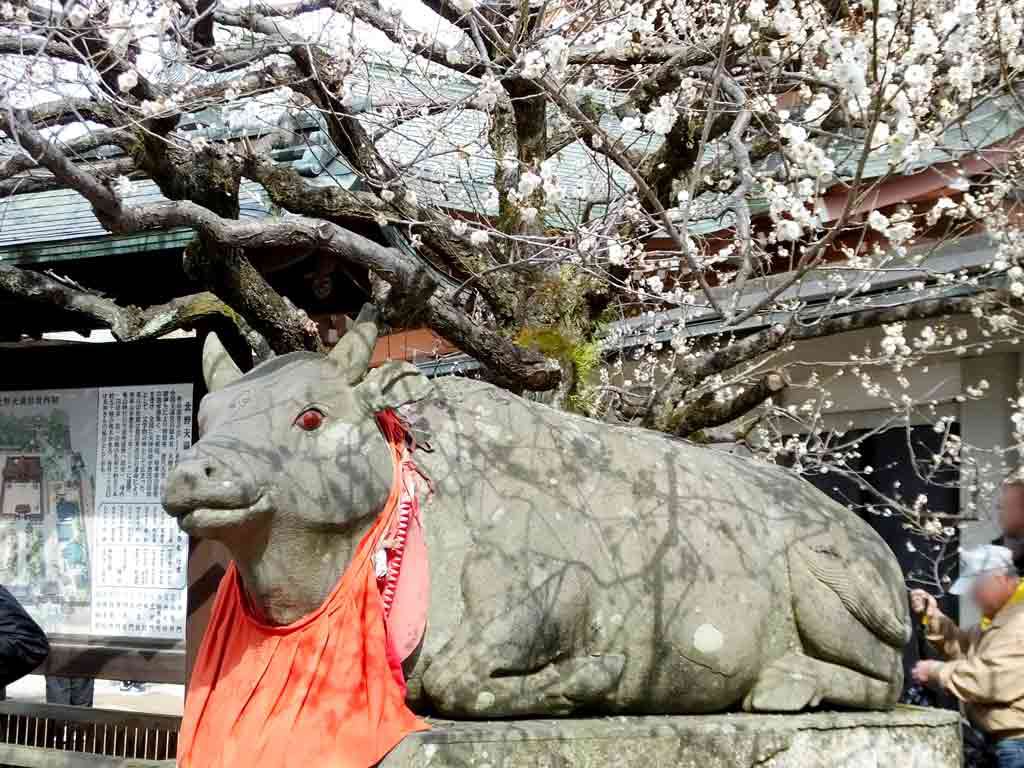 The Shrine has about 1,500 ume trees. I think many people in Kyoto associate the shrine with ume blossoms, just like me. For a while I was strolling in the shrine, enjoying beautiful ume blossoms. People were in good humor there. Couples were smiling, and children were singing. I had an idyllic time.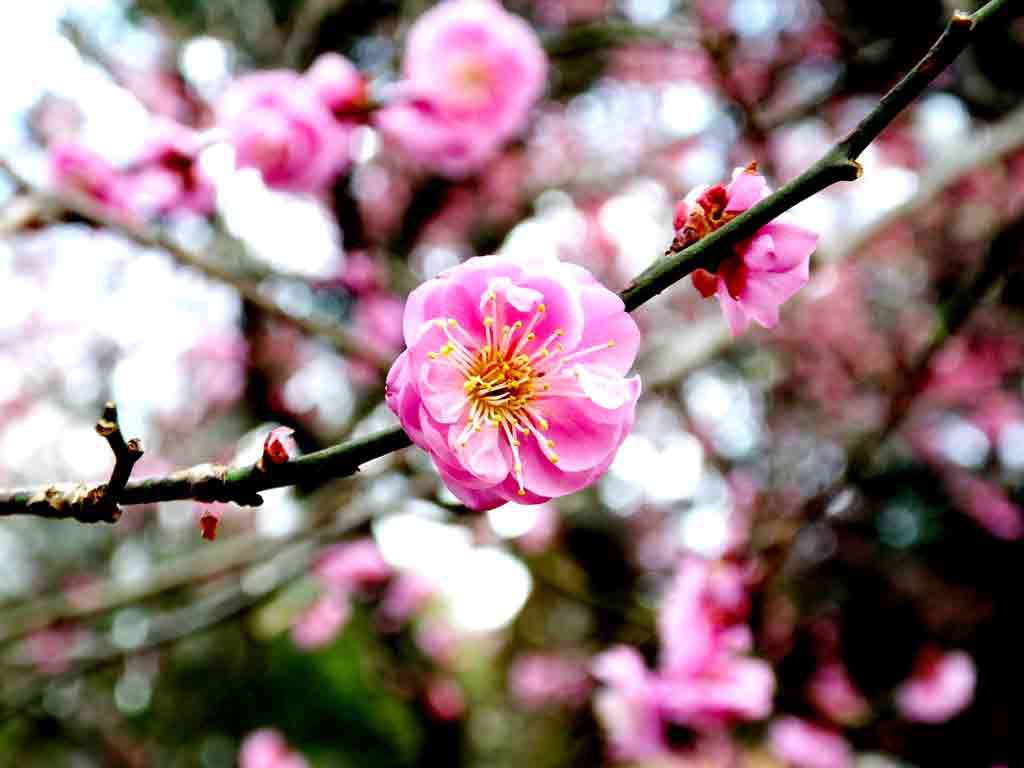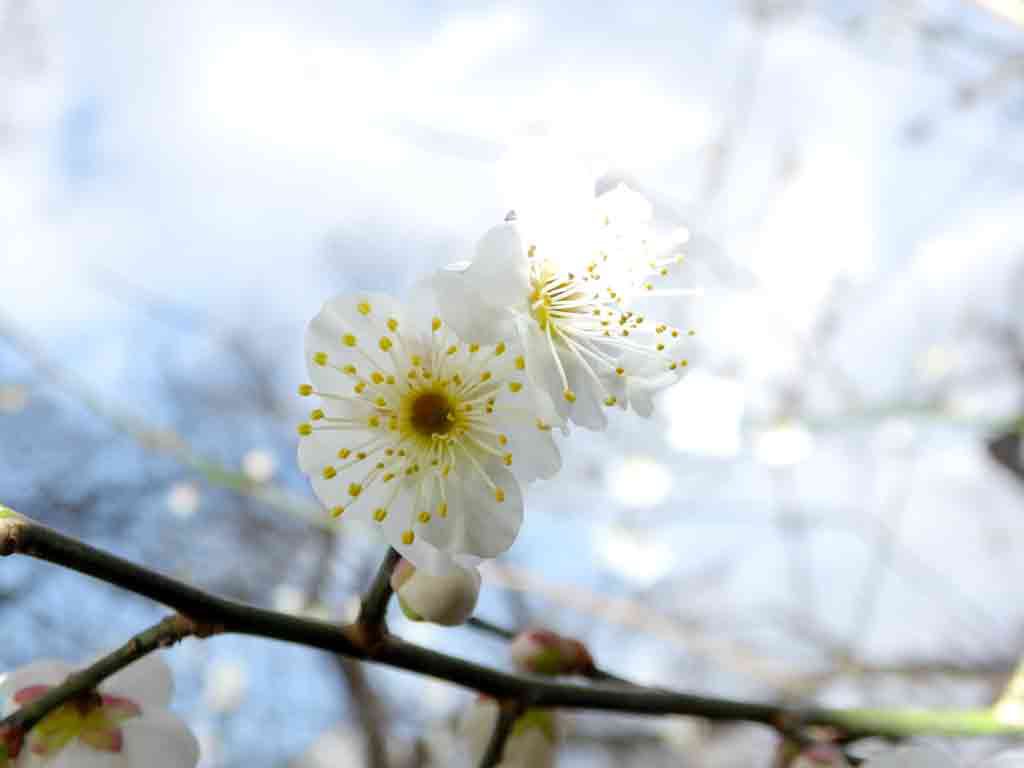 Wait in Line to Join the Tea Ceremony
Before the tea ceremony, you need to wait in line. Even while waiting, you can view pretty ume blossoms there. On that day I saw some geiko in kimono waiting in line, too.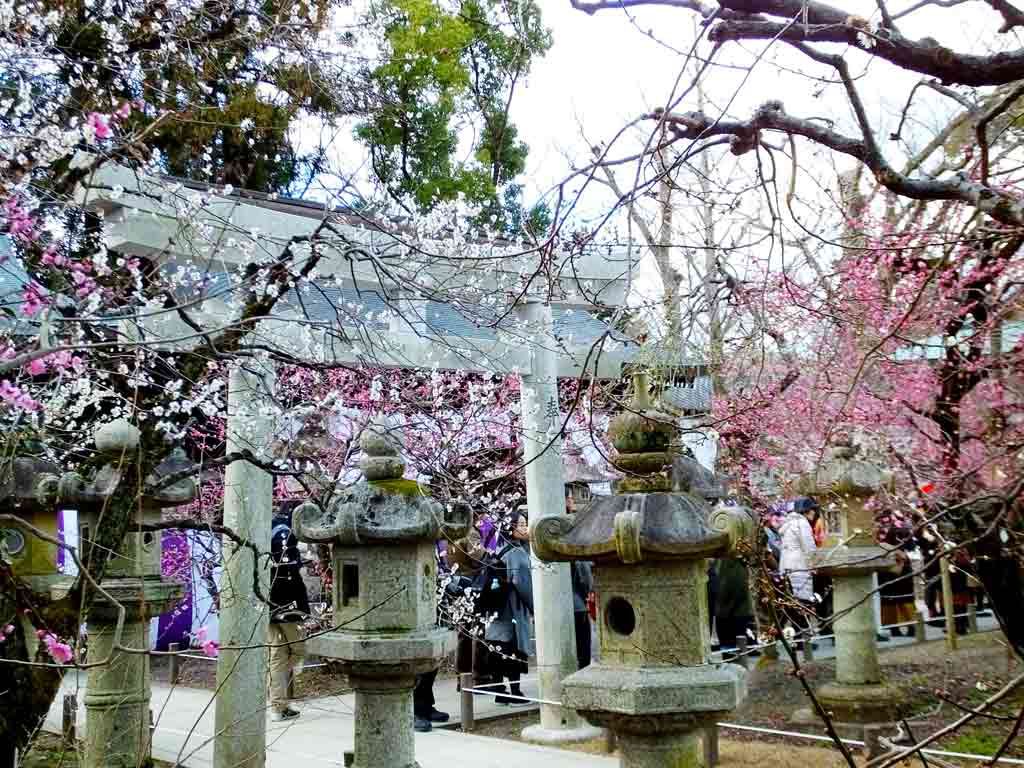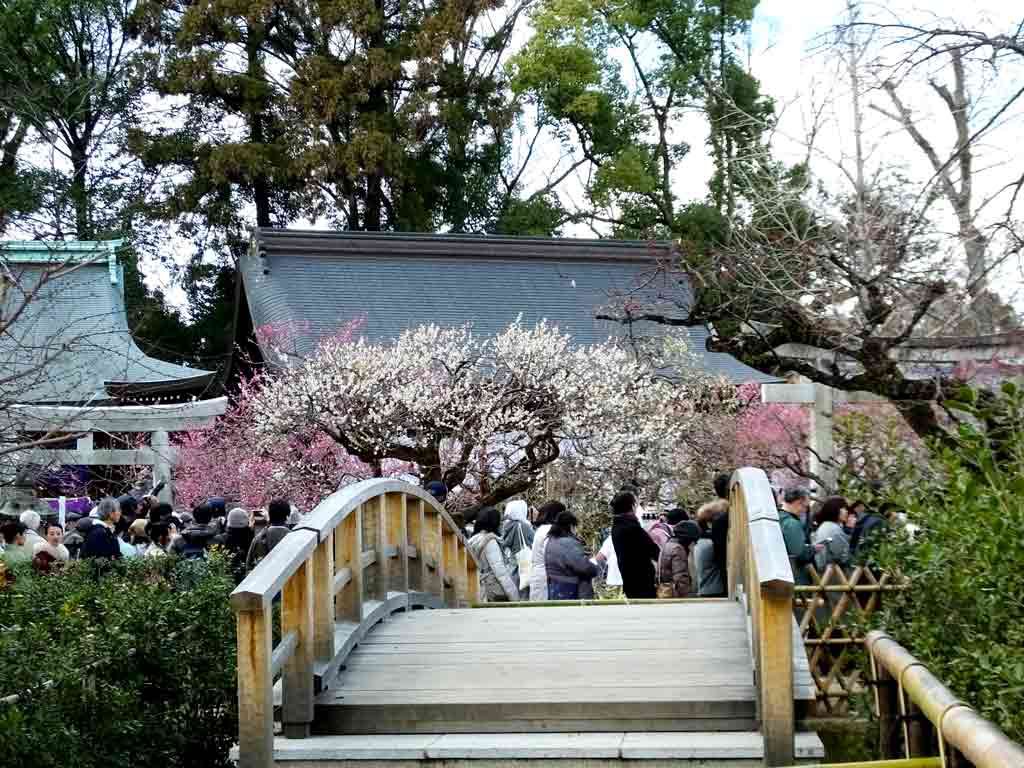 When your turn comes, hand over your ticket to the staff member there and receive sweets with rice grains. You can eat the sweets at the tea ceremony. The rice grains are something very valuable. They are what were used at a ritual to honor Sugawara no Michizane. Bring them home, add them to rice, cook them and then, eat them. It is believed that these special rice grains drive away evil spirits, so you can stay healthy by eating them.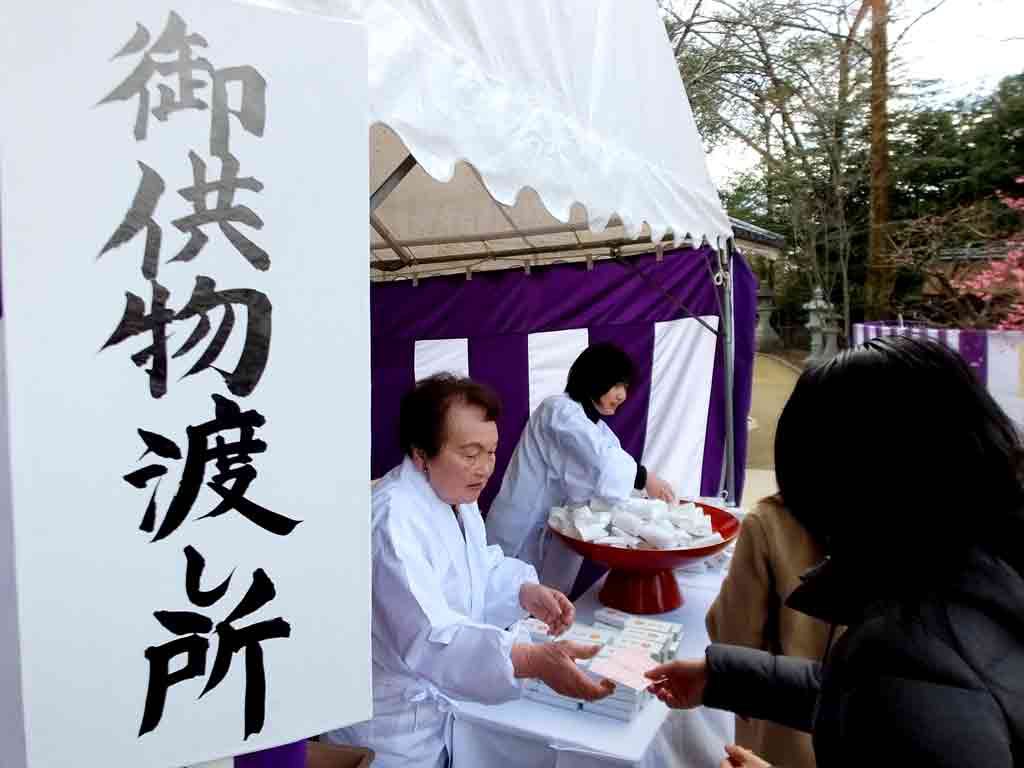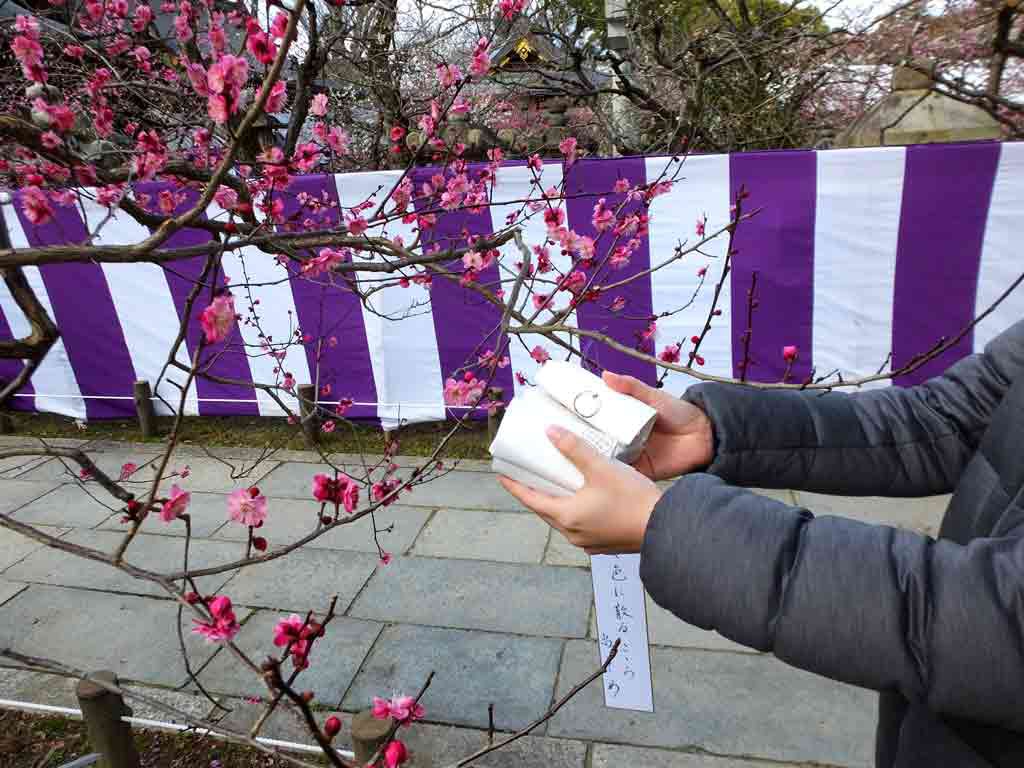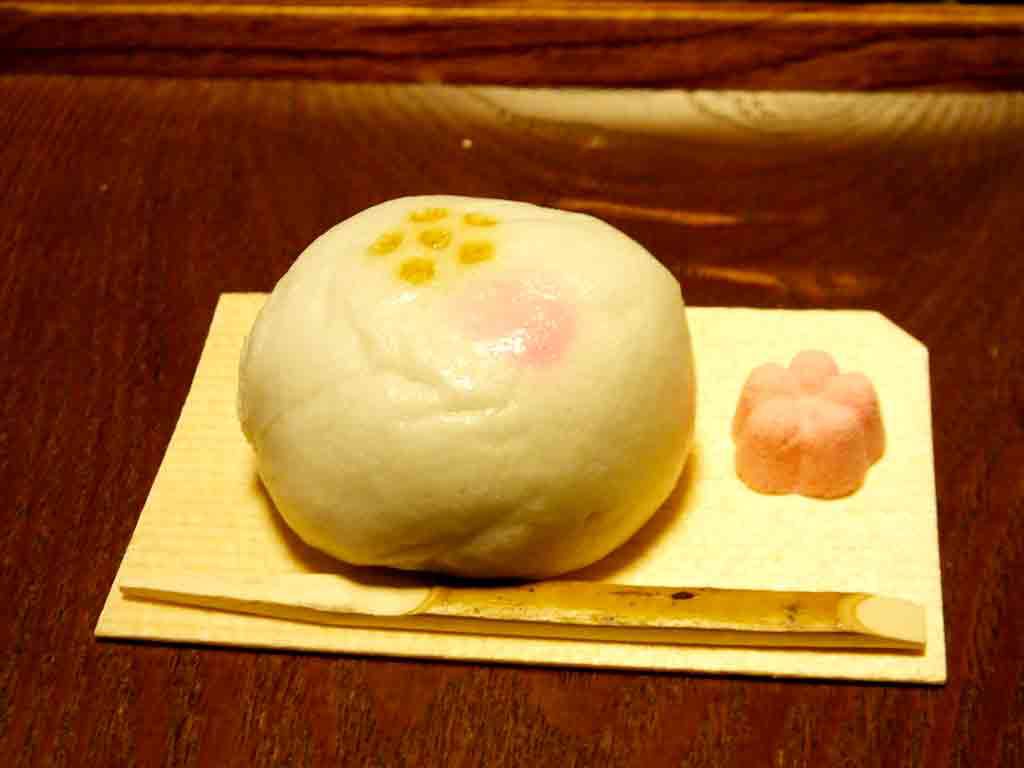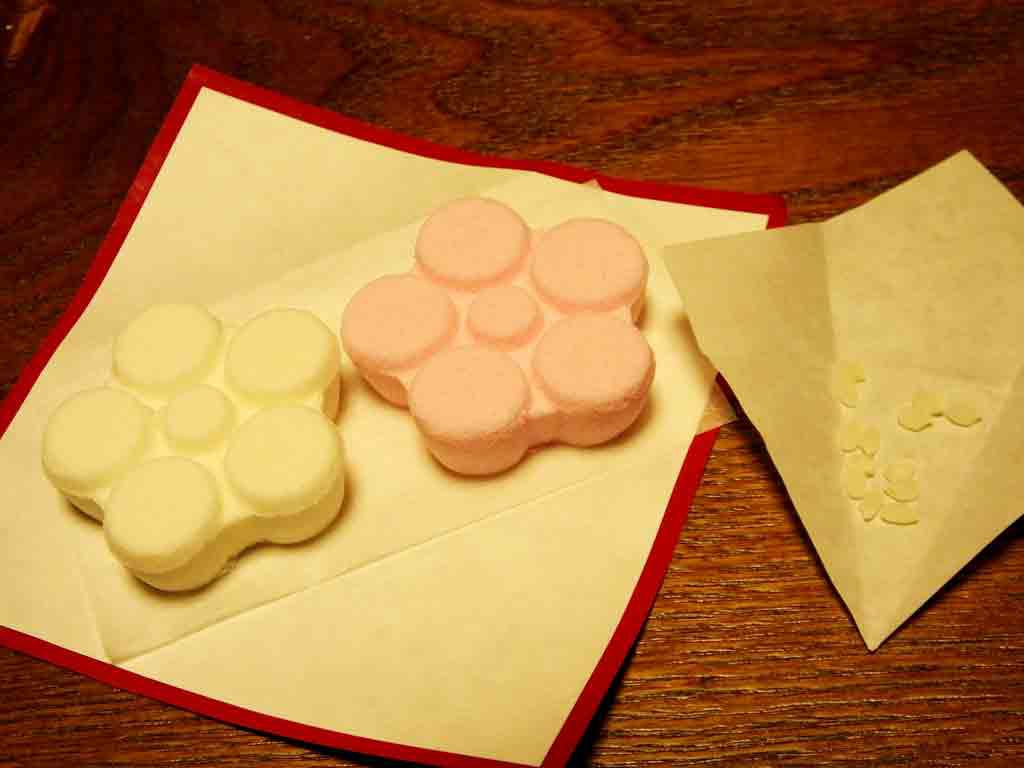 There were two signs in front of the large tent where the tea ceremony was being held. The left one says 'for sitting on the floor' and the right one, 'for sitting on a chair'. When I went there, everyone was led to 'for sitting on a chair'. If you want to enjoy the tea ceremony sitting on the floor, you need to arrive there earlier.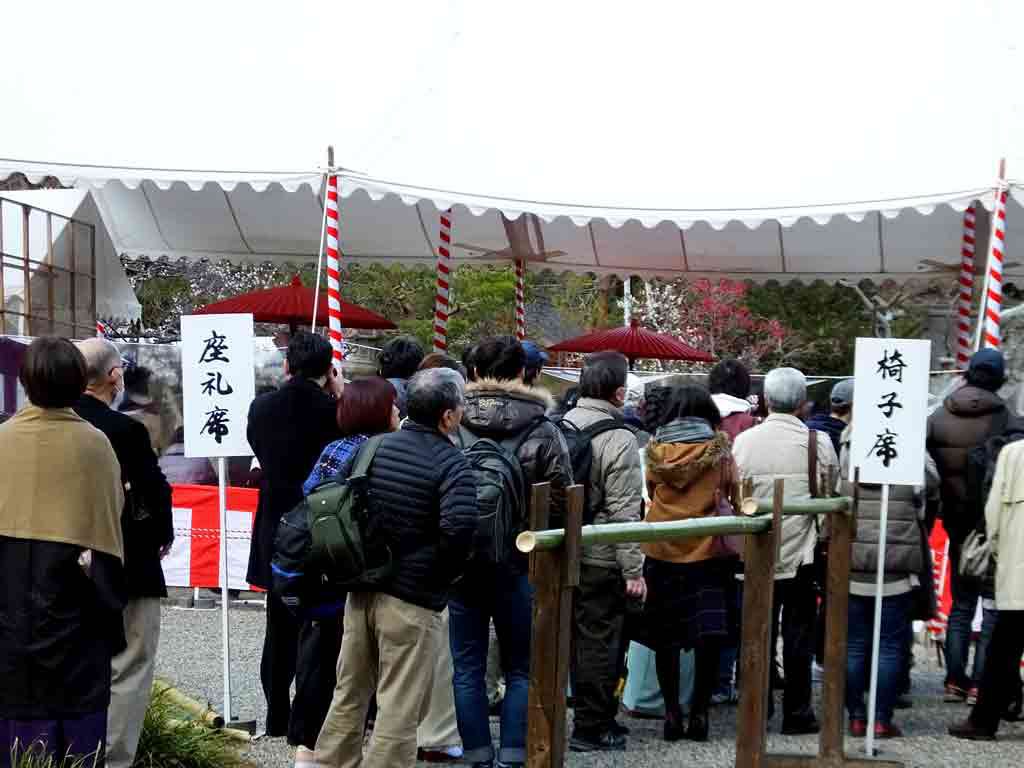 The Tea Ceremony Is Great
Finally, I sat on a chair and wait for tea. At a low table, a geiko was making matcha green tea for us. On the floor, another geiko was making matcha green tea for people who went there earlier and sat on the floor. Their graceful manner of making tea never made me bored.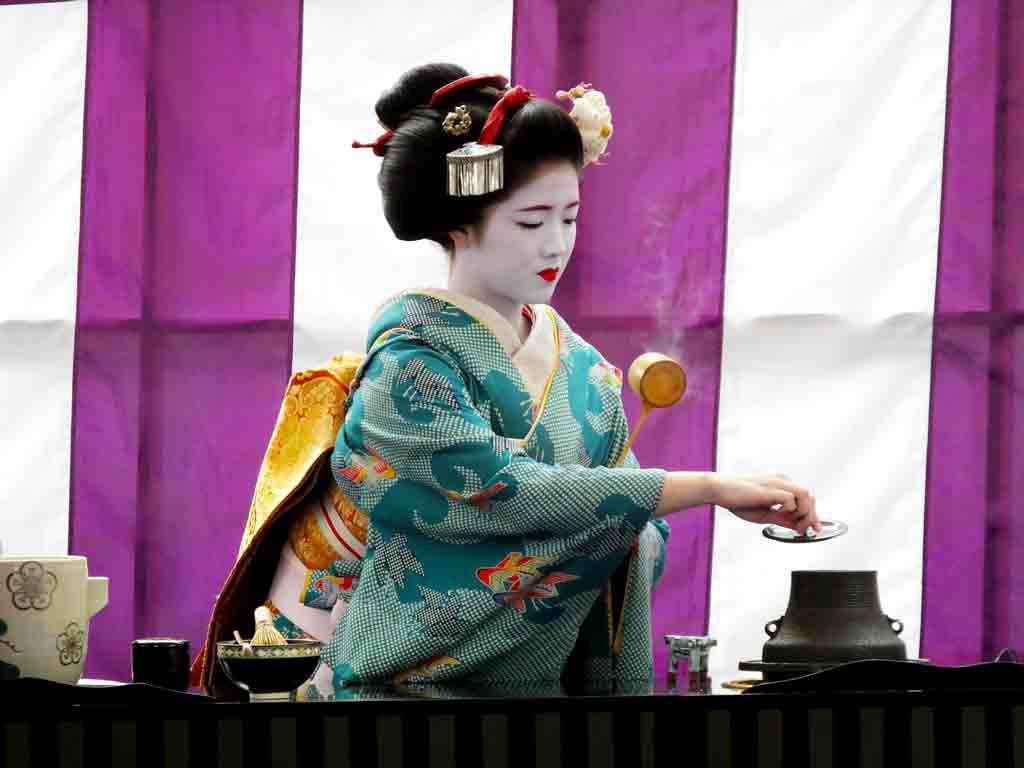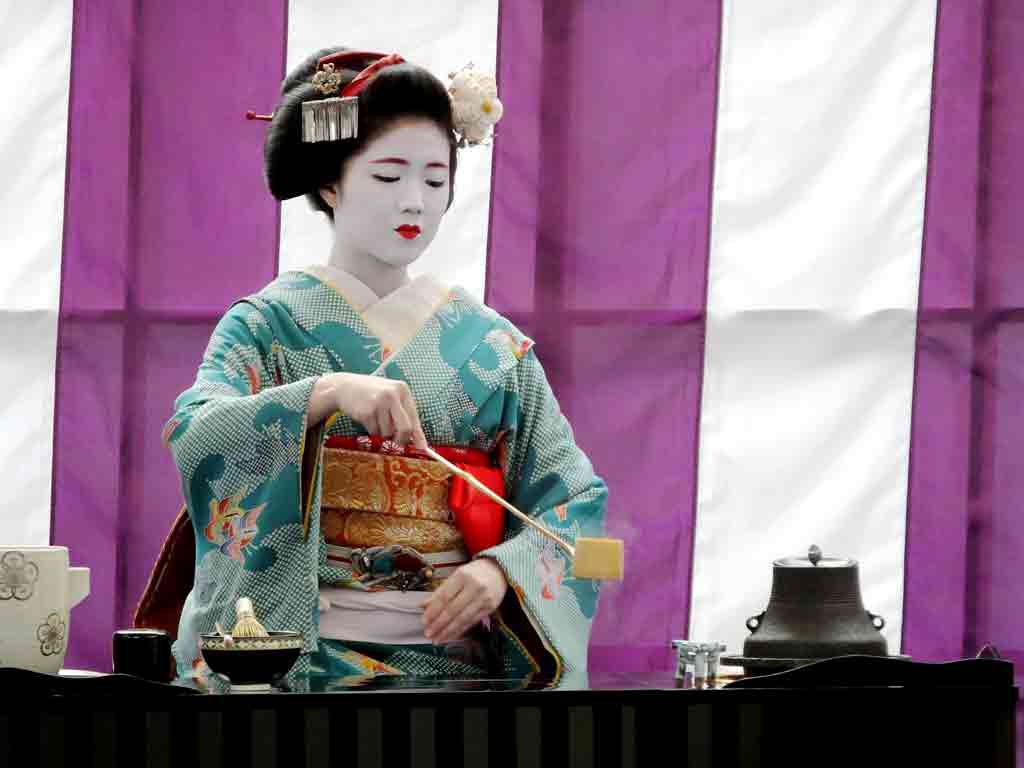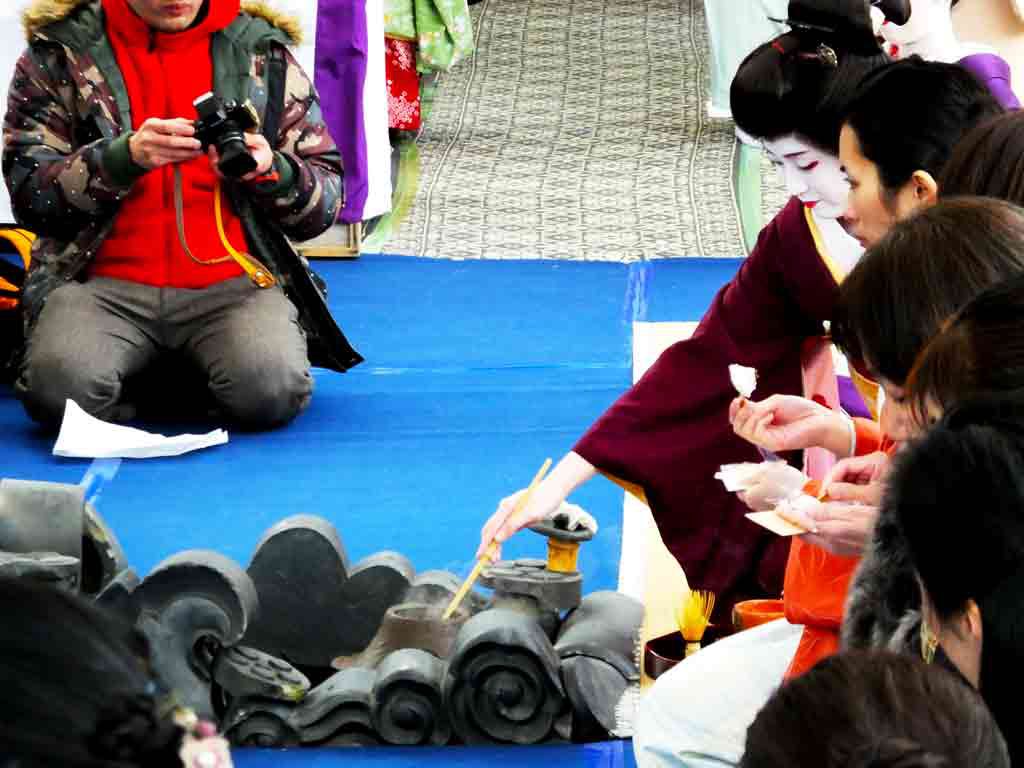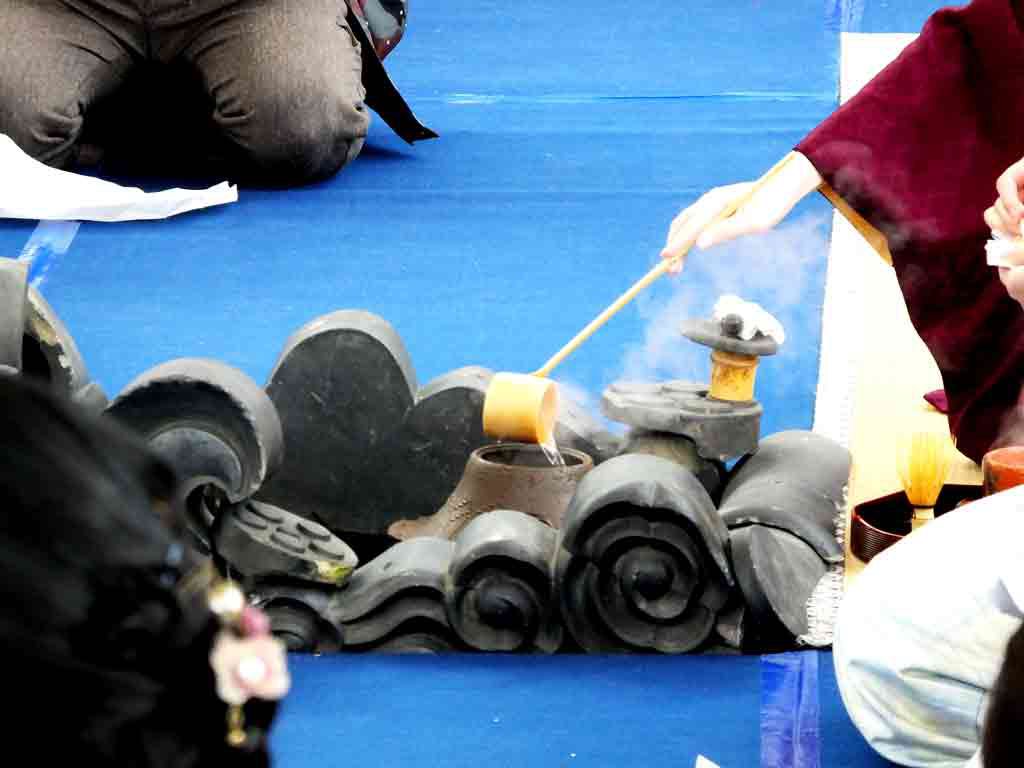 I was served matcha green tea by a maiko. I bowed and took it. Don't worry about manners too much. It is OK if you don't know how to have matcha green tea. Just relax and enjoy it.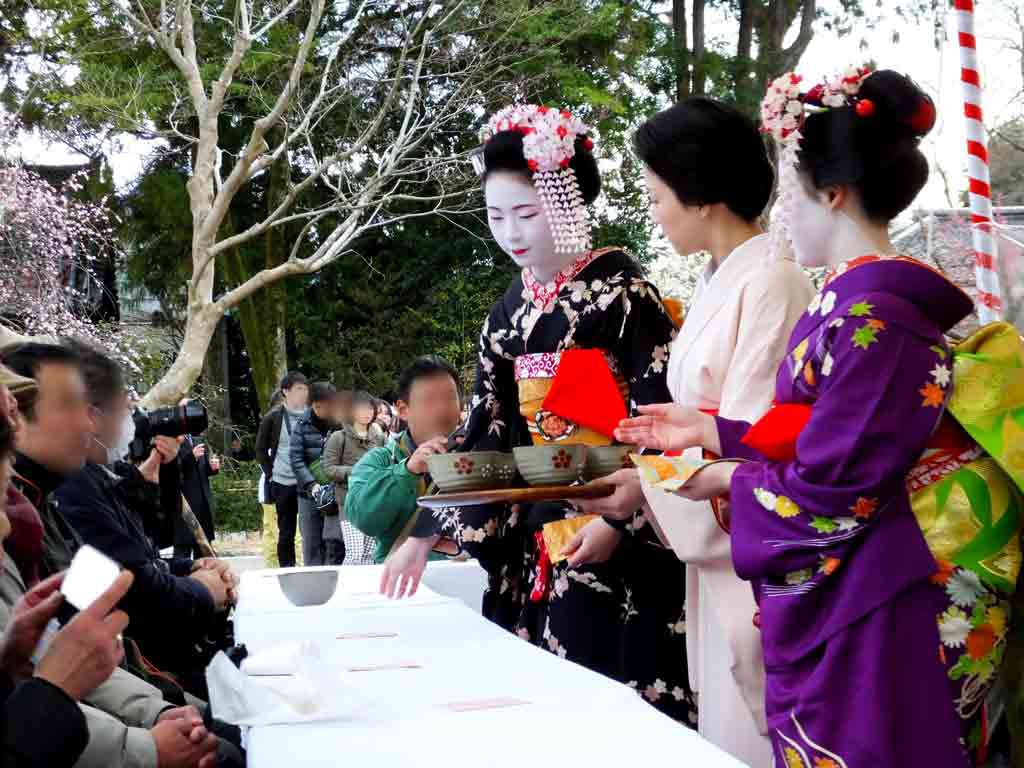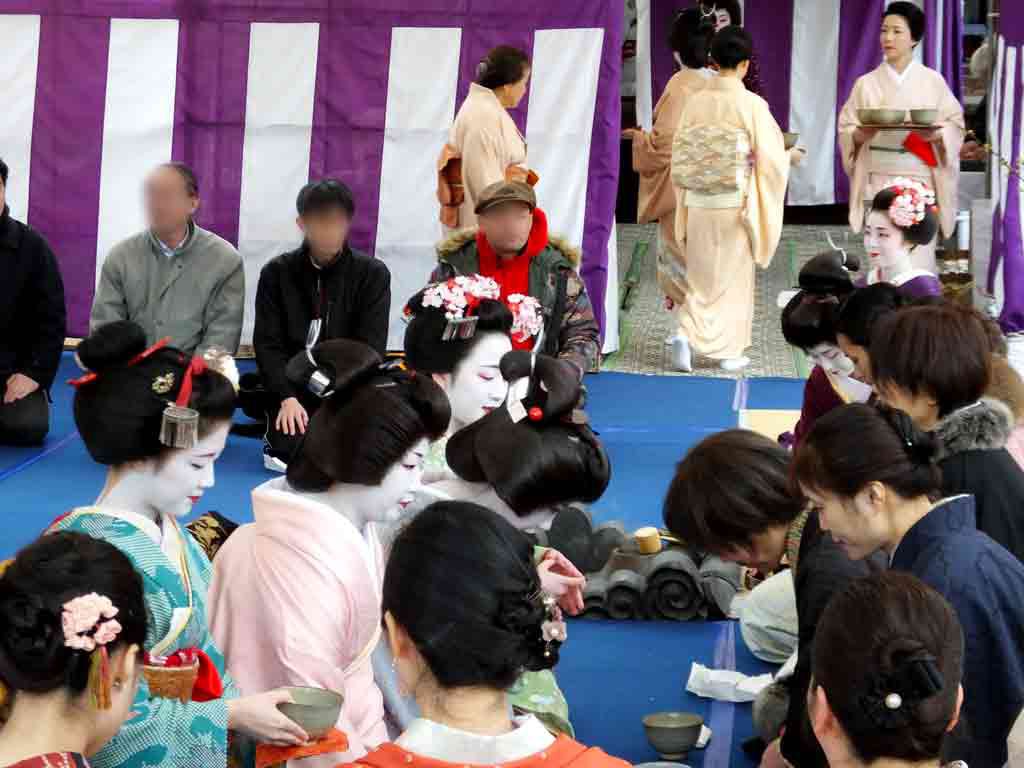 Start with the sweets you received before and have your tea. I liked the sweets and tea. By the way, do you know the difference between a geiko and a maiko? Usually a maiko is very young (about 15-20 years old). Different from a geiko, a maiko is wearing long-sleeve kimono and dangling hair ornaments. During the first year as a maiko, she doesn't wear lipstick on her upper lip.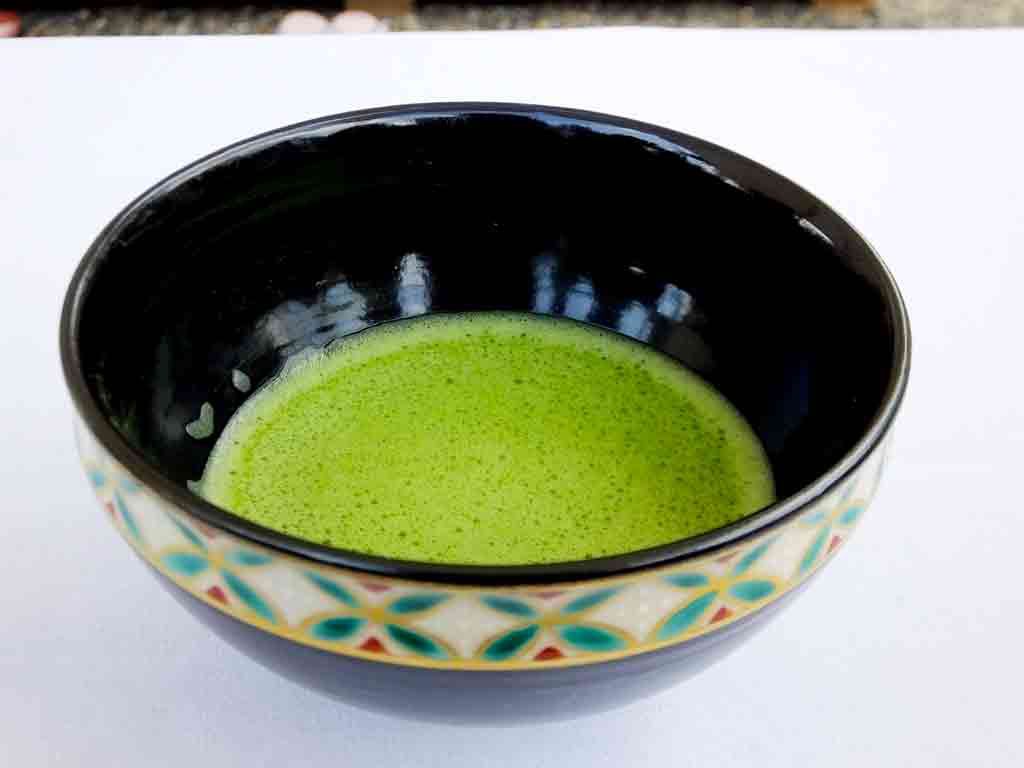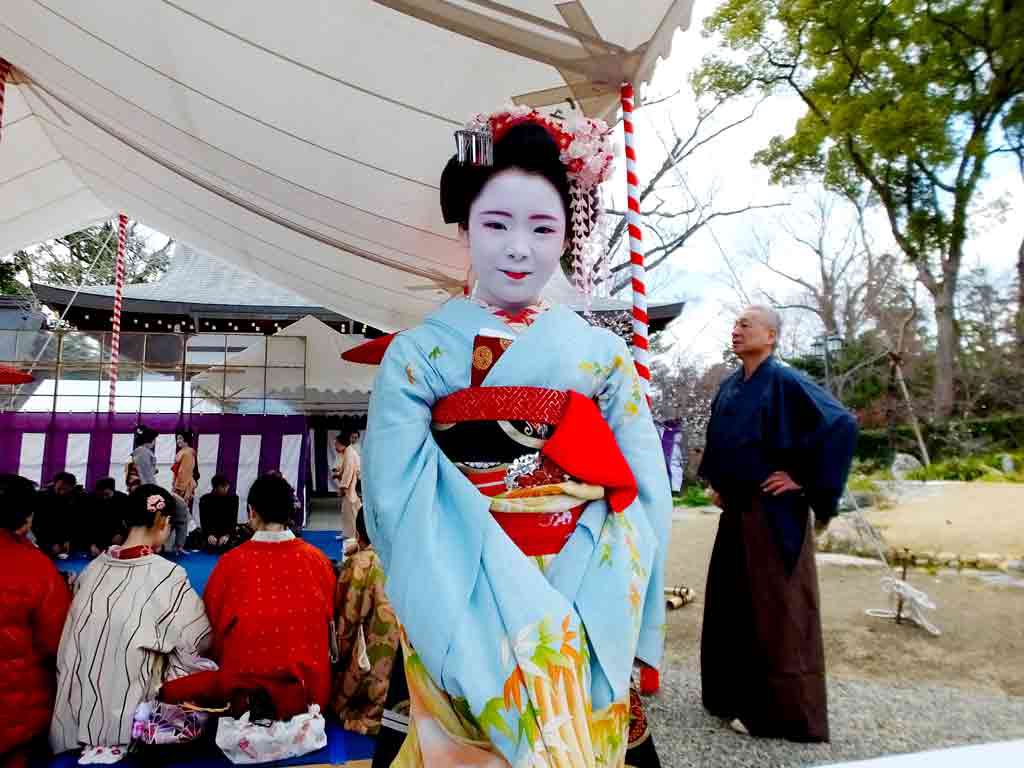 Enjoy Ume Blossoms More
After the tea ceremony, you can stroll in the ume garden (Japanese: baien). The adult admission is 700 yen. It includes snacks and ume flavored tea. The tea house in the ume garden is open from early February to late March.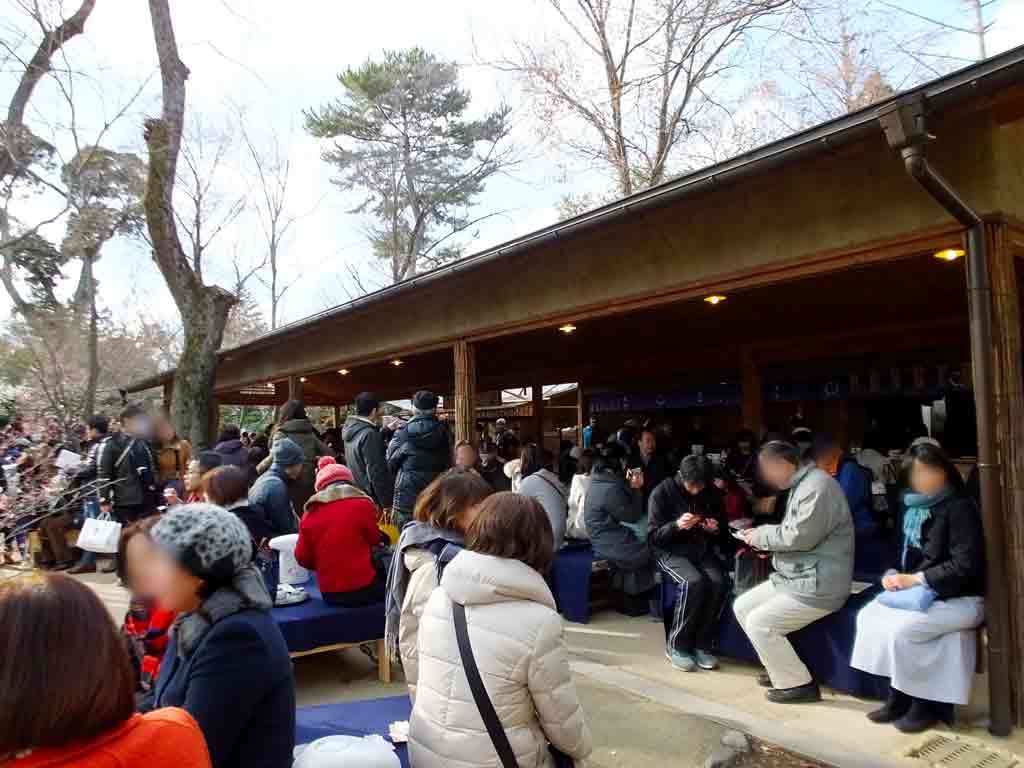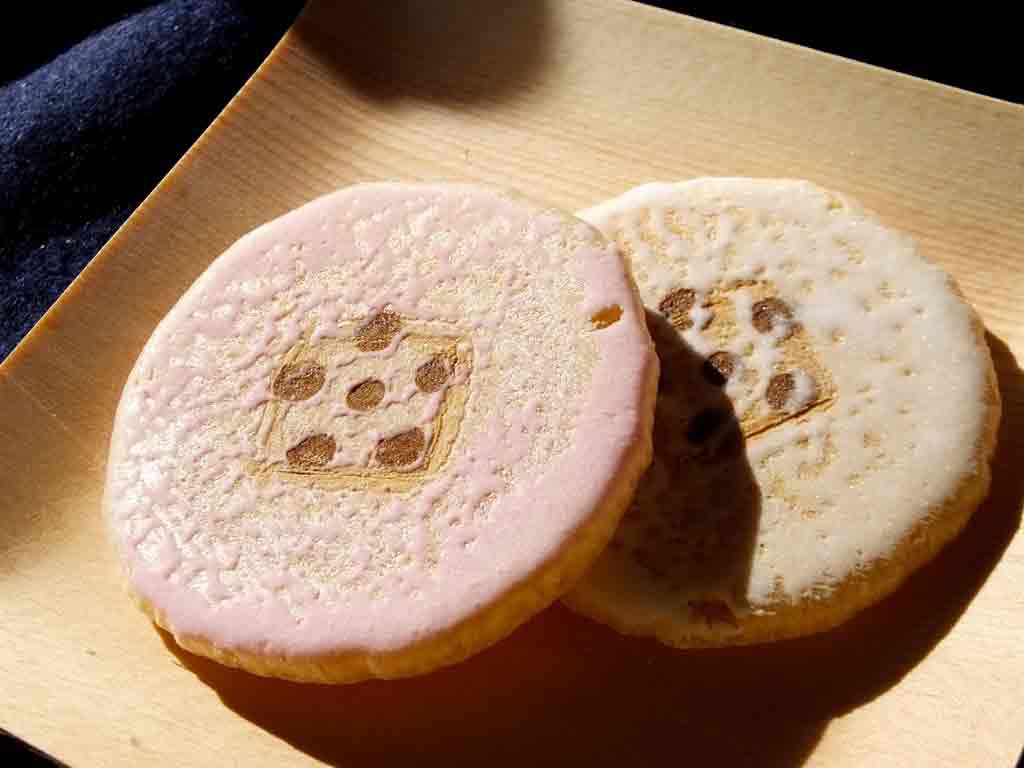 The shrine has 50 species of ume trees. I saw various ume trees in and around the ume garden. I never got bored with walking under the trees. By the way, Uguisu Bridge was as beautiful as ume blossoms. 'Uguisu' is a small bird known as a Japanese bush warbler. As the spring comes, uguisu come to the bridge and sing songs. It must be tasteful.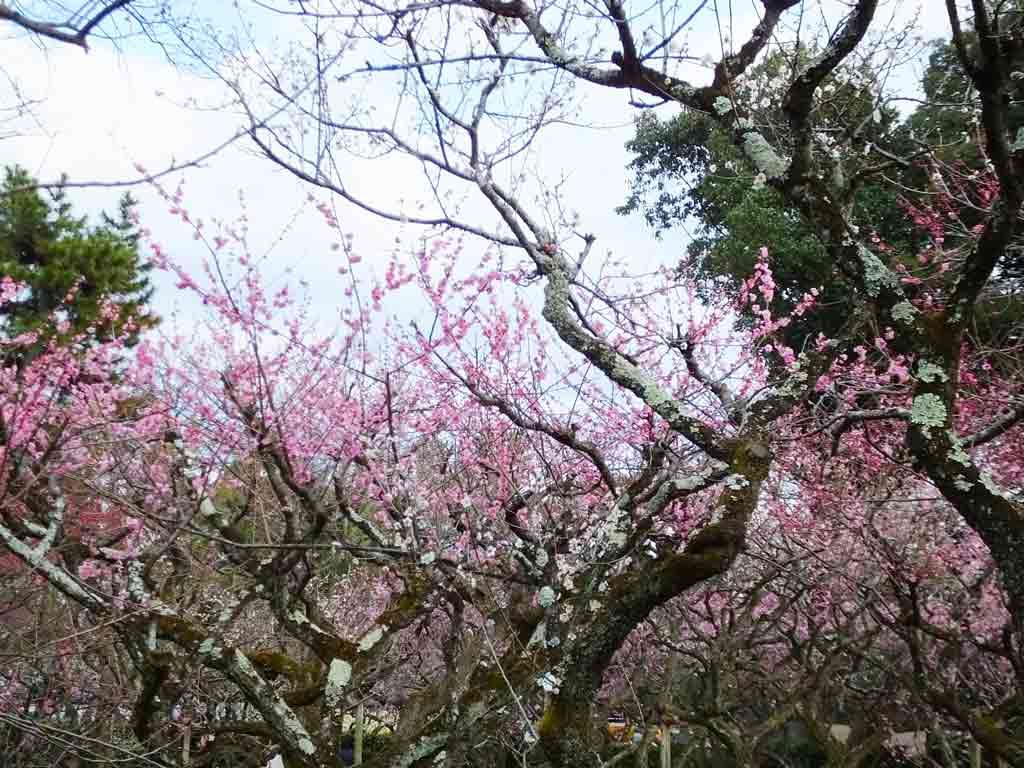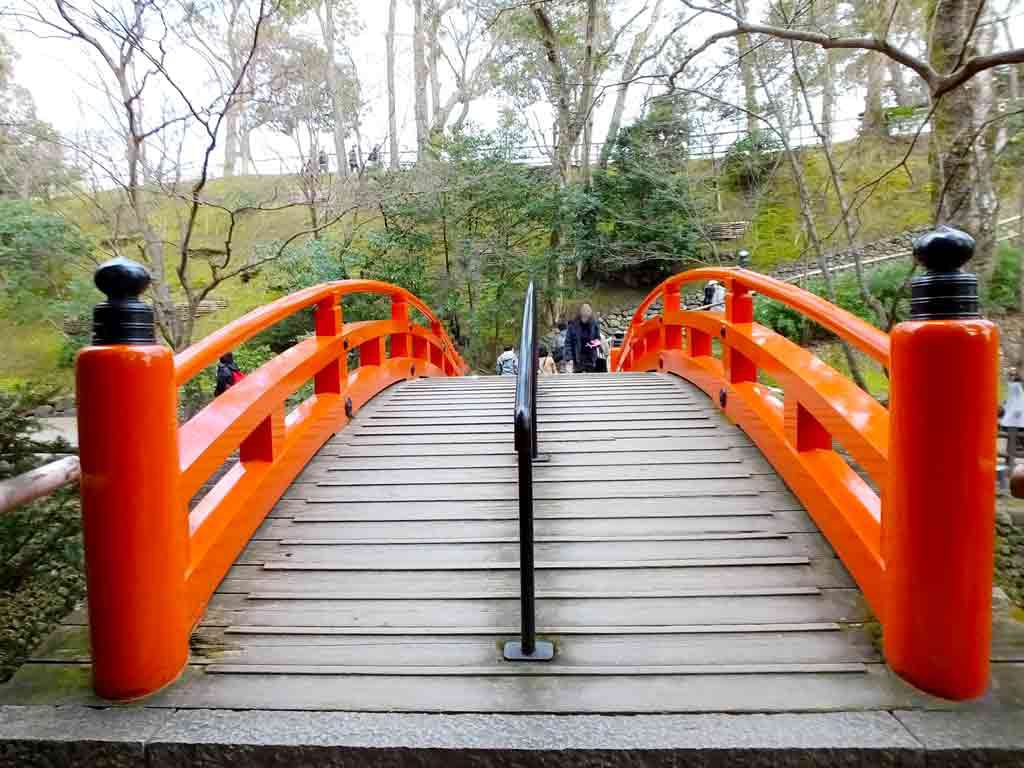 The ume garden is closed at 4:00 p.m, but the shrine is open until 9:00 p.m. on the day of Tenjin-san (the 25th of every month). In the evening, the shrine is quiet and it has a magical atmosphere. You can enjoy ume blossoms in the dark when there are few people, which can be a special experience.
Additional Information (written in February, 2018)
From 2018, a new beautiful event will start. You will see illuminated ume blossoms in the ume garden. Light of LEDs, bonfires and candles will create a magical atmosphere. It will be held every weekend from February 23rd to March 18th. The ume garden is usually closed at 4:00 p.m, but it will be open until 9:00 p.m. during the period of the event. (The last entry will be at 8:30 p.m.) The admission will be the same as before (700 yen for an adult, including the snacks and tea). If you want to go to the ume garden and Treasure House, I recommend to buy a combined ticket because it will be cheaper than two tickets (1,100 yen for an adult).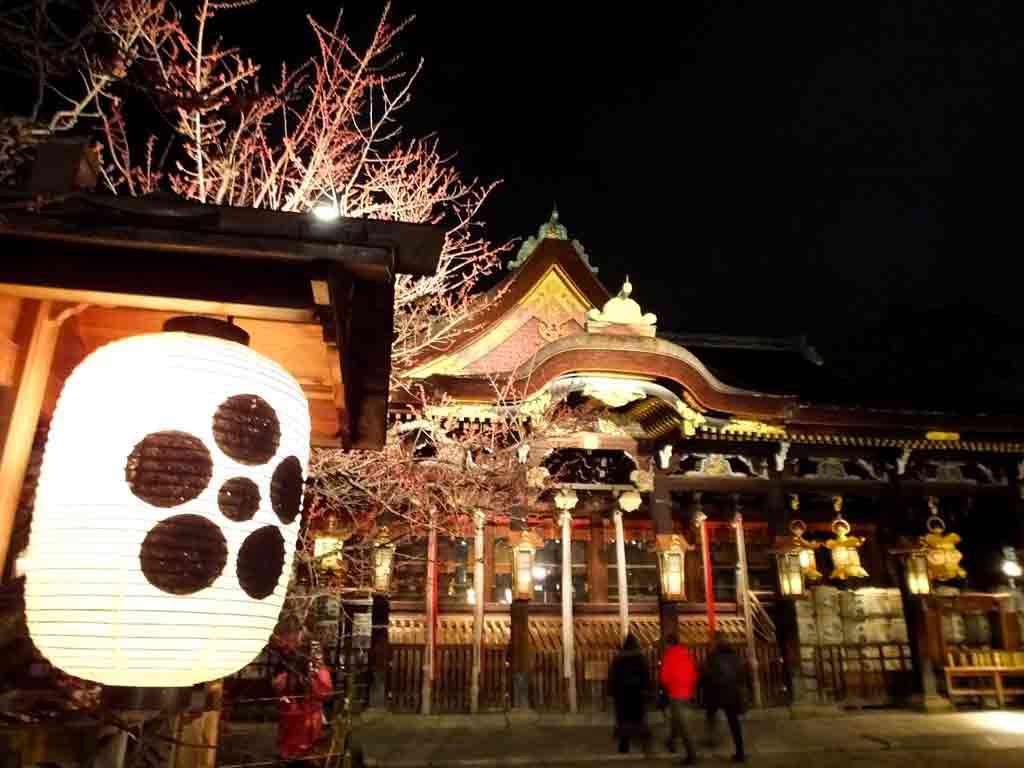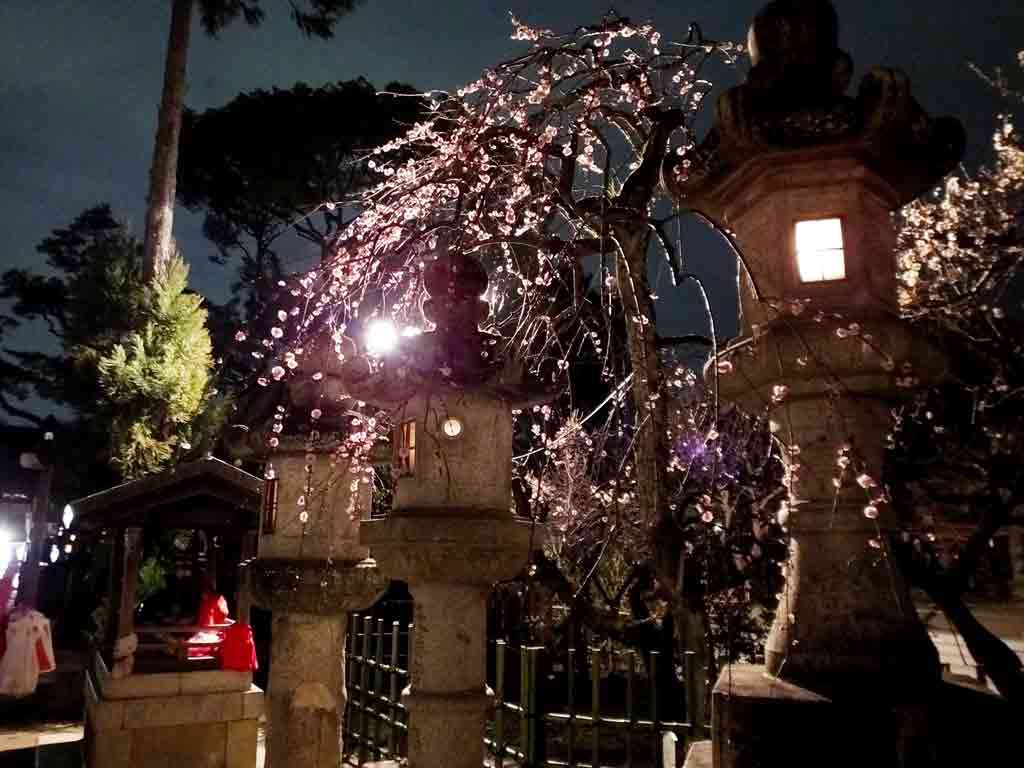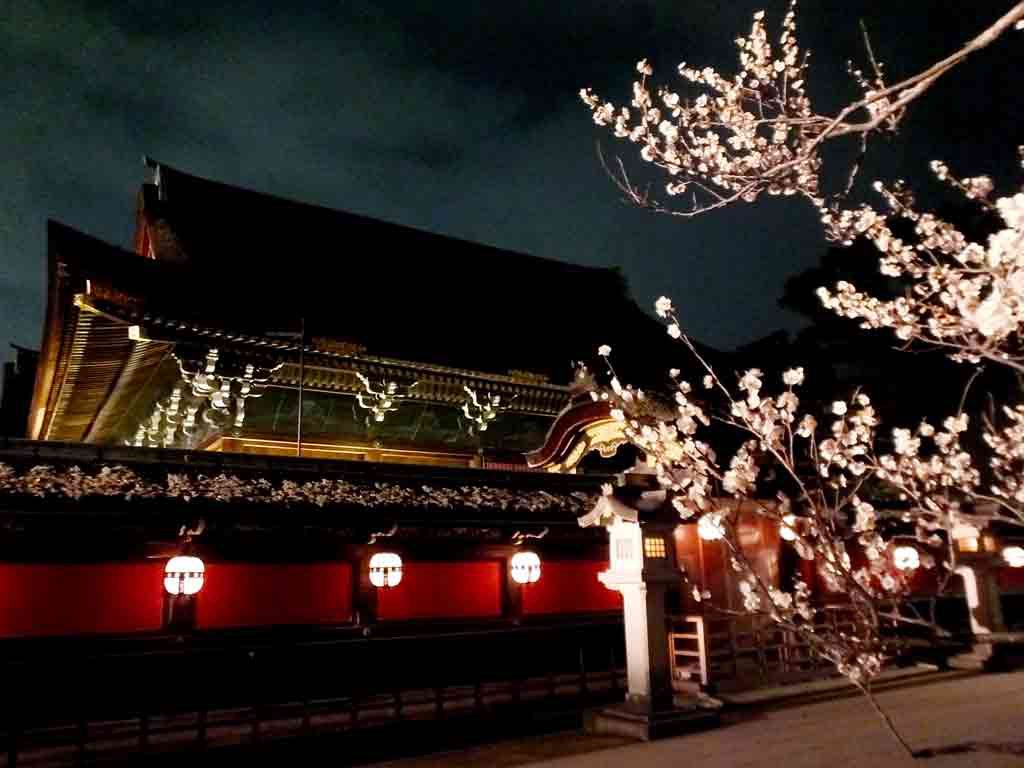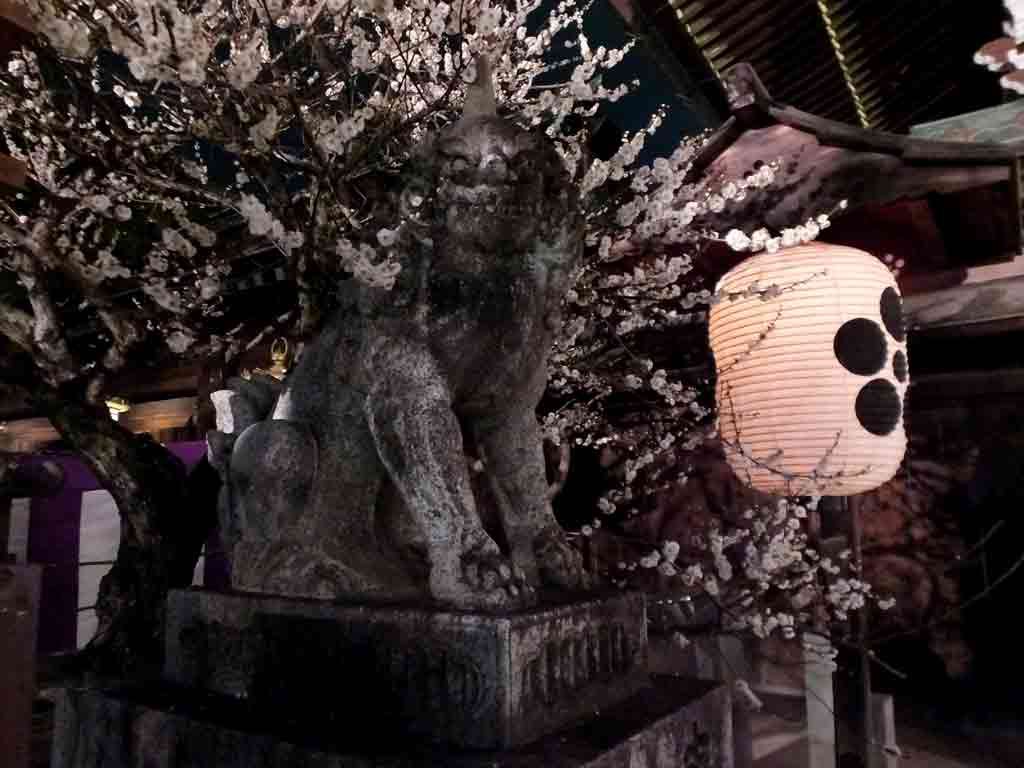 What is interesting about the festival is that different people enjoy it in different ways. You can enjoy ume blossoms, the tea ceremony, shopping, taking pictures and so on. It is just like a paradise for all people!