I went to Motomiya Festival at Fushimi Inari Taisha. This year, it was held on July 24th. I arrived around 7:00 p.m. when it was breezy and cool.
Look at the statue of the running fox at the lower right of the picture. Foxes have been considered to be messengers of Inari Ōkami, the deity of Inari-jinja Shrines. Actually, there are many Inari-jinja Shrines in Japan, and the head shrine is here, Fushimi Inari Taisha.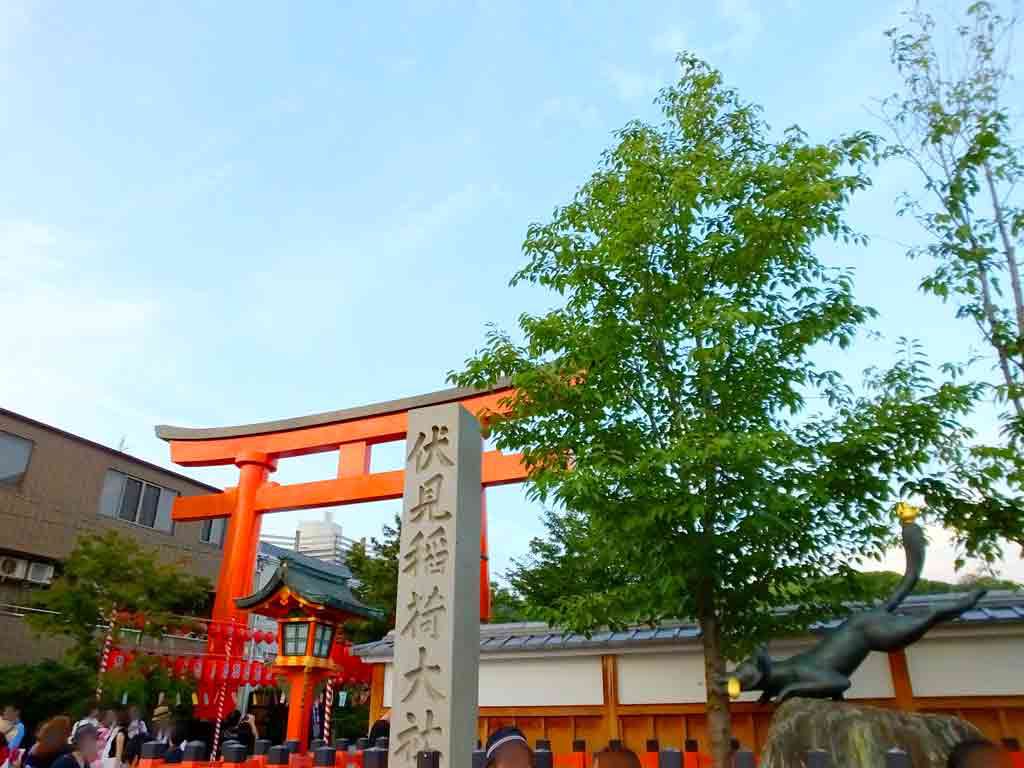 On the day of the festival, thousands of lanterns make the shrine different from ordinary days. It's free to enter as usual.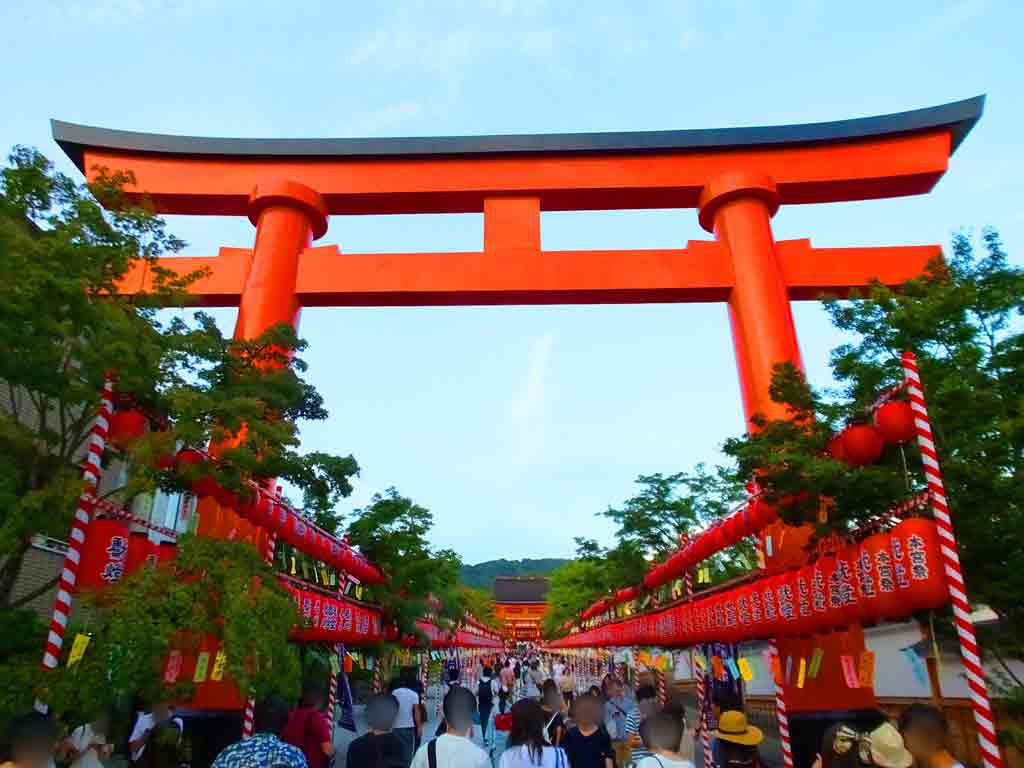 Go straight, and you'll see the two-storied gate called rōmon, in front of you. What a magical atmosphere! Do you know a Japanese anime fantasy movie, Spirited Away? If you know it, you may feel as if you were in the movie.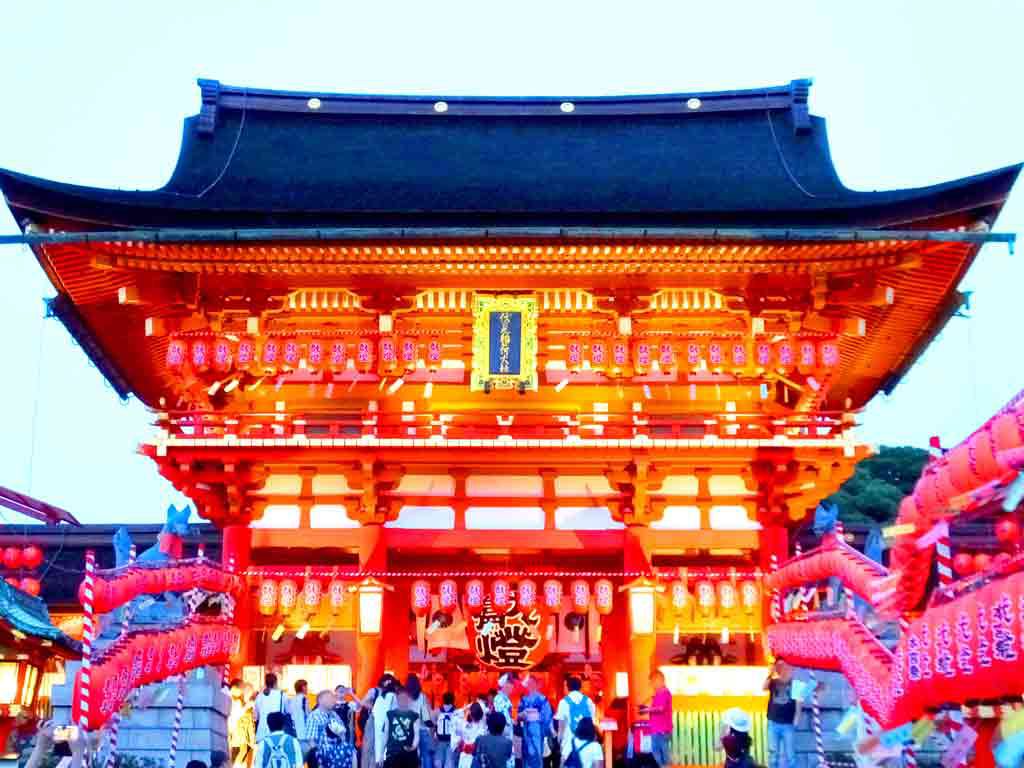 At Motomiya Festival, I saw children and adults enjoying the goldfish scooping game. It is a traditional Japanese game, which is usually played at a local summer festival. A player scoops goldfish with a paper scooper, until the paper is completely broken.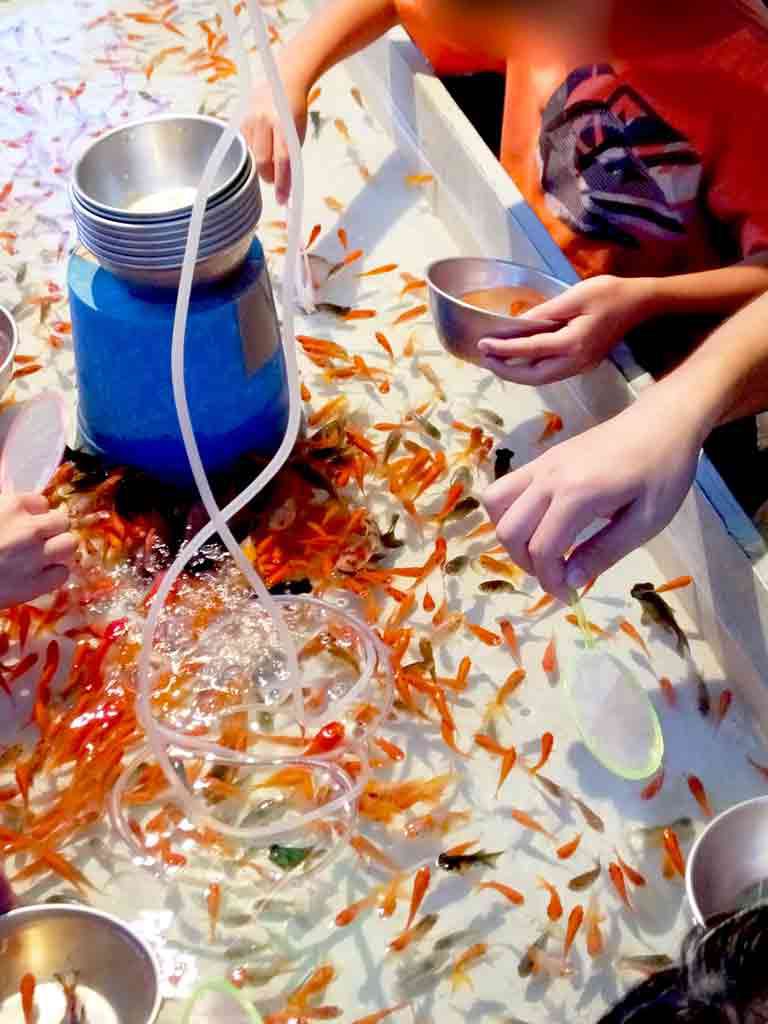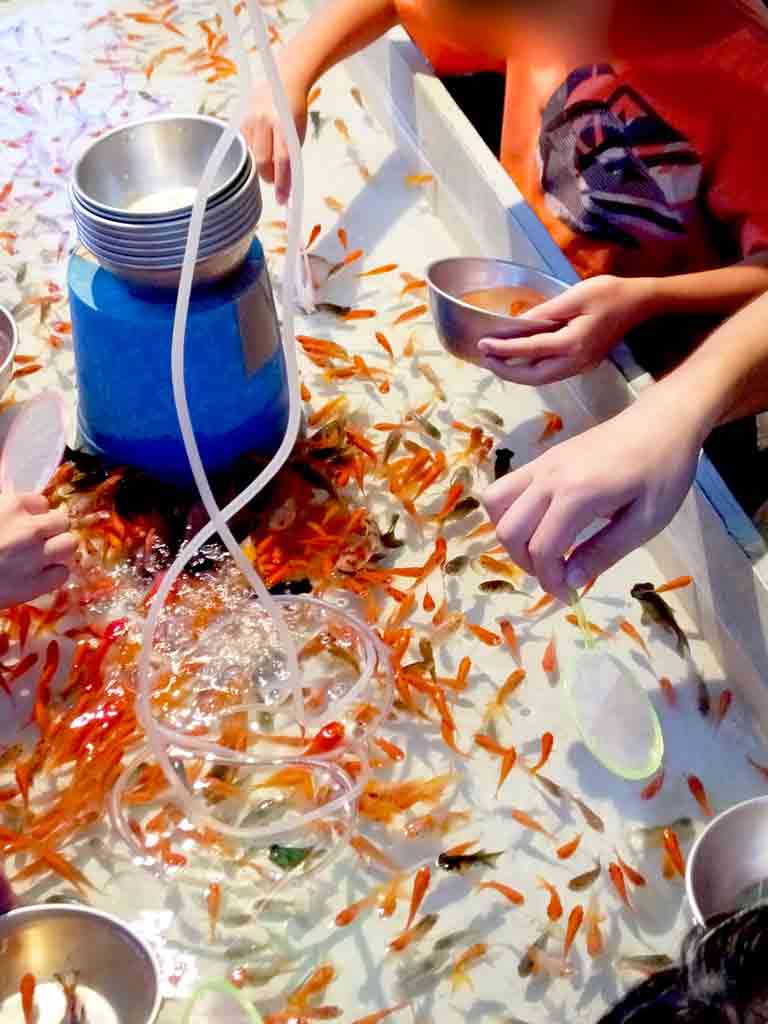 Some people were having fun with bon-odori, too. It is a traditional Japanese dance that is performed at a summer festival. Each region has its own dance and the music is not the same, but usually it's not very difficult so that anyone can join.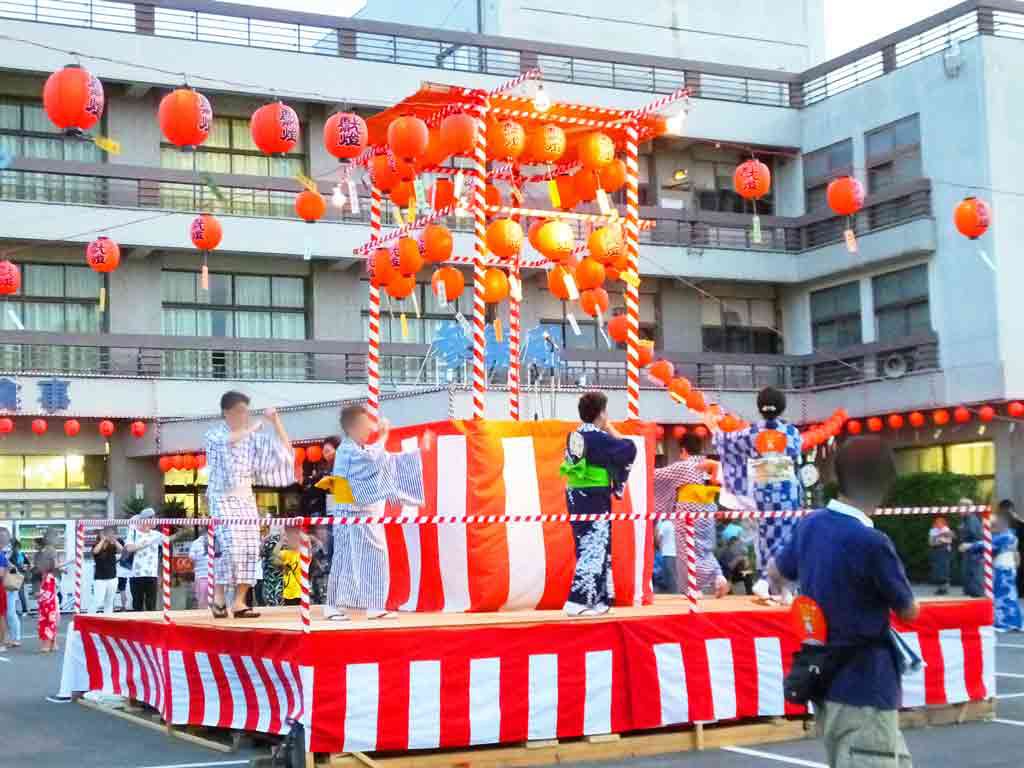 There were lots of young people and people from foreign countries who were enjoying themselves. Many were taking pictures. Some were wearing fox masks. It had a very fun atmosphere.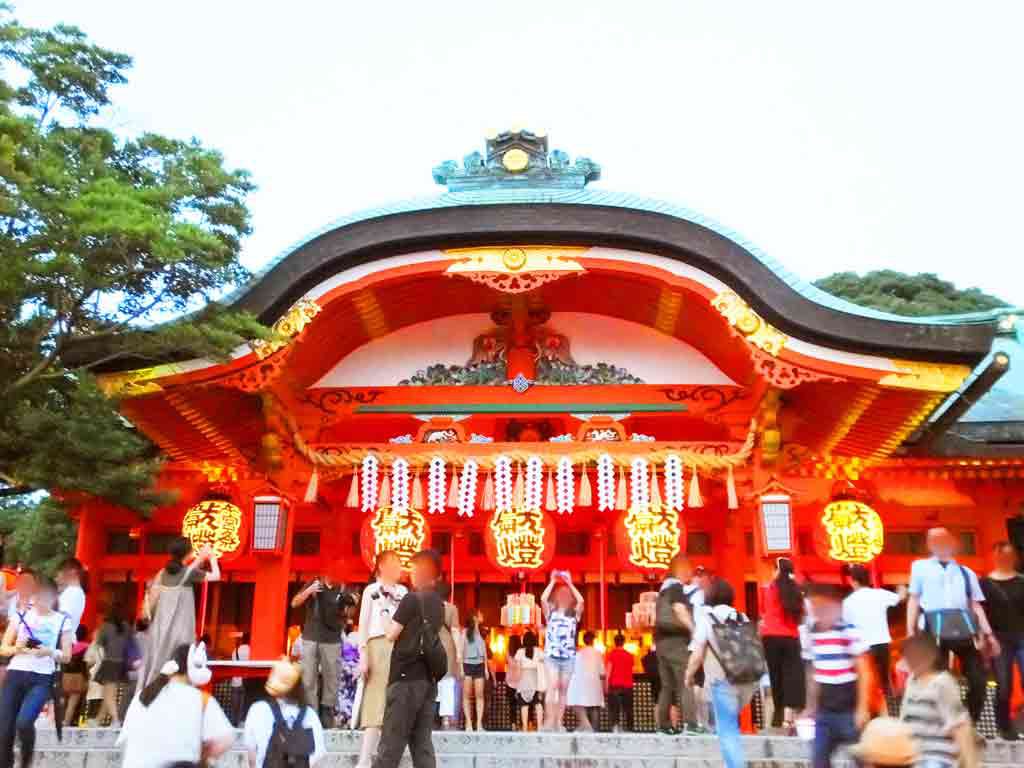 Night fell. The atmosphere was getting mysterious and scary, just like a test of courage.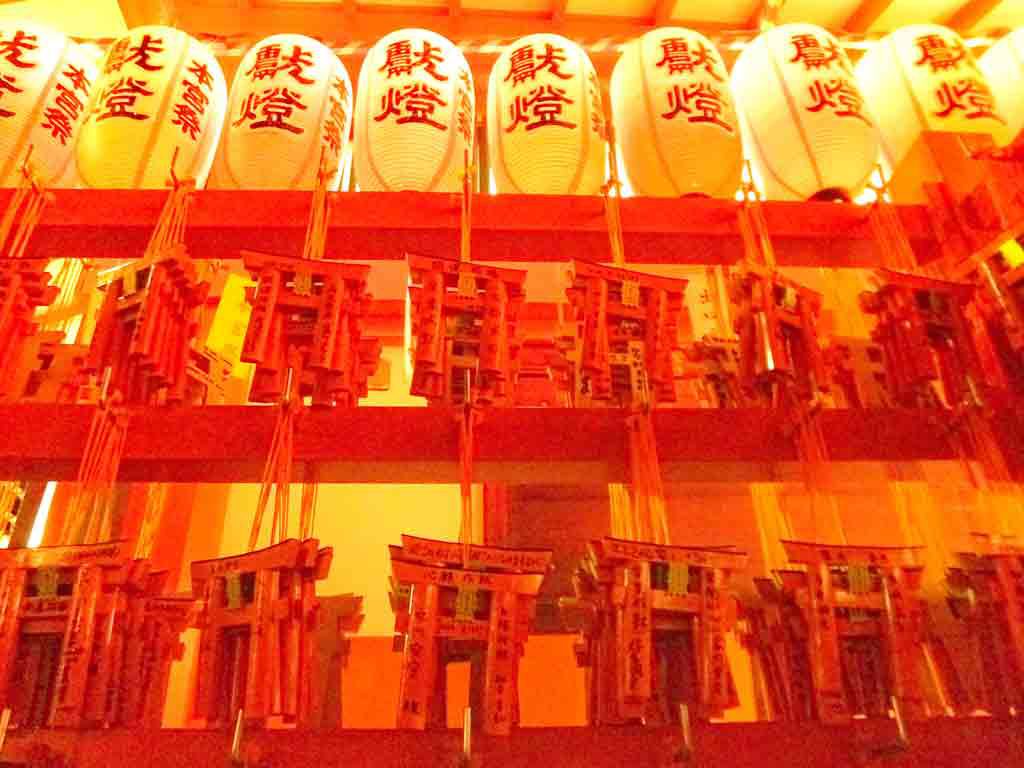 Fushimi Inari Taisha is famous for Senbon Torii (thousands of torii gates.) Many people say it's like an entrance to another world.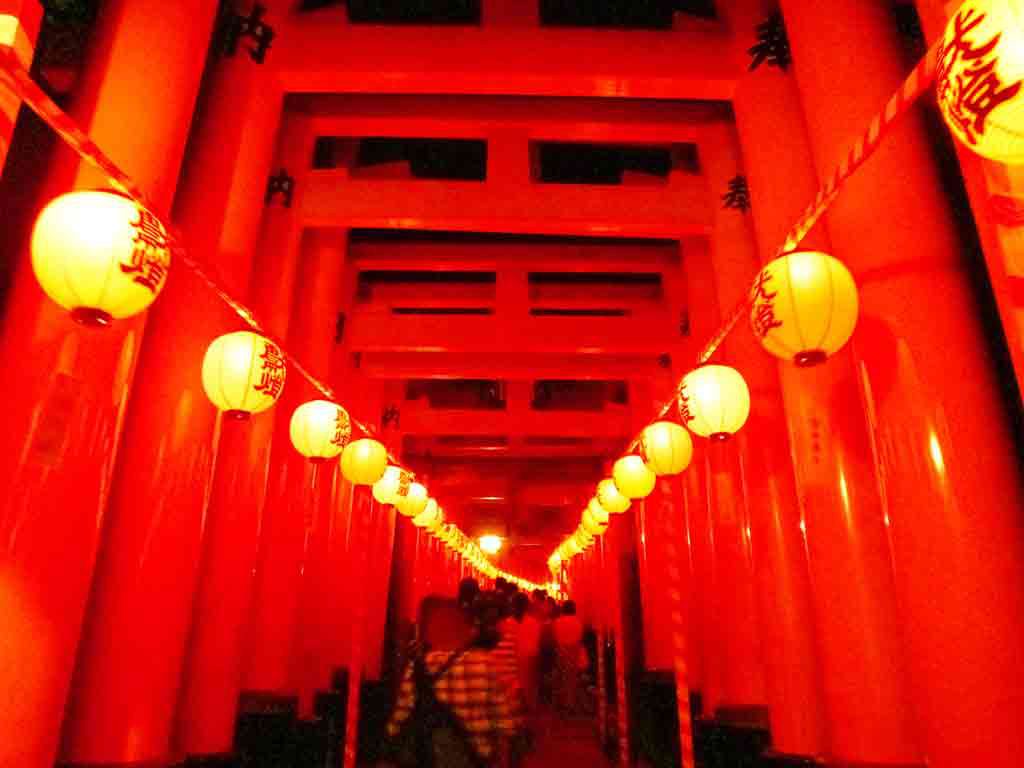 I walked straight and came to a parting of the ways. You have to keep right. Torii around here are low, and all what you can see is the world of vermilion.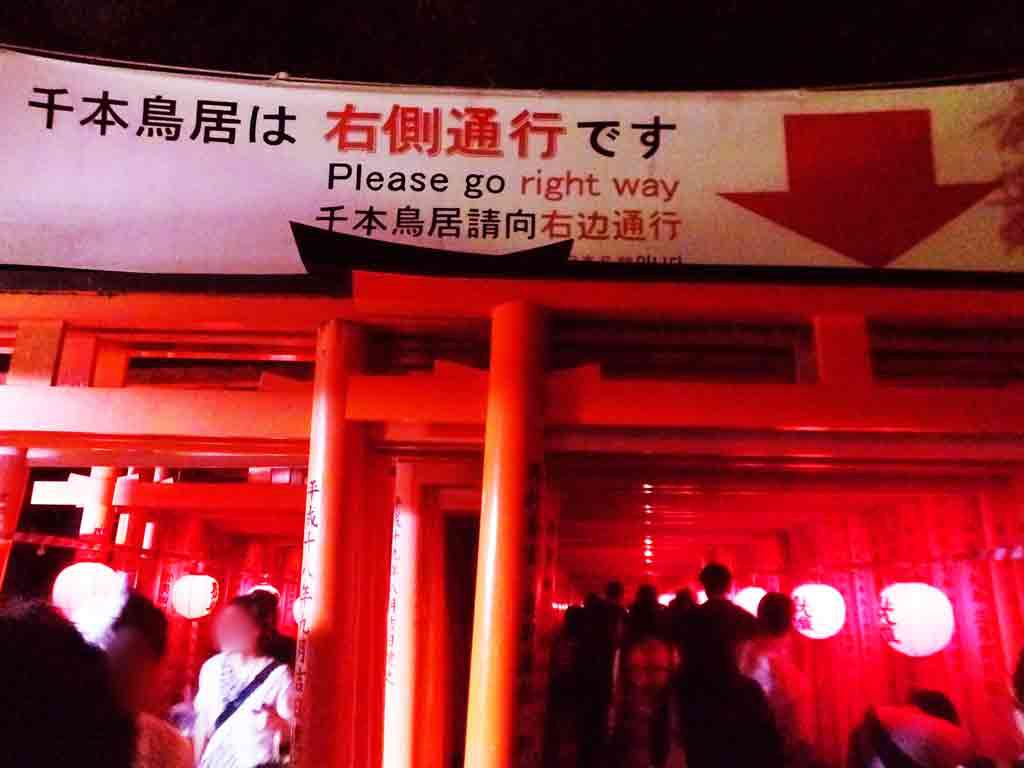 I felt as if there were foxes hiding here and there in the shrine. It was a special experience for me.
As I went up higher, I saw fewer people. It was so quiet that I forgot that the festival was being held.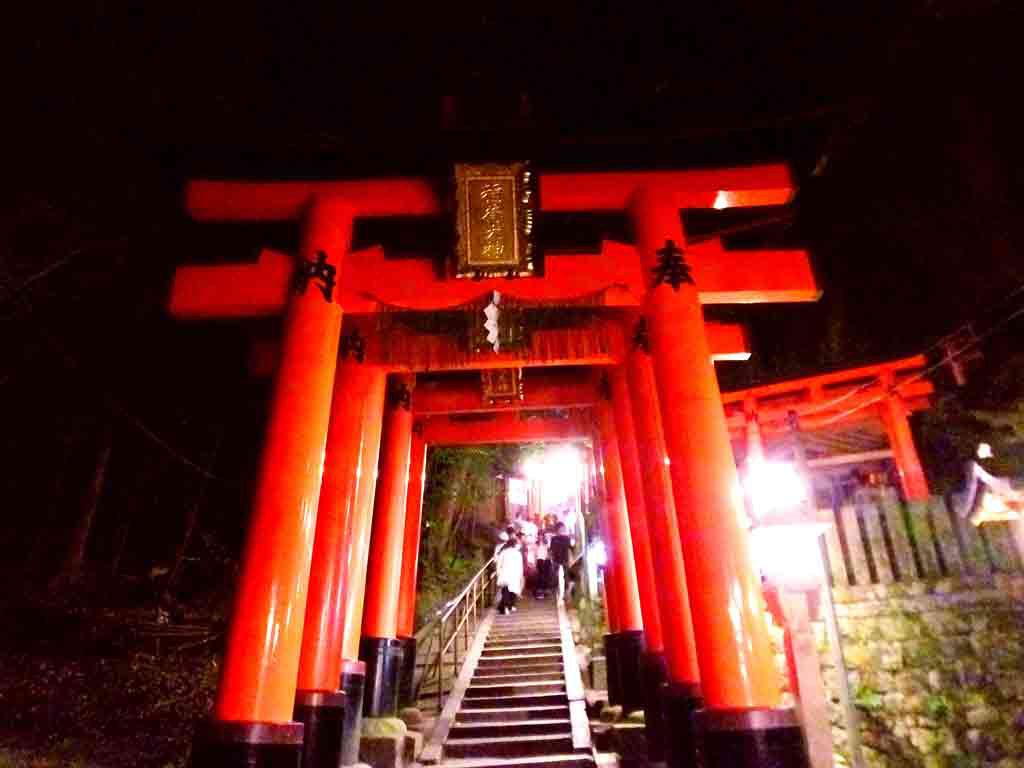 Small torii were put at various places. They were dedicated to the deity by visitors. You can buy one here, though the smallest one is 175,000 yen. They are a little expensive, but they must be meaningful because so many people had paid for them.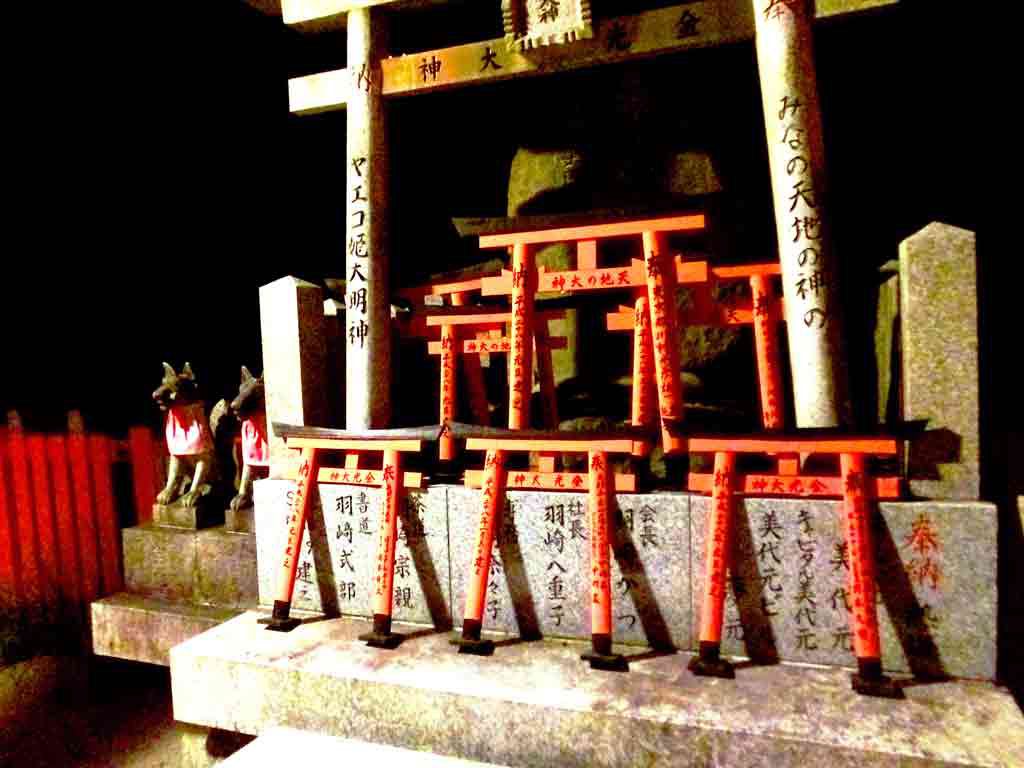 I was walking, and suddenly I noticed foxes looking at me. I was startled. I felt as if the foxes read my mind. I thought I couldn't do wrong. Maybe sometimes people need such an experience.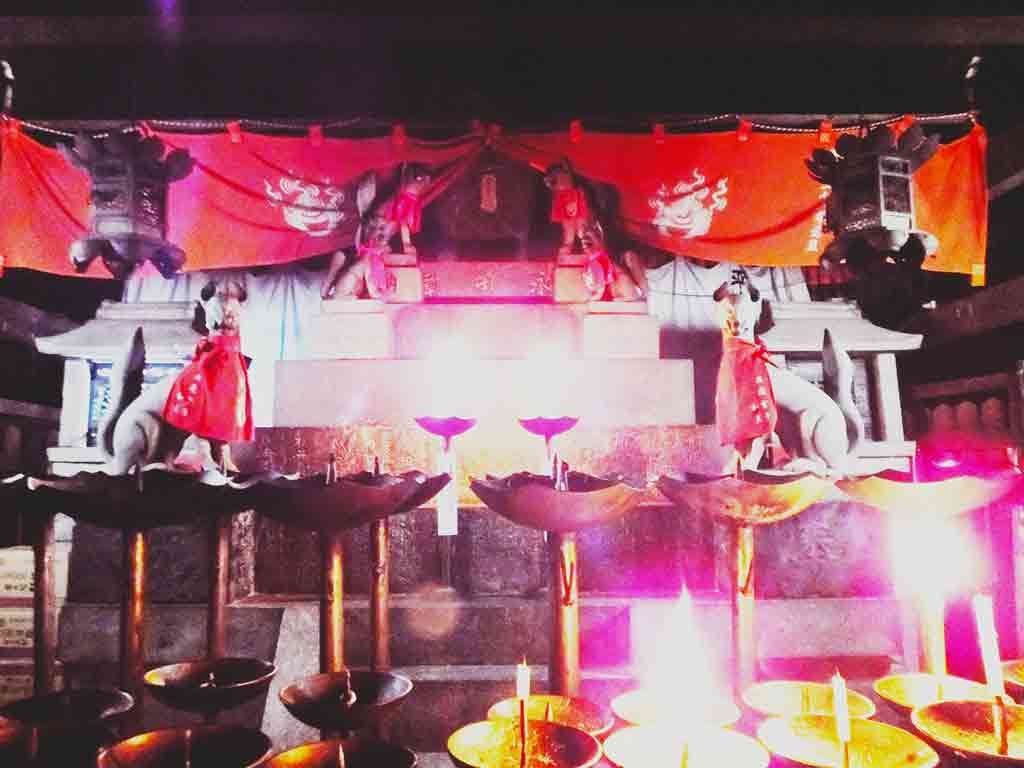 I was scared a little, and went back down. There were hundreds of traditional Japanese lamps called andon. They were painted and offered by many people including Japanese‐style painters. The red paper lanterns were offered by people, too. I thought the festival was made by lots of people.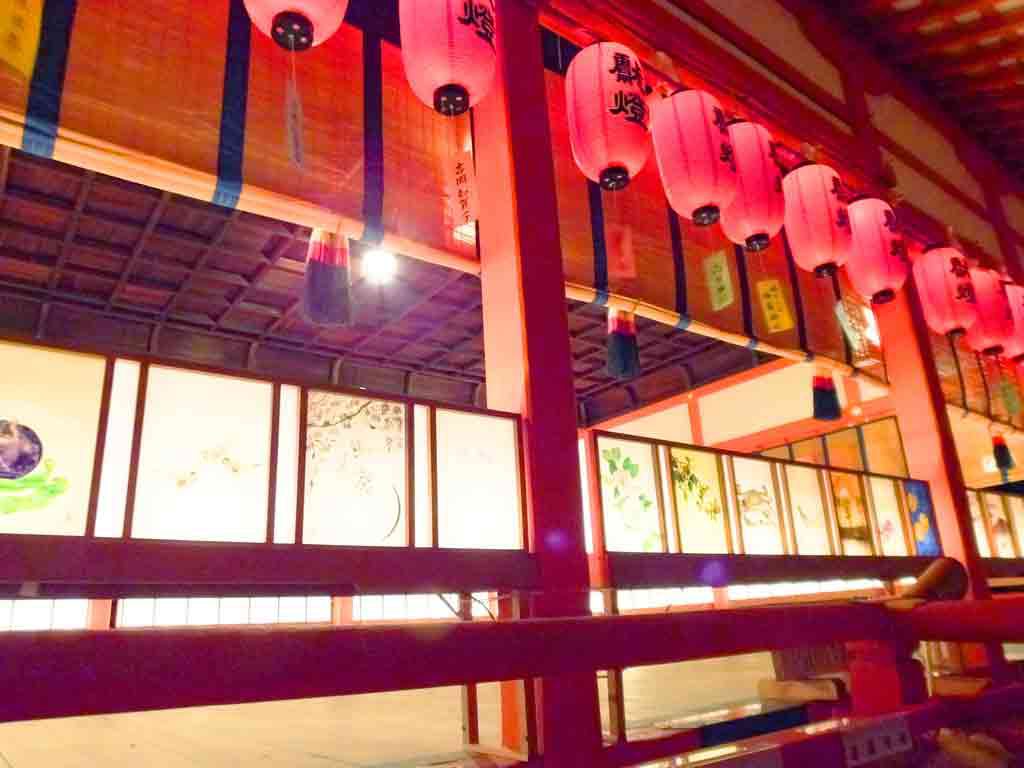 The shrine had a fun atmosphere before the sunset, but it was rather fascinating after dark.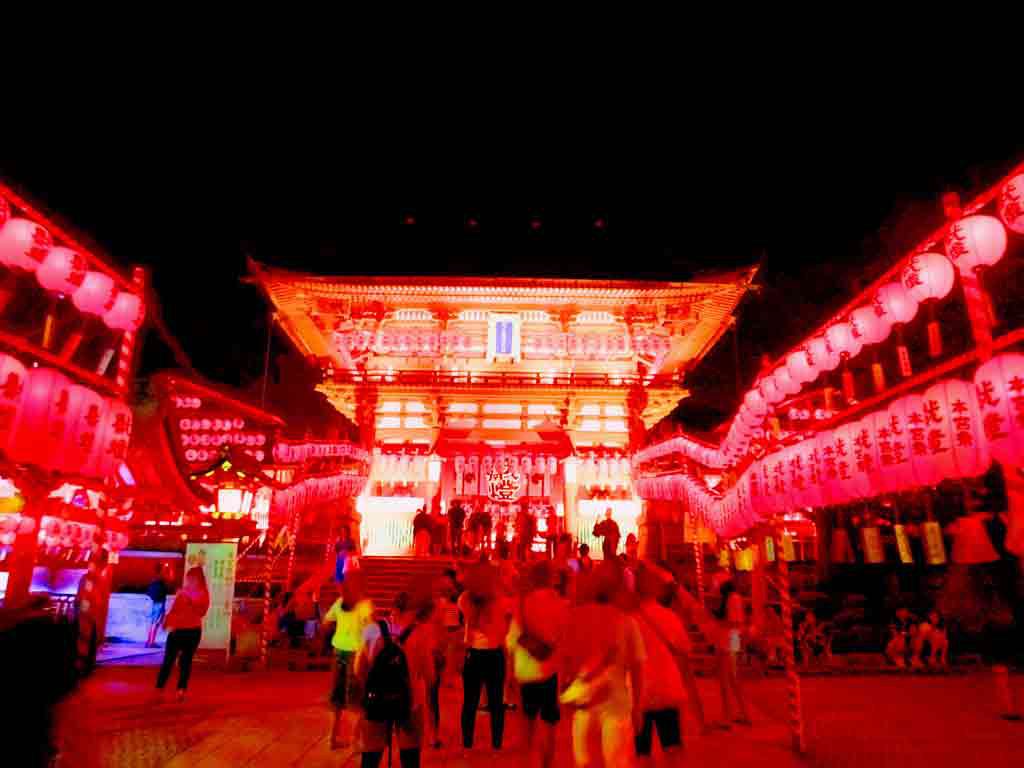 The entrance looked different, too. I forgot daily life and enjoyed a lot. Come and have fun in the magical world!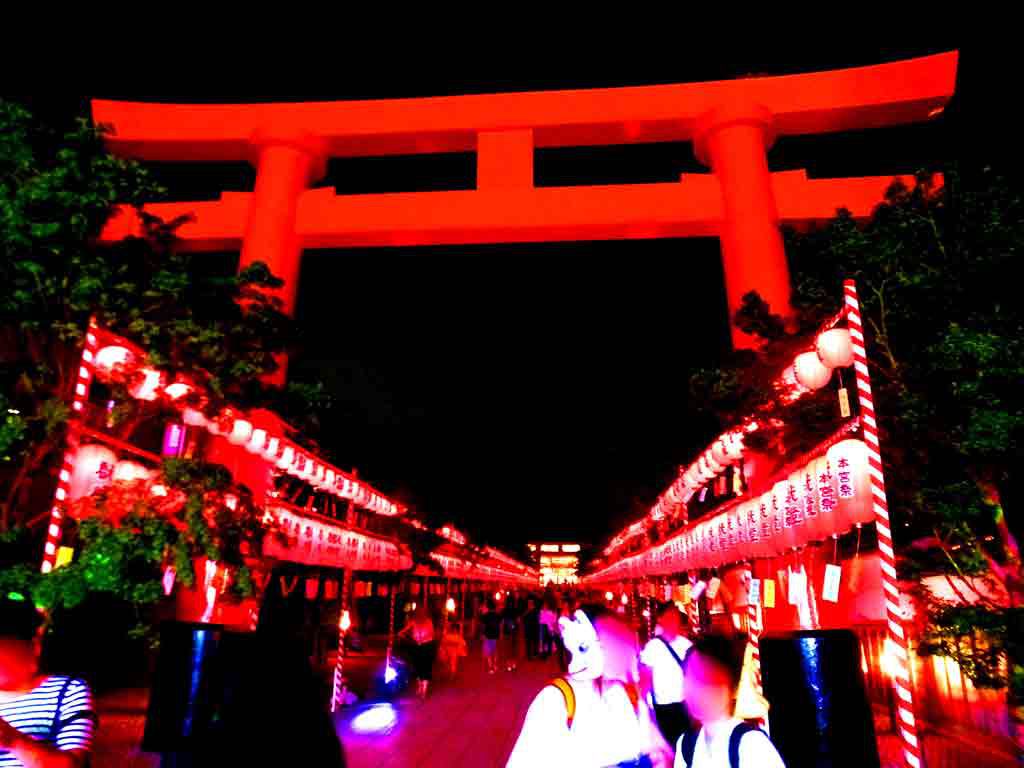 [Fushimi Inari Taisha]
Address: 68 Yabunouchi-cho, Fukakusa, Fushimi-ku, Kyoto City
Access: JR Nara Line to Inari Station / 5 minute walk from Fushimi-Inari Station (Keihan Line)