A Temple of 1,200 Rakan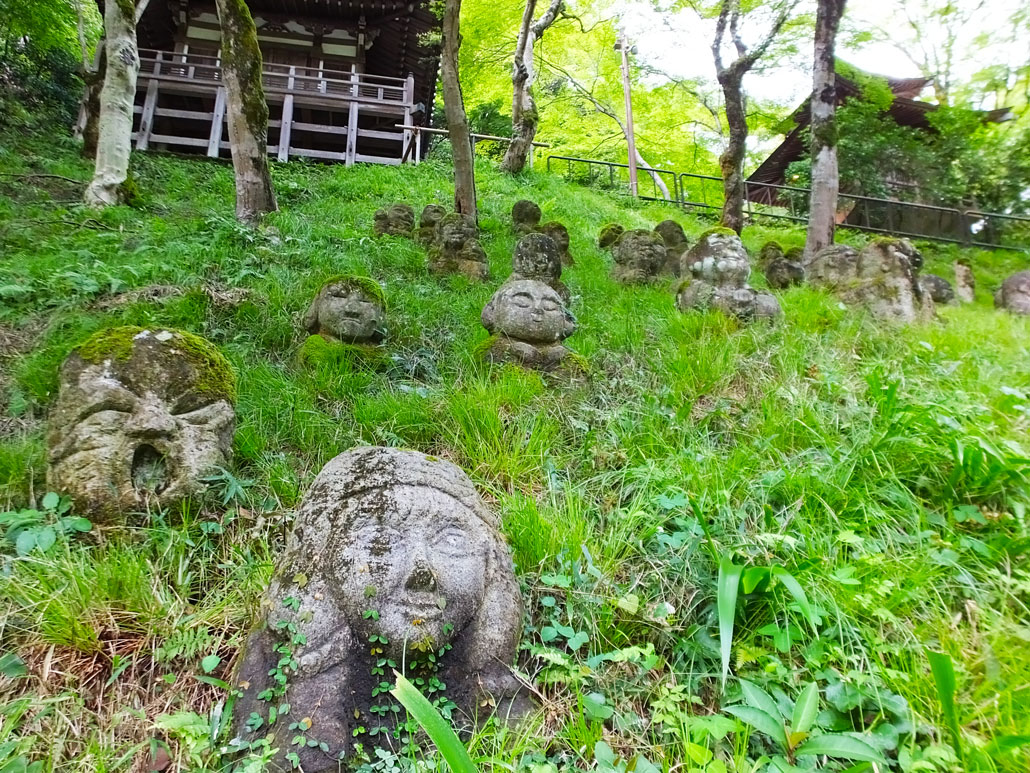 Otagi Nenbutsu-Ji Temple is a unique temple in Kyoto. It has 1,200 carved stone figures of what is called rakan, arakan or rakan-san. Rakan are saintly people who have attained nirvana. Kocho Nishimura, who was the chief priest of the temple and a Buddha statue sculptor, called for people to be engaged in creating many rakan figures and taught them how to do it in person. He started it in 1981, and 10 years later in 1991, Otagi Nenbutsu-Ji Temple became the temple with 1,200 rakan figures. In Buddhism, it is believed that 500 rakan were present at the Buddha's death, and 100 years later, 700 rakan gathered for a study session in order to preach Buddhism properly. This is why 500 rakan figures were created at first, and later 700 figures were added in the temple.
It is interesting that different rakan have different faces, and they are doing what they want. For example, one rakan is playing tennis, and another rakan is boxing. My favorite is two rakan who are drinking sake together because they seem very happy. It's fun to look for your favorite one.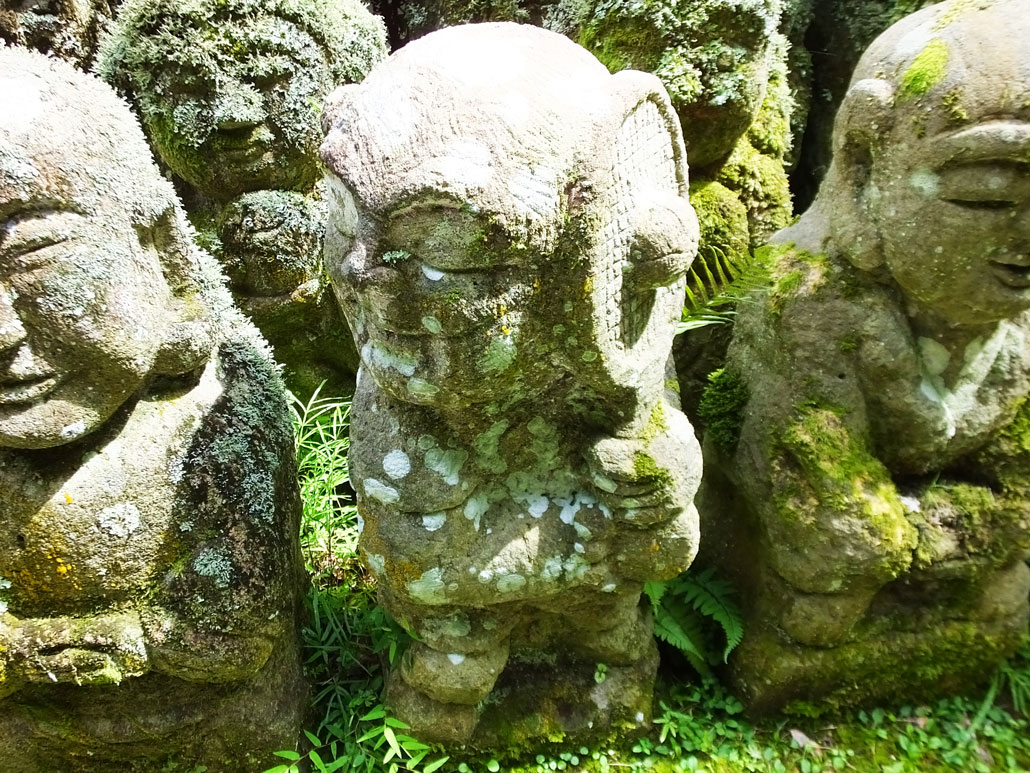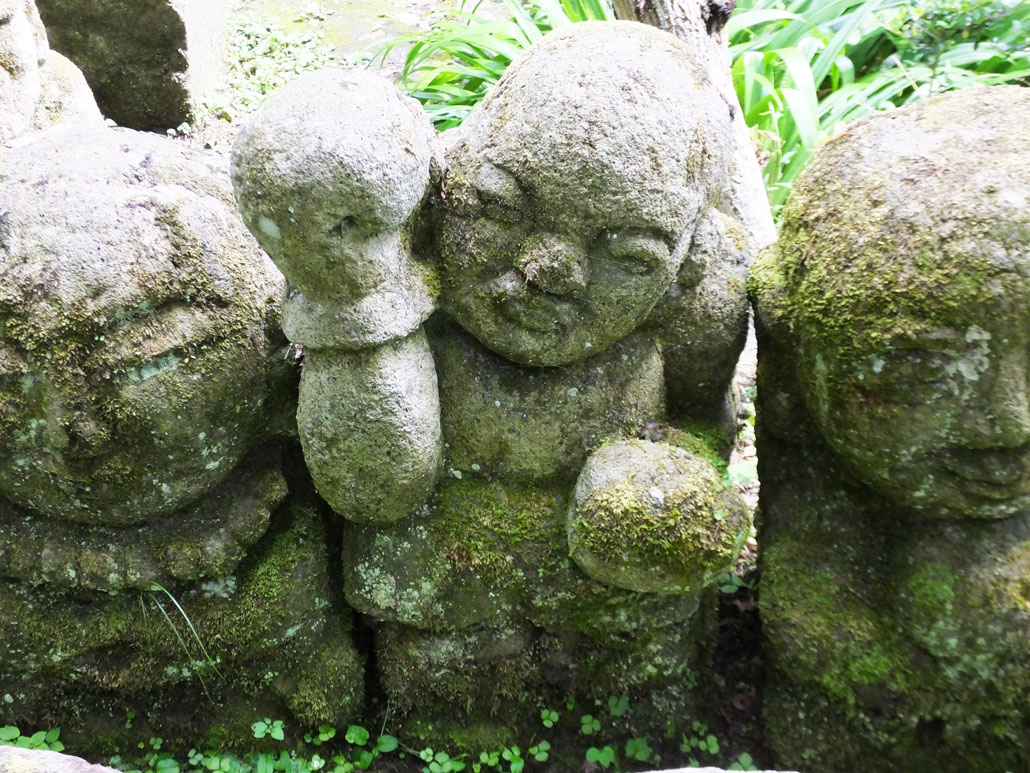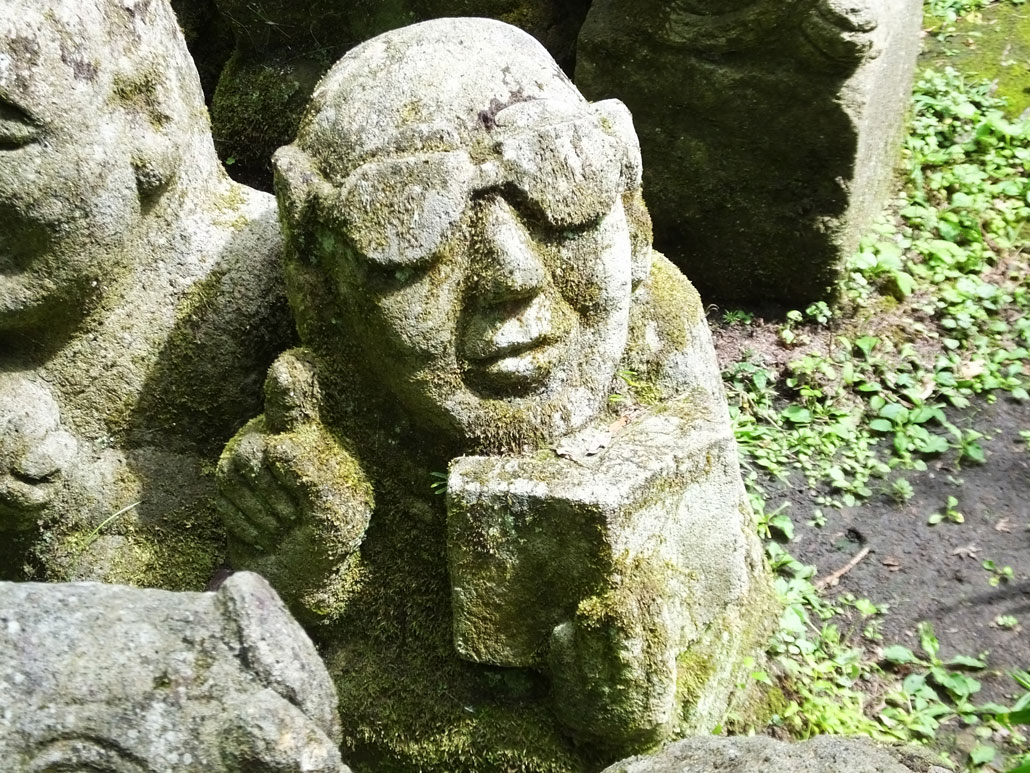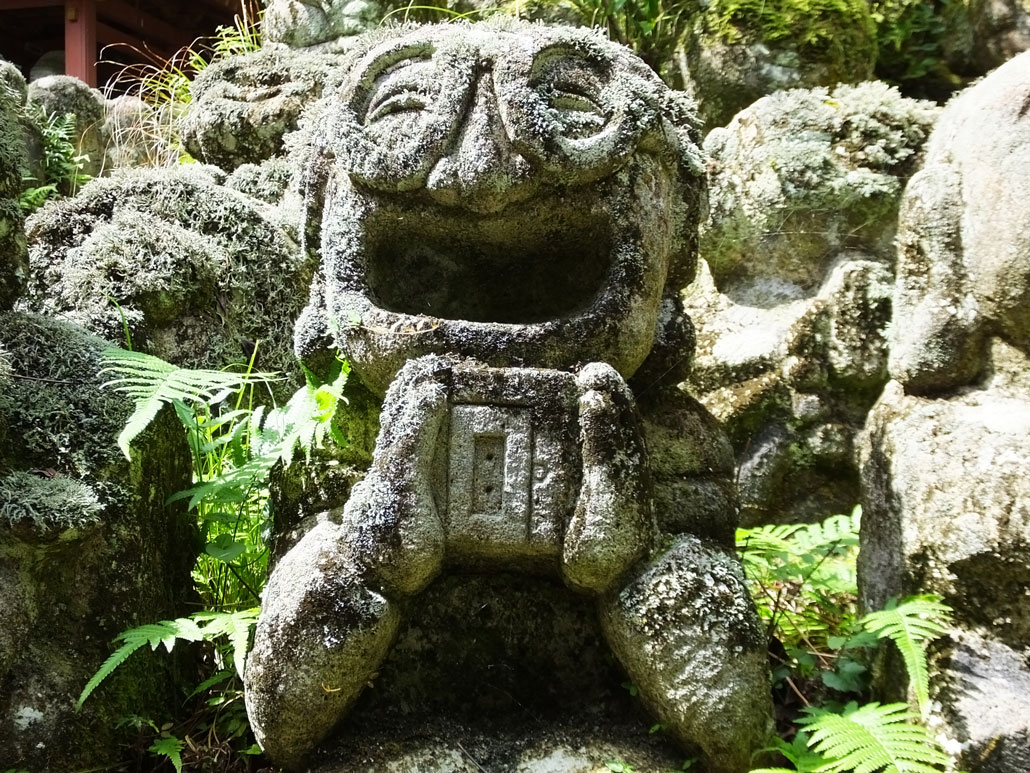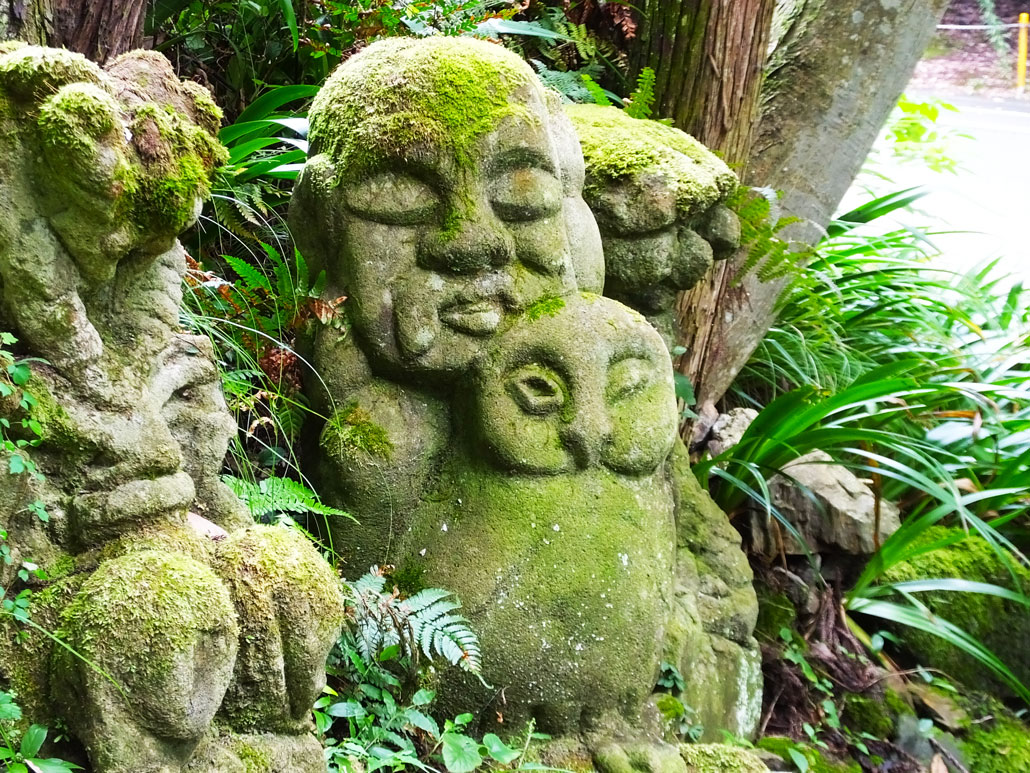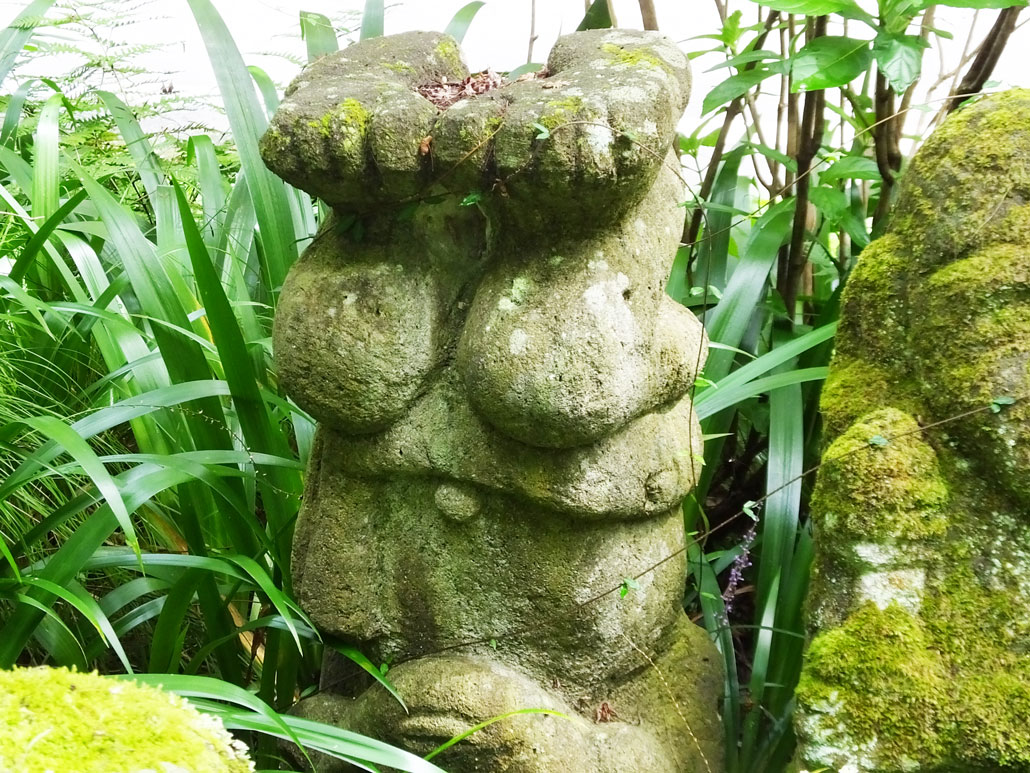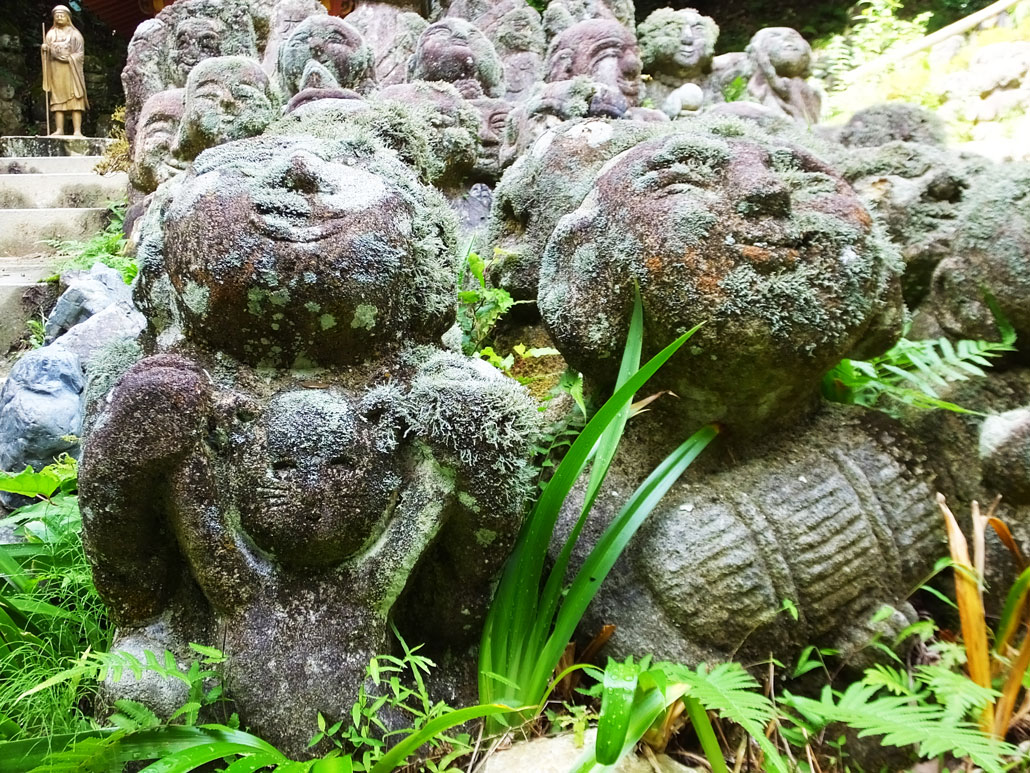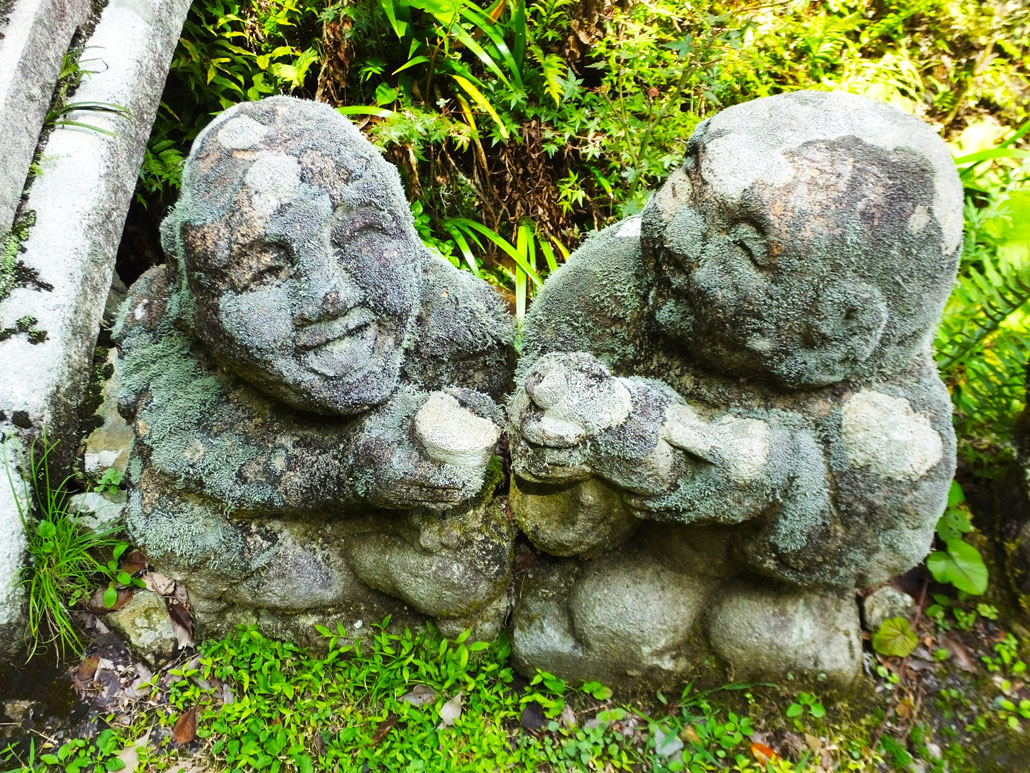 4 Main Bodhisattvas
The main hall, which is called hondo, was built in the middle of the Kamakura Period (1185-1333). It is known for the beauty of its ceiling. In the hondo you can see the principal object of worship of the temple, Yakuyoke Senju Kannon (Thousand-Armed Kannon Bodhisattva who drives away evil spirits). Actually, Otagi Nenbutsu-Ji Temple has been known as a temple that expels evil spirits since the Heian Period (794-1185).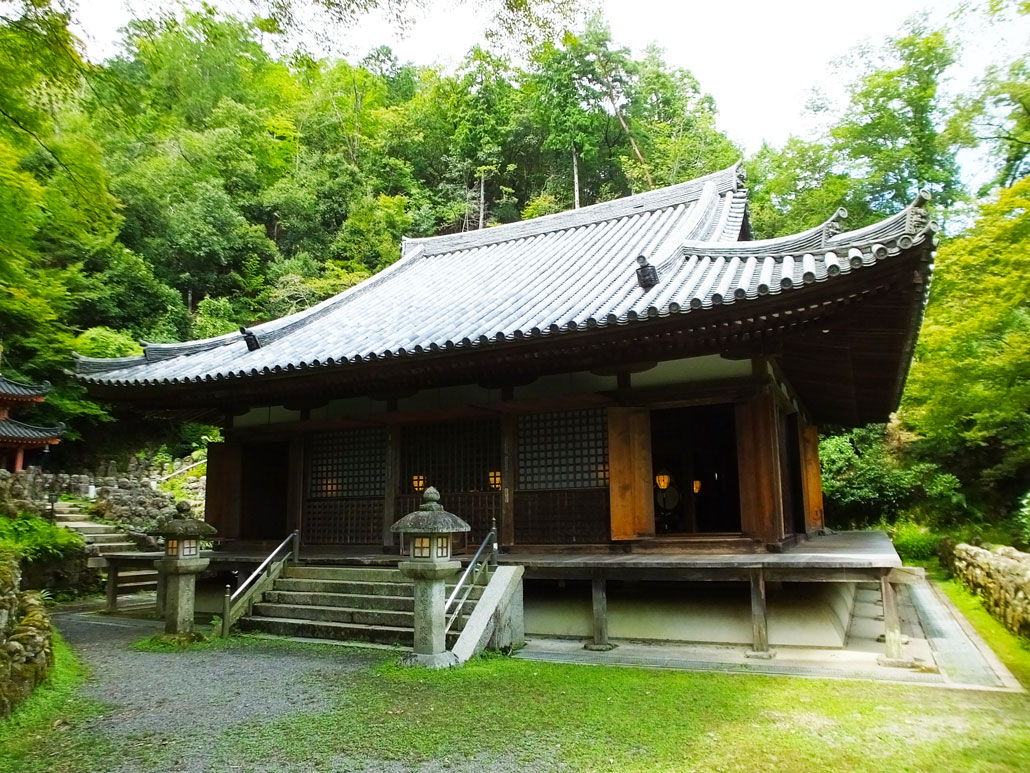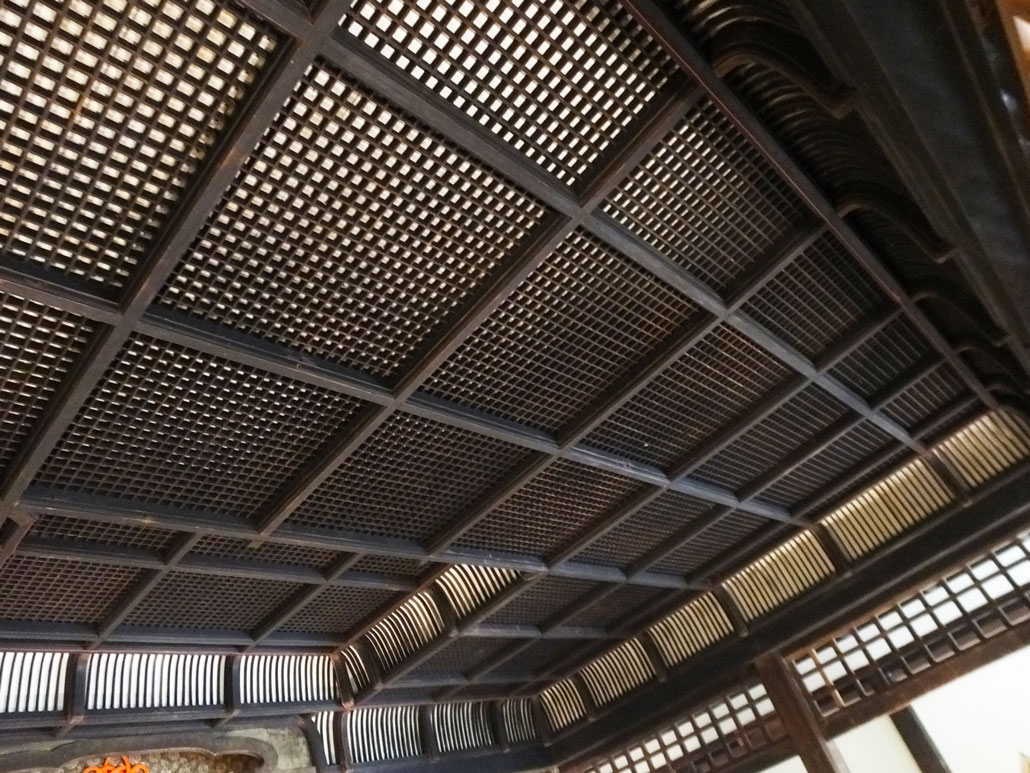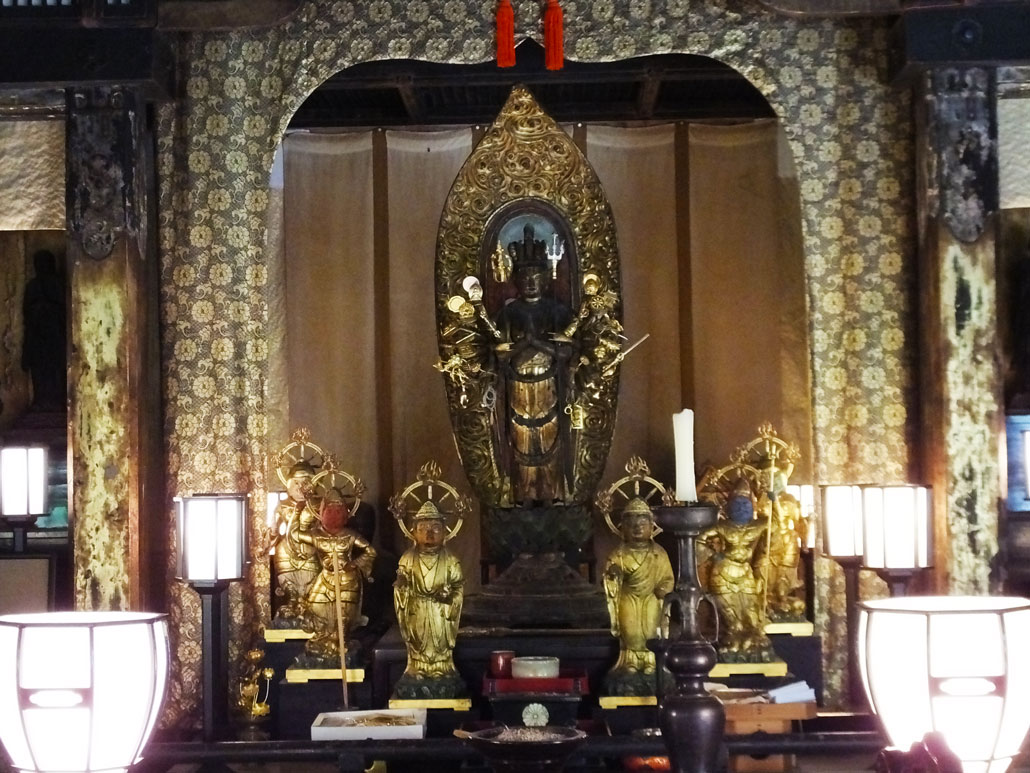 In Jizo Hall, there enshrined Hiyoke Jizo Bosatsu (Jizo Bodhisattva who protects people against fire). He has protected Kyoto since the Heian Period, when Kyoto was a capital of Japan. He has been worshipped as a Bodhisattva who prolongs human life, too.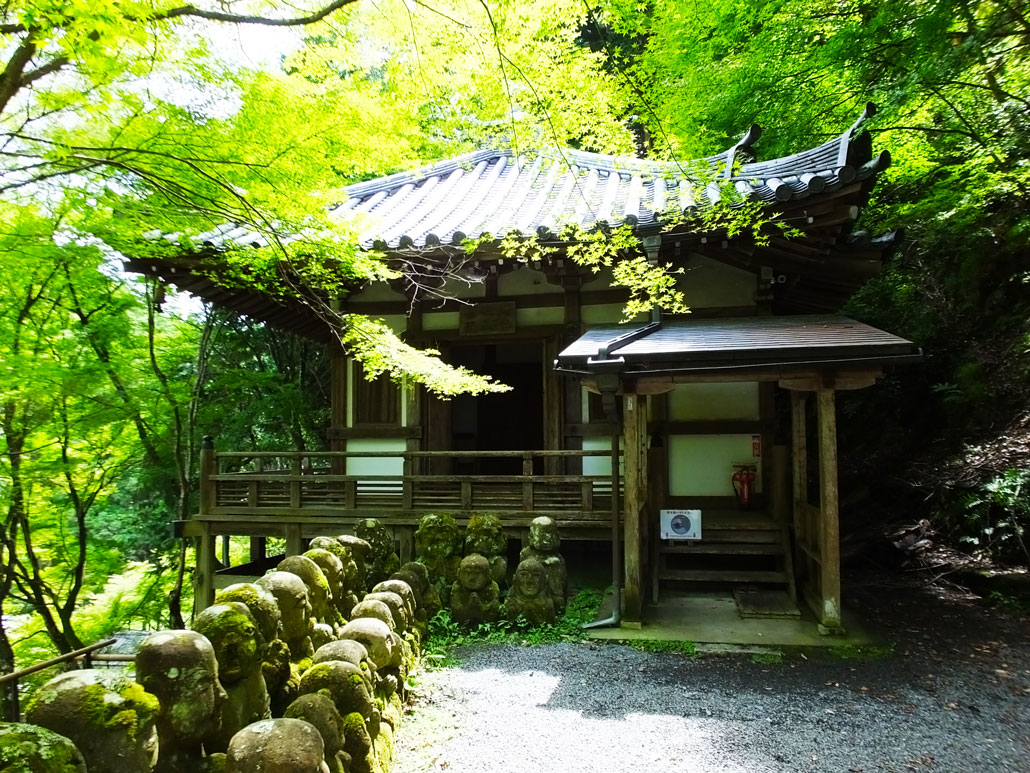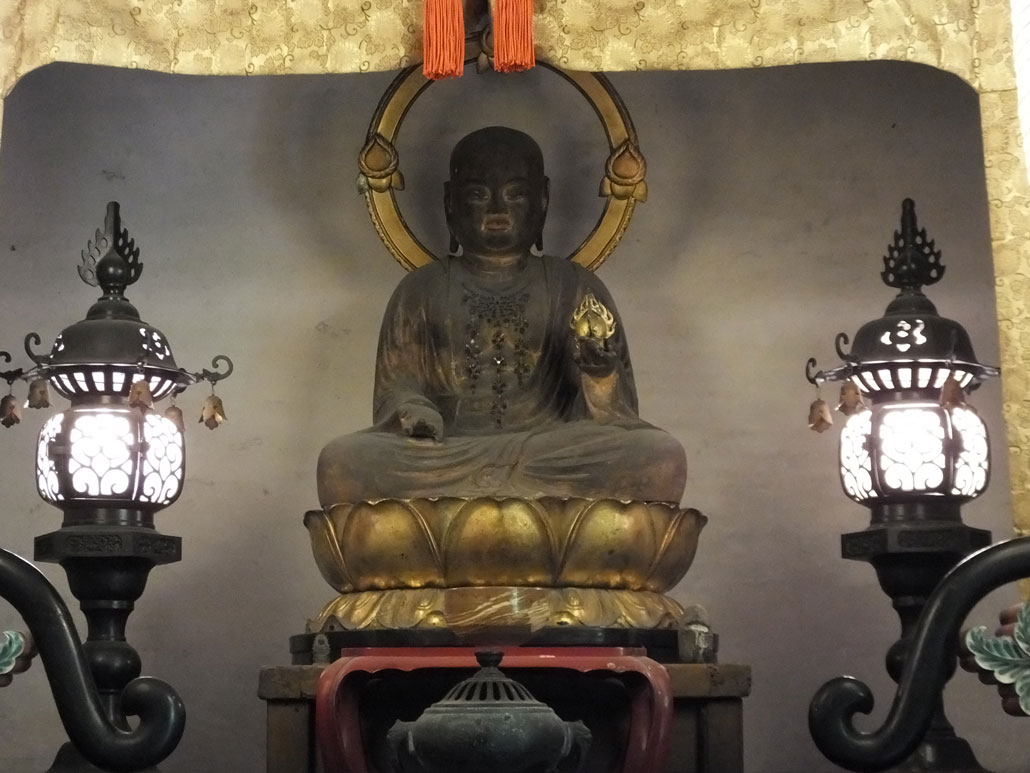 The statue of Kokuzo Bosatsu (the Bodhisattva of Space) catches your eye as it is gold. It is believed that worshippers can receive wisdom because there is infinite wisdom in the universe, so it is especially good for students to come and pray to the statue.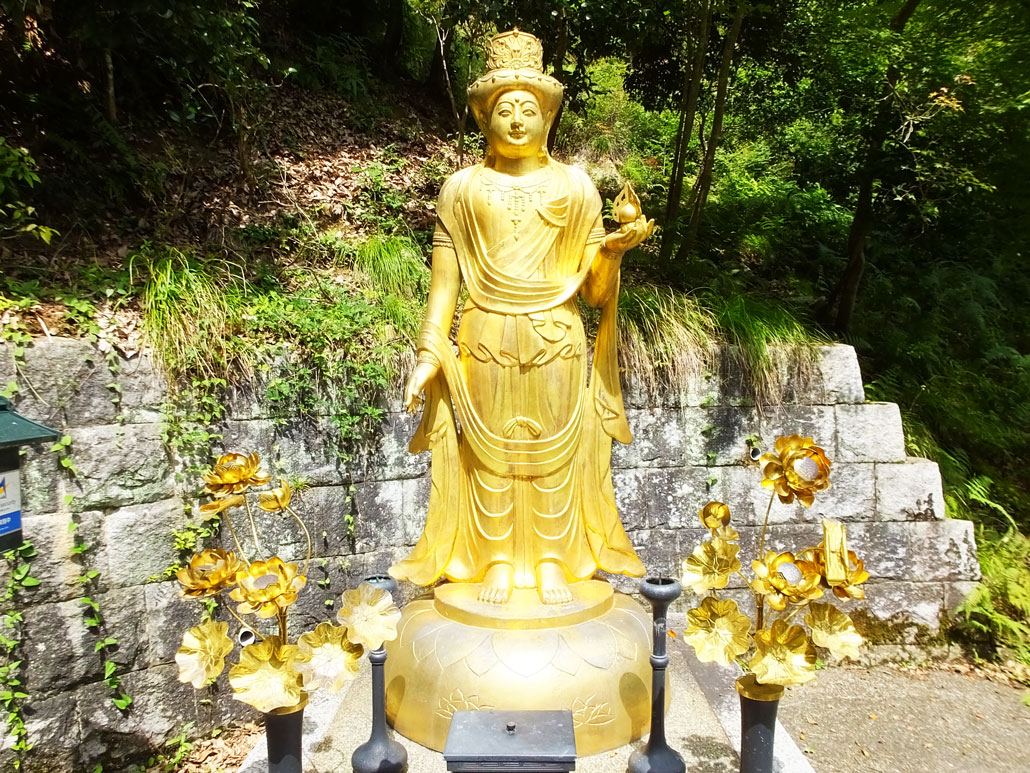 Fureai Kannon (the Bodhisattva of Love and Mercy) is the first statue of Bodhisattva that is made to be touched. It was made to connect visually impaired people with the Bodhisattva. Pray to the statue by touching it with your hands.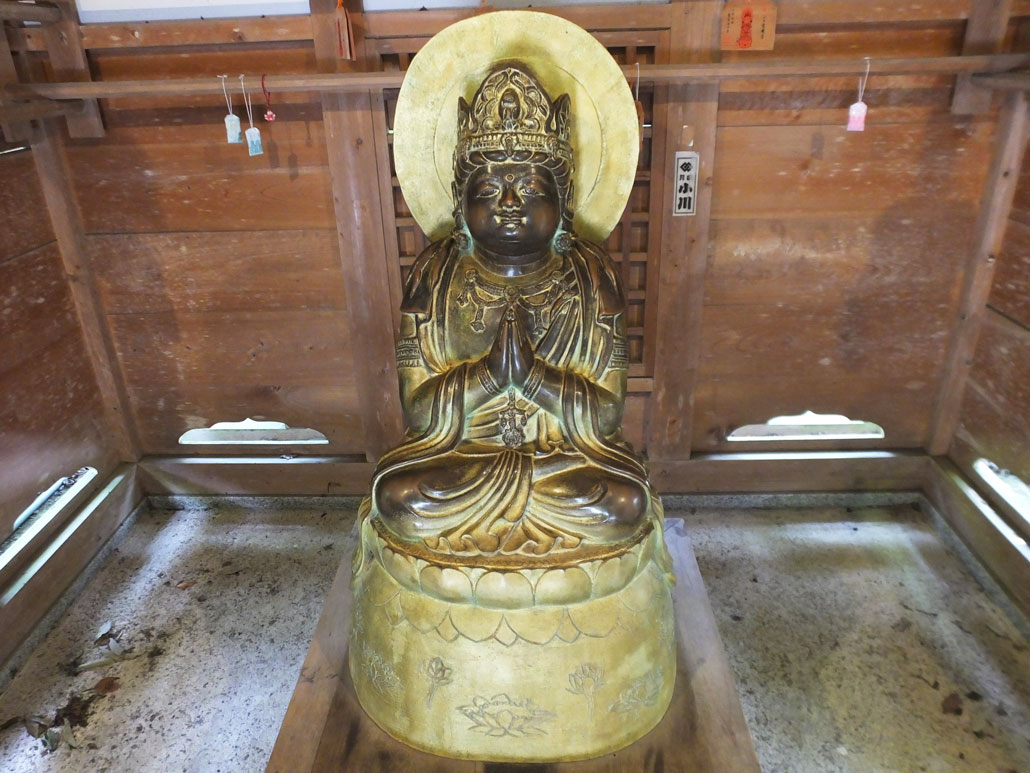 3 Things Related with the Buddha
In the temple you can see Sambo-no-Kane (bells of three treasures). The three bells each mean "the Buddha," "dharma" and "monks." Strike them in a row to harmonize the sounds praying to the Buddha, and he will know your heart.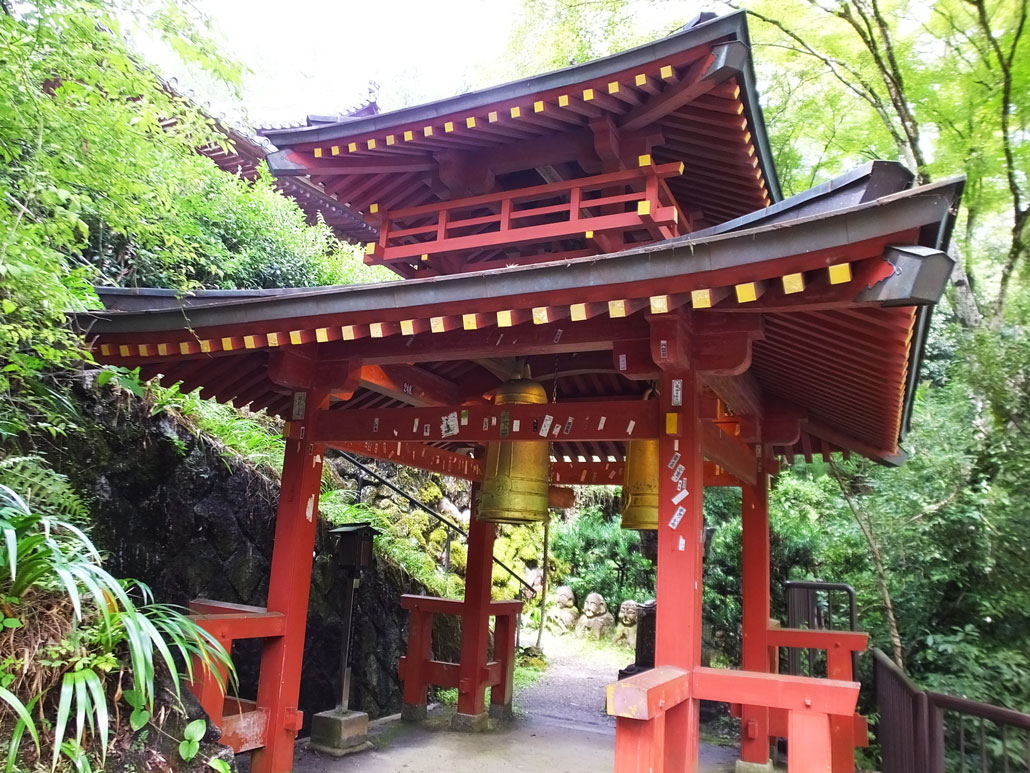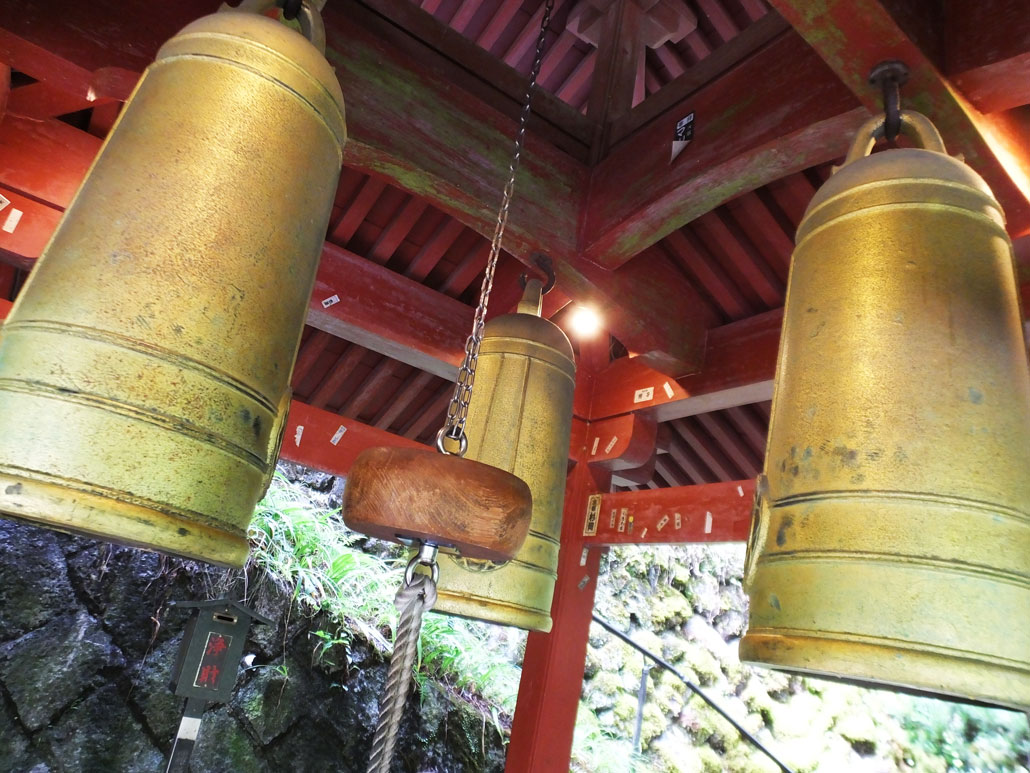 There is a pagoda called Taho-to, too. Surrounded by many rakan, the Buddha is preaching the Dhamma under the pagoda. A famous Buddhist monk, Saicho is standing in the left side. He is also known as his posthumous name, Dengyo Daishi.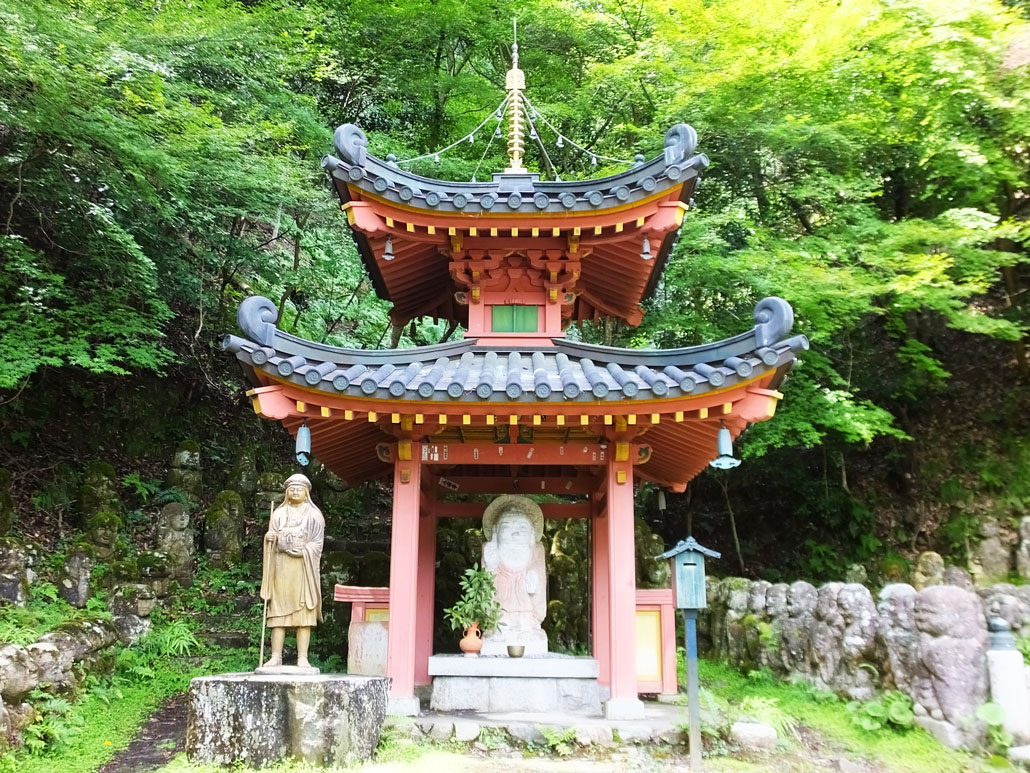 In the hall called Rakando, you can see what is called "Lotus-Treasury World" in the paintings. I heard that people can listen to the commentary on the world of the Buddha here.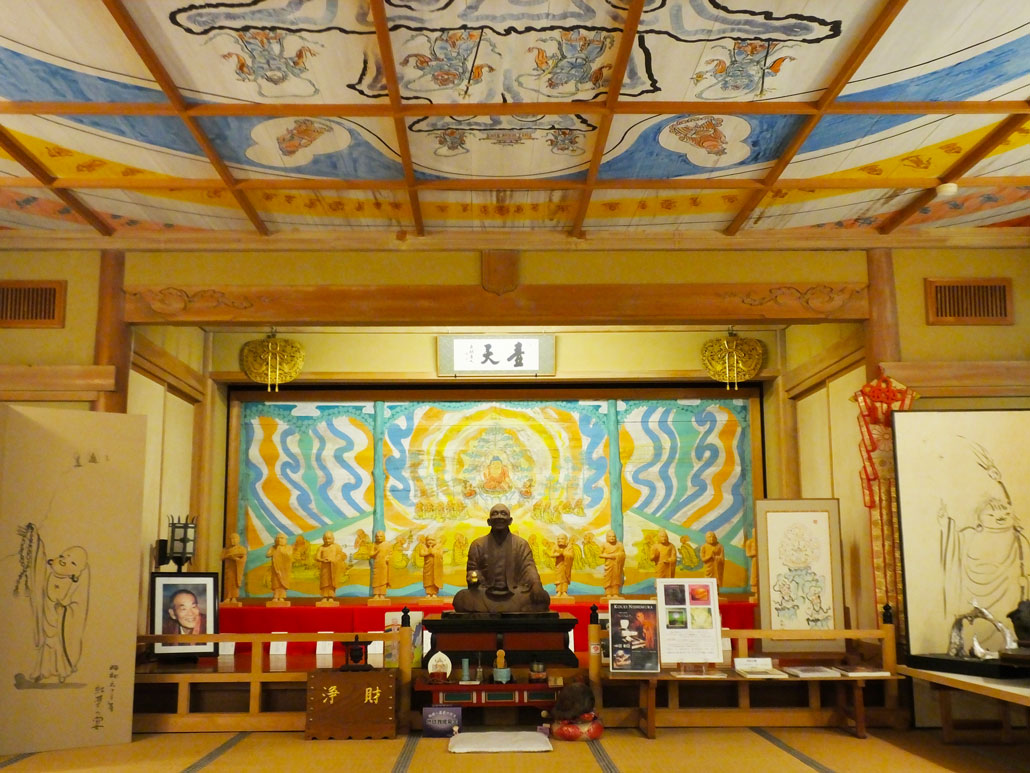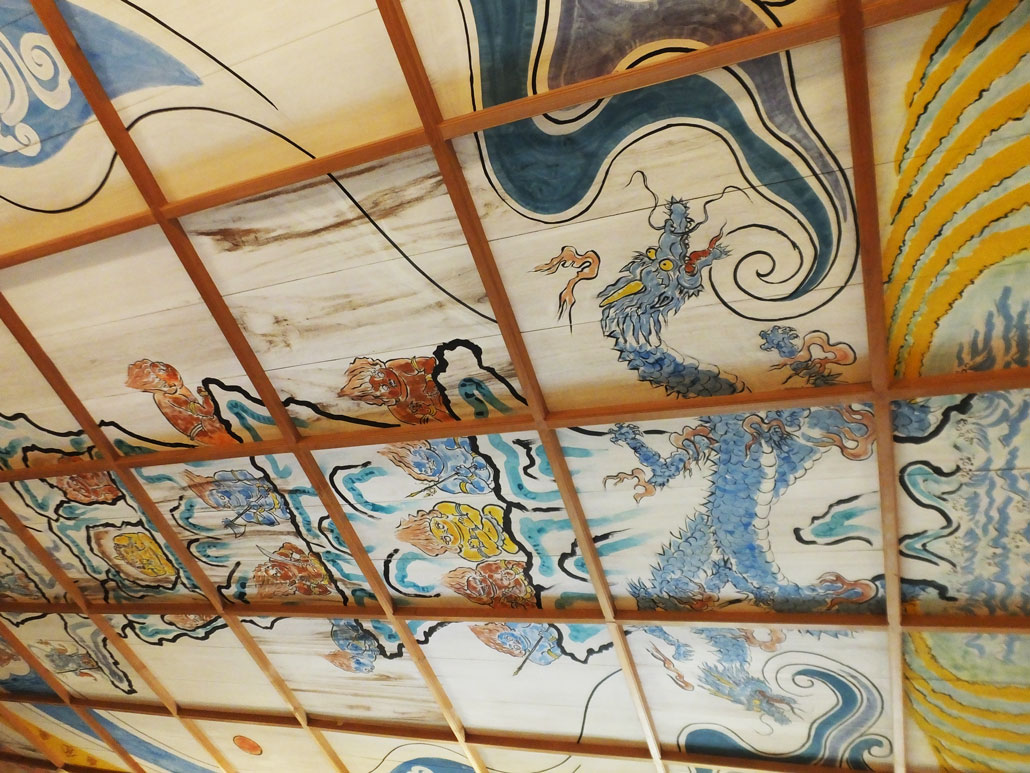 How to Get There
Otagi Nenbutsu-Ji Temple is located in Oku-Sagano, about 3 km far from Togetsu-kyo Bridge in Arashiyama District. In front of the temple, there is a bus stop "Otagidera-mae (Otagidera Temple)." Some tourists, however, go there by bicycle because there are many bicycle rental shops in Arashiyama. I recommend two shops, Railwayman Bicycle Rental (the service is available in English) and Ranbura Rental Bicycle, because the both have electric bicycles. There are many slopes in the area, so an electric bicycle can be a great way to get around.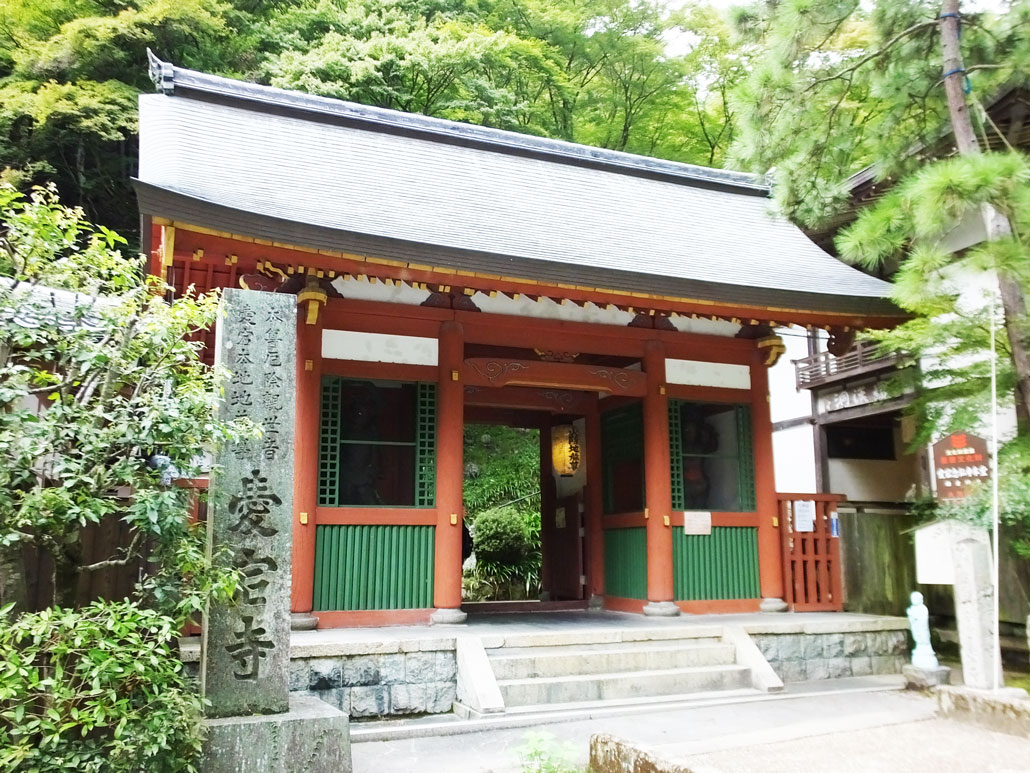 【Otagi Nenbutsu-Ji Temple】
2-5 Sagatoriimotofukatani-cho, Ukyo-ku, Kyoto City, Kyoto
Tel: +81 75-865-1231
8:00 a.m.―5:00 p.m. (Gate is closed at 4:45pm)
admission fee: 300 yen
URL: http://www.otagiji.com/
【Railwayman Bicycle Rental】
Sagatenryujikurumamachi-cho, Ukyo-ku, Kyoto City, Kyoto
Open Jan 4 – Dec 29
Closed Dec 30 – Jan 3
9:00 a.m.―5:00 p.m. (Rentals processed until 3:00 p.m. / Returns accepted until 5:00 p.m.)
*The Saga Station branch also handles overnight rentals that are due back the following day by 5:00 p.m.
URL:https://www.sagano-kanko.co.jp/en/rent.php
【Ranbura Rental Bicycle】
20-2 Sagatenryujitsukurimichi-cho, Ukyo-ku, Kyoto City, Kyoto
9:00 a.m.―5:00 p.m. (Rentals processed until 3:00 p.m. )
※Winter Season 10:00 a.m.―5:00 p.m. 
URL: http://www.kyotoarashiyama.jp/shop/en#shop-b